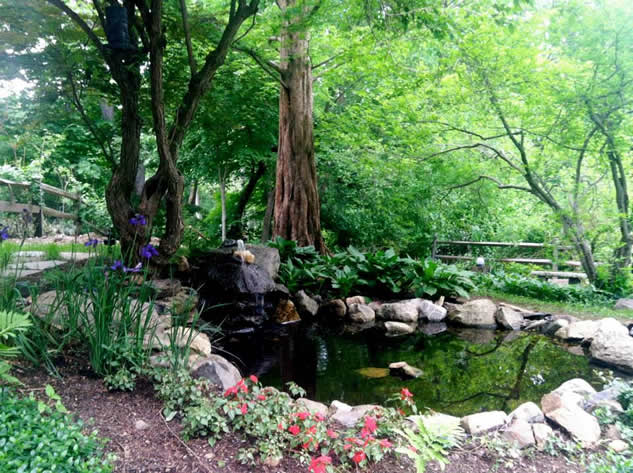 Inheriting a garden hidden under snow has turned one of our own into an accidental gardener. And we think he's doing pretty well with it! Matt works here at Taunton Press, and lives in Carmel, NY.
"We actually somewhat inherited the gardens. We moved to the house in the winter of 2009 and didn't even know what we had for grass, let alone gardens, since it was all under snow. But the owners before us, who had lived there for decades, loved to experiment with little garden areas all over the property. We keep playing with what we have–we plant annuals each year and have moved plants around and built up the stone borders and thinned out some of the abundance to create more of an effect of perspective and depth. We dug up the concrete sidewalk and laid stone pavers instead. We also redid the pond, which is in the front of the house. It used to have a fountain in the middle, but we created a small rock waterfall effect instead and made the far side shallow with white pebbles on the bottom. Now, robins, sparrows, and jays use that end as a birdbath, since they can see the bottom. The frogs also love it. The house is in Carmel, NY, built in 1942. It was a summer cottage by a lake then, but is now our year-round home."
Keep sending in photos, everyone! Whether you've never shared before or you've been featured multiple times, we want to see your garden! Email a few photos and the story behind your garden to [email protected].