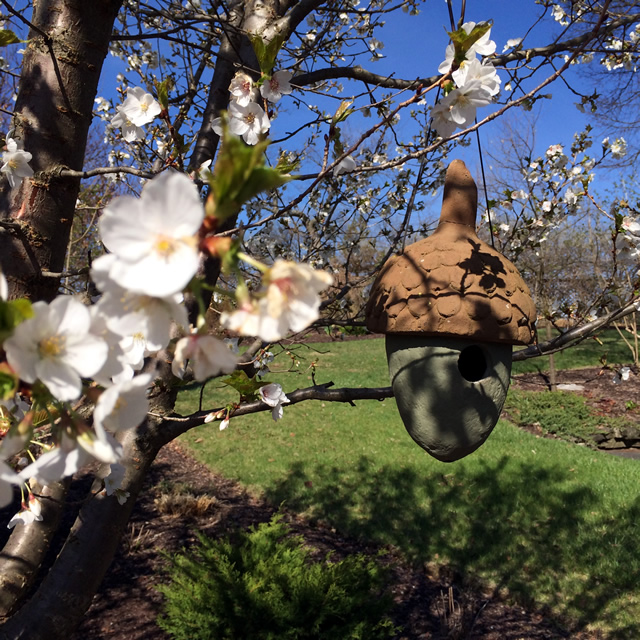 Douglas Flory and David Lloyd's property in PA offers a look ahead to what's just around the corner!
"Here are a few photos from Spring 2016 at Acorn Hill, our home in Rosslyn Farms, just outside of Pittsburgh, PA. Our 75 year old house sits in the shade of a large chinquapin oak which you can see in the first two photos, hence the name Acorn Hill and the giant acorn sculpture in photo #7. (The other large tree you can see in the first photo is a thriving American Elm, one of the few left in our part of the state.)
We use the space above an old stone wall for daffodils and daylilies, which you can see in the next couple of photos. Over the years, we've found we have better luck with the tried-and-true varieties, like Mount Hood and King Alfred; a lot of the newer, more exotic-looking narcissus varieties don't naturalize as well for us, and some peter out after a few years, much like tulips.
We also have two beds of wild tulips, (Tulipa turkestanica). Unlike tulips bred in Holland, these are much shorter, naturalize rapidly, and are not bothered by deer, rabbits, or squirrels. They are not as showy as Dutch tulips but bloom much earlier, so are a welcome sight in our garden. The last photo (placed first) is one of our Yoshino cherry trees with an acorn bird house, made by the same local artist, Jack Mayer, who created our large (about 4' high x 6' long) acorn.
I hope you enjoy these glimpses of spring time, especially you northern gardeners who still have weeks of Old Man Winter ahead of you!"
Have a garden you'd like to share? Email 5-10 photos and a brief story about your garden to [email protected]. Please include where you are located!
Have a mobile phone? Tag your photos on Instagram or Twitter with #FineGardening!
You don't have to be a professional garden photographer – check out our garden photography tips!
Do you receive the GPOD by email yet? Sign up here.
Follow us: @finegardening on Twitter | FineGardeningMagazine on Facebook | @finegardening on Instagram