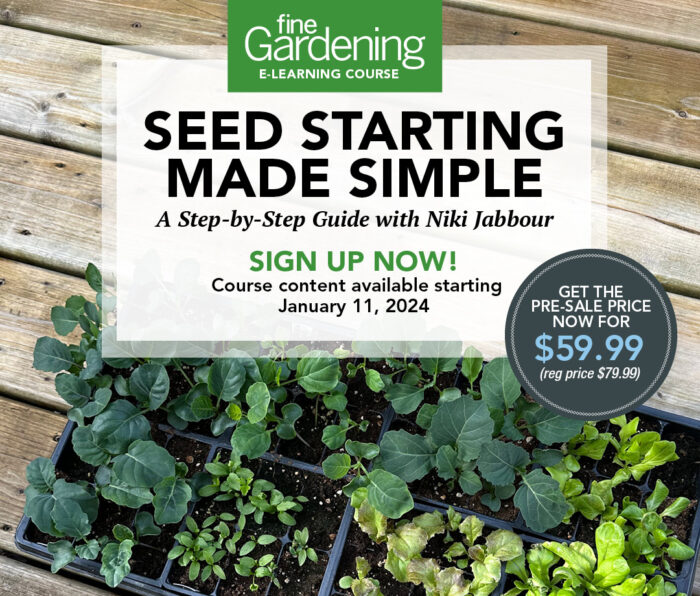 Starting plants from seed opens a world of possibilities to gardeners of all skill levels. Many vegetables, annual flowers, and even perennial plants can be started from seed using a few basic supplies and easy-to-master techniques. This can be an economical way to fill garden space and enjoy a much wider variety of plants than you could find in any nursery. In this course, horticulturist Niki Jabbour will share tips and tricks from her decades of starting seeds. After covering the basics, she will delve into more advanced topics such as timing and stratification. Participants will learn about which tools and supplies the pros recommend to make seed-starting easier, and how to set up a simple DIY lighting system. Build your gardening skills and enjoy the satisfying feeling of growing plants from scratch with this fun, fast-paced course.
---
You'll get advice on:
Which seeds to start indoors versus outdoors
How to get the timing right
The ins and outs of building your own seed-starting setup
In-depth lighting instructions (including LED insights)
Mixing custom seed-starting soil mixes
Hardening off and planting out
Troubleshooting techniques for when things go wrong
Niki Jabbour is the award-winning author of four books: The Year-Round Vegetable Gardener, Groundbreaking Food Gardens, Veggie Garden Remix, and Growing Under Cover. She is a rare two-time winner of the prestigious American Horticultural Society Book Award and a frequent lecturer for various horticultural institutions around North America. Niki is a contributor to numerous publications, including Fine Gardening. She was also the host and executive producer of a popular radio show, The Weekend Gardener, for 15 years and is now the garden expert on Canada's CBC Radio. When she's not writing, speaking, or broadcasting about food gardening, Niki is harvesting vegetables year-round from her 3,000-square-foot urban garden in Halifax, Nova Scotia.