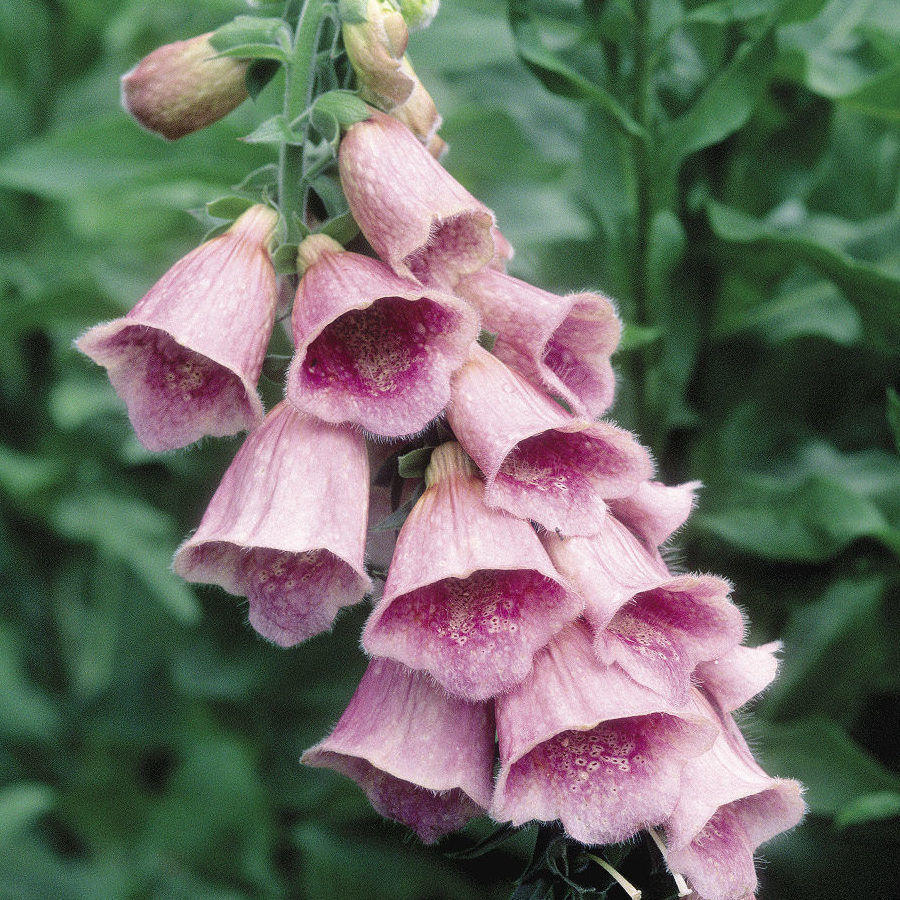 1. Strawberry foxglove
Name:

Digitalis

×

mertonensis
USDA Hardiness Zones: 4 to 8
Size: 18 to 24 inches tall and wide (3 feet tall in bloom)
Conditions: Partial to full shade; moist, well-drained soil
A gorgeous shade-loving evergreen perennial, strawberry foxglove has large rosettes of fat, soft, velvety green leaves and sturdy, 3-foot-tall summer spikes of flowers. The tubular, strawberry pink blooms are adored by gardeners, hummingbirds, honeybees, and bumblebees alike. Though a hybrid, this beauty always comes true from seed. It is ignored by deer and gophers and is a self-seeder. Cut the flower spike back after it's finished to get a flush of smaller new blooms. The seeds need light to germinate, so don't cover them when sowing.
2. Coral aloe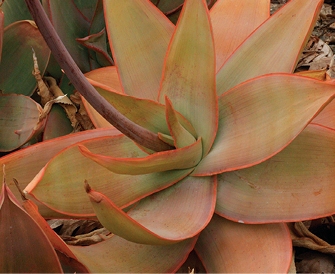 Name:

Aloe striata
Zones: 9 to 11
Size: 1 to 3 feet tall and 2 to 3 feet wide
Conditions: Full sun to partial shade; well-drained soil
Gorgeous even when not in bloom, the muscular-looking coral aloe has fat rosettes of long, broad succulent leaves whose color can vary depending on sun exposure or other growth stressors. A sunny, hot expo­sure will result in pink hints to the more usual blue-green leaves, each of which is edged in paler margins and striped with narrow dark streaks running down to the pointed tip. Coral aloe mixes well with other perennials and succulents, is drought tolerant, and loves the sun but will put up with a shady location. When in bloom in late winter to early spring, it is the supreme humming­bird magnet, with up to three gorgeous candelabras of brilliant coral pink tubular blossoms. Seeds are best started in fall in a gritty, well-drained medium with a thin layer of grit covering them.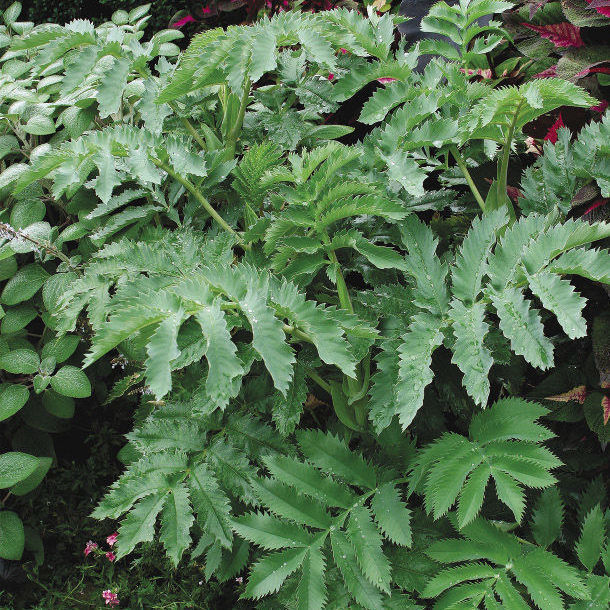 3. Honey bush
Name: Melianthus major
Zones: 8 to 11
Size: 6 to 10 feet tall and 8 to 10 feet wide
Conditions: Full sun to partial shade; well-drained soil
This is one dramatic, sun-loving, drought-tolerant evergreen beauty. Honey bush has a semierect, somewhat arching habit that verges on sprawling unless cut back almost to the ground every year. With its large saw-toothed, silver-blue leaves, it fits well into tropical-themed gardens but is better suited to Mediterranean, dry, or even succulent-based landscapes. Gorgeous 1-foot-tall plumes of deep red flowers appear in late winter to early spring, and they are followed by seed heads that are beloved by numerous types of birds. This bold plant is easy to care for and is left alone by deer and gophers alike. Its leaves smell like peanut butter when brushed against or rubbed. The seed-germination rate is good but can be erratic, with seeds taking anywhere from a week to up to three months to sprout.
4. California white sage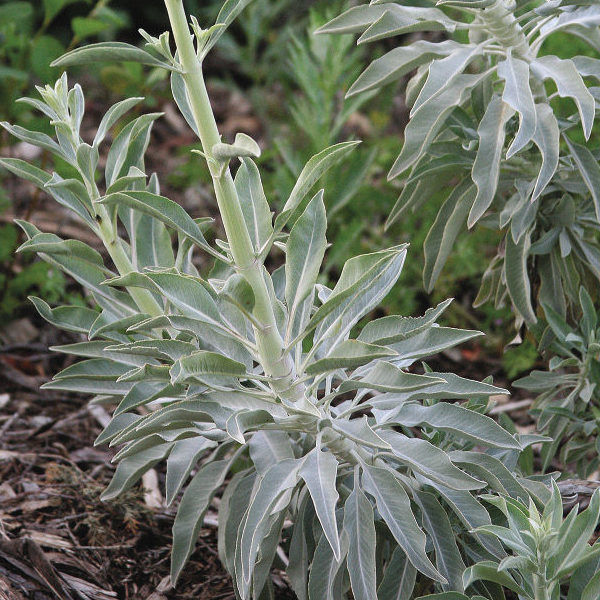 Name:

Salvia apiana
Zones: 9 to 11
Size: 3 to 5 feet tall and wide
Conditions: Full sun; well-drained soil
Also known as bee sage, magic sage, or sacred sage, California white sage is a large evergreen perennial, native to the chaparrals of Southern California. It has smooth, silvery white leaves and long, unbranched, pink-stemmed bloom spikes, which bear whorls of lavender-brushed white flowers. Its fragrant foliage is rich with aromatic oils and resins; the leaves are still used traditionally by Native Americans for ceremonial and medicinal purposes and by aromatherapists in healing salves and oils. The plant's long-lasting summer blooms attract hummingbirds and are an excellent nectar source for native pollinators and honeybees. Beloved by water-savvy gardeners and loathed by deer and gophers, this beauty deserves a spot in any thirsty garden. Its sprouting seeds will rot if the soil is too soggy, so keep things on the drier side after sowing.
---
Fionuala Campion is the nursery manager for Cottage Gardens of Petaluma, a specialty nursery in northern California.
---
Photos: Bill Johnson, Kerry Ann Moore, Michelle Gervais, courtesy of Annie's Annuals and Perennials, courtesy of Fionuala Campion