1. Blue Oat Grass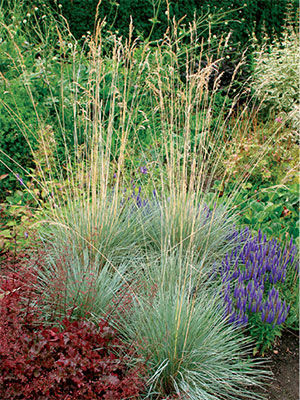 Name:

Helictotrichon sempervirens

and cvs.

USDA hardiness zones: 4 to 9

Size: 4 feet tall and 2 feet wide

Conditions: Full sun; well-drained soil; moderate water

This explosive grass seems to reflect the look of a partly cloudy sky. Enjoy it all winter by waiting to cut it back until new growth appears in spring. This plant is less drought tolerant than the other plants discussed here, so don't skimp on mulch, and divert runoff water to it if possible.
2. Red-Hot Poker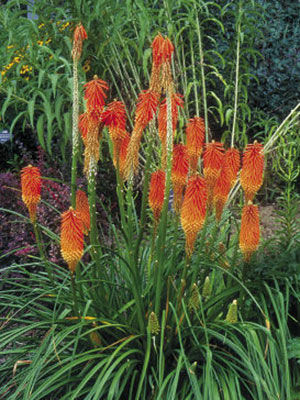 Name:

Kniphofia uvaria

and cvs.

Zones: 4 to 10

Size: 3 feet tall and wide

Conditions: Full sun; tolerates dry, alkaline, and clay soils; little water

Red-hot poker might be the most arresting focal-point plant for the Southwest. Even with our dry and high-alkaline soils, it's relatively easy to establish this South Africa native. It looks so bizarre that, without the support of other plants, it can impart an almost pink-flamingo, in-your-face tackiness. Because there's not much to look at when it's not in bloom, avoid using red-hot poker for focal points in areas that require something prominent year-round.
3. Century Plant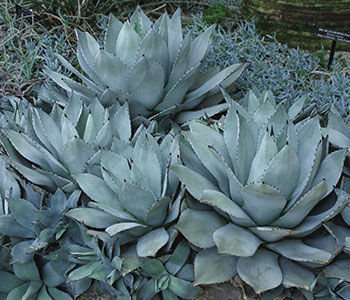 Name:
Agave parryi
Zones: 4 to 10
Size: 18 inches tall and 2 feet wide
Conditions: Full sun to partial shade; well-drained, alkaline soil; very little water
Great for small, south-facing beds, century plant boasts a trance-inducing turquoise beauty. Its razor-sharp foliage requires careful placement—far from children and walkways. This plant remains compact for most of its 10- to 12-year life span. In its last year, it produces one of the most striking flowers on earth before dutifully leaving behind healthy offspring at its base.
4. Globe Thistle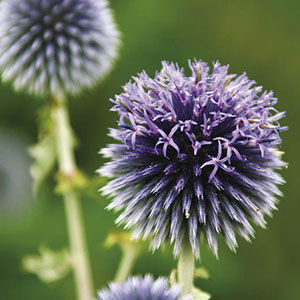 Name:

Echinops banaticus

and cvs.

Zones: 5 to 9

Size: 3 feet tall and 18 inches wide

Conditions: Full sun; all soil conditions; little water

Choose globe thistle where a dynamic conversation piece is desired from summer to fall. Certain to dazzle the eye as well as the imagination, its otherworldly, urchinlike blooms hover high above its jagged, low-growing foliage. Rarely finicky when it comes to soil, globe thistle can survive long periods of drought once established.

Melissa McDonald is co-owner of Santa Fe Permaculture and vice chair of the City of Santa Fe's Water Conservation Committee in New Mexico.

Photos: #1 and #3, Jennifer Benner; #2, Charles Mann; #4, www.botanypictures.com