1. La Palma Echium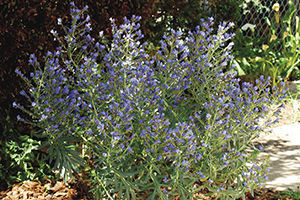 Name:
Echium gentianoides
USDA hardiness zones: 9 to 10
Size: 5 feet tall and 3 to 4 feet wide
Conditions: Full sun; poor to average, well-drained soil
This elusive echium is worth the hunt. It's tough, drought tolerant, and such a magnet for bees that you might need a beekeeper's suit. Unlike the two most popular species (E. wildpretii and E. candicans), this echium isn't nearly as large or aggressive. It features the most vivid blue flowers, made more striking by bright red flower stems. Poor soil seems to bring on more intense flowering.
2. 'Irene Nuss' Begonia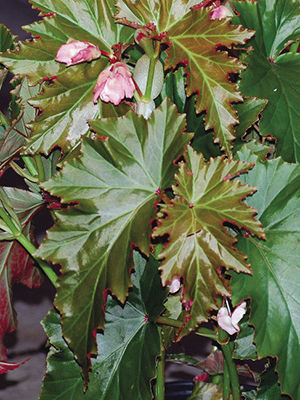 Name:
Begonia
'Irene Nuss'
Zones: 10 to 11
Size: 3 to 4 feet tall and 2 to 3 feet wide
Conditions: Bright shade; fertile, well-drained, slightly acidic soil
'Irene Nuss' features stunning glossy, dark green leaves with attractive wavy edges. Deep, coppery red backsides and long-blooming clusters of pink flowers add drama to the foliage. This plant is great in a hanging basket or situated in an indoor window. Out­doors, it fits nicely in woodland gardens, planted with ferns, small palms, and other tropicals. It can be pruned back hard in winter, which encourages new growth in spring.
3. Marmalade Bush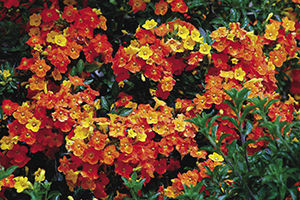 Name:
Streptosolen jamesonii
Zones: 9 to 11
Size: 4 feet tall and 6 feet wide
Conditions: Prefers full sun; average to fertile soil
This sun-loving, nearly-year-long-blooming evergreen shrub is aptly named, offering a riotous range of inch-plus-wide orange-and-gold flowers. It is slow to get established, but in year two, it kicks into gear—and, after that, it's unstoppable. This is one of the toughest shrubs I've encountered; once established, it needs little water and is highly resistant to pests and diseases. Plant it where others can enjoy it because it's a real showstopper.
4. Andean Silver-Leaf Sage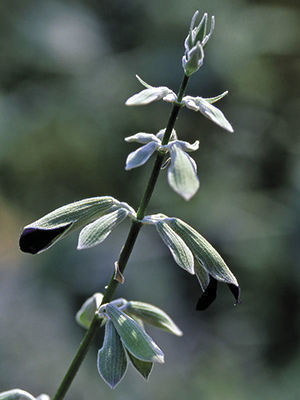 Name:
Salvia discolor
Zones: 9 to 11
Size: 4 feet tall and 4 to 5 feet wide
Conditions: Full to partial sun; well-drained soil
This unusual and tough salvia flowers most of the year, producing arching sprays of 1-inch-long, indigo-black flowers that emerge from underneath hooded, hairy silver sepals. The aromatic leaves smell curi­ously like black currants, and as with other salvias, it's attractive to hummingbirds.
Erle Nickel is a horticulturist at the Grand Lake Ace Garden Center in Oakland, California.
Photos: #1, #2 and #3, Erle Nickel; #4, Bill Johnson