Heart-leaved disanthus
(
Disanthus cercidifolius)
USDA Hardiness Zones: 5 to 8
Size: 5 to 7 feet tall and 4 to 6 feet wide
Conditions: Partial shade; moist, well-drained soil
Fall color isn't expected in the dim corners of the garden, but with heart-leaved disanthus, you will get a lovely surprise. In early fall, the blue-green leaves turn a deep burgundy, eventually lightening to orange and yellow; by late fall, these leaves become a brilliant red. Disanthus flowers are inconspicuous, but to give the shrub more spring interest, plant a clematis (Clematis spp. and cvs., Zones 4–11) at its base, and let it shimmy up the branches.
'Blue Metallic Lady' hellebore (Helleborus hybridus
'Blue Metallic Lady')
Zones: 4 to 9
Size: 12 to 16 inches tall and 14 to 24 inches wide
Conditions: Partial shade; moist,well-drained soil
The 'Lady' series of hellebores is among the earliest to bloom, often before the start of December. 'Blue Metallic Lady' has shimmery, deep blue blossoms, and performs as ele­gantly in winter containers as it does in dry woodland spots. It is at its best when paired with snowdrops (Galanthus spp. and cvs., Zones 3–9). Cut the foliage of this deer-resistant plant to the ground in late fall; be sure to dispose of the leaves in the garbage (not in the compost pile) because they usually have a bit of botrytis disease.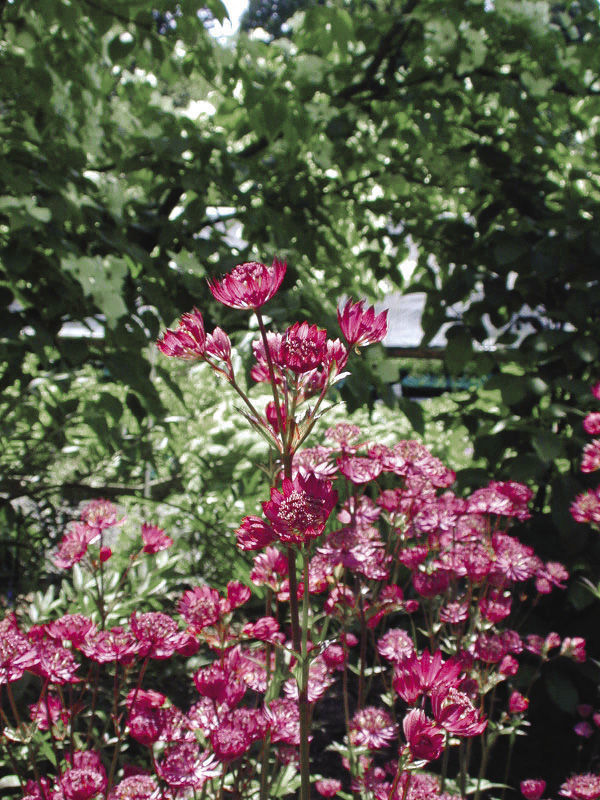 'Ruby Wedding' masterwort
(
Astrantia major
'Ruby Wedding')
Zones: 4 to 9
Size: 28 to 32 inches tall and 18 to 24 inches wide
Conditions: Partial shade; well-drained soil
With its cerise pincushion flowers and dark stems, 'Ruby Wedding' masterwort can brighten a shady nook from late spring to midfall. Its saucy blossom color combines especially well with variegated partners. If 'Ruby Wedding' gets ratty, cut it back to 2 inches tall in midsummer and then make sure it stays well watered; by late summer, you will have new foliage and a new supply of long-lasting cut flowers.
'Frances Rivis' alpine clematis (Clematis alpina
'Frances Rivis')
Zones: 4 to 9
Size: 7 to 10 feet tall and 3 to 5 feet wide
Conditions: Full sun to partial shade; moist, fertile soil
While many clematis need afternoon sun, alpine clematis can bring some unusual color to a shady picket fence or trellis. With its lanternlike petals of blue and inner fringe of white, 'Frances Rivis' gracefully envelops its support in color from early to late spring. Give it a tidy haircut after flowering, and don't hesitate to pull out any damaged or knotted stems.
Photos, Joshua McCullough/www.phytophoto.com; Courtesy of Julie Lane Gay; Bill Johnson
Get our latest tips, how-to articles, and instructional videos sent to your inbox.