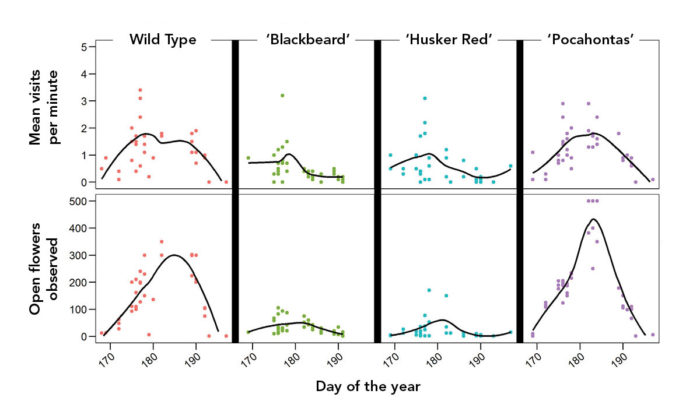 Prompted by public interest in the light of recent pollinator declines, researchers at the Chicago Botanic Garden sought to investigate pollinator preferences between true native species and their cultivars. Leveraging the community science project Budburst, garden researchers recruited botanic gardens, nature centers, schools, and home gardeners to create the Nativars Research Project in 2018. Depending on their location, participants plant a selection of native perennial plants and their cultivars from three species lists. When plants are in bloom, participants conduct weekly 10-minute pollinator observations, noting the number and type of different pollinators that visit the flowers.
Early results suggest that pollinator visitation varies dramatically between cultivars of the same species. Some cultivars appear as attractive to pollinators as the true native, while others receive far fewer visits. In the case of Penstemon digitalis, the wild-type species and cultivar 'Pocahontas' attracted double the number of pollinators of 'Husker Red' and 'Blackbeard'. The number of open flowers was correlated positively with more pollinator visits in the straight species (wild type) and the cultivar 'Pocahontas'.
Evaluating pollinator support of new cultivars, along with the scores of other factors of interest, will provide greater clarity for gardeners and support the creation of more-effective pollinator gardens. You can learn more about the project and how to participate at http://budburst.org/nativars.
— Jessamine Finch, Ph.D., Budburst manager
This article originally appeared as a sidebar in Are Nativars OK from Fine Gardening #192