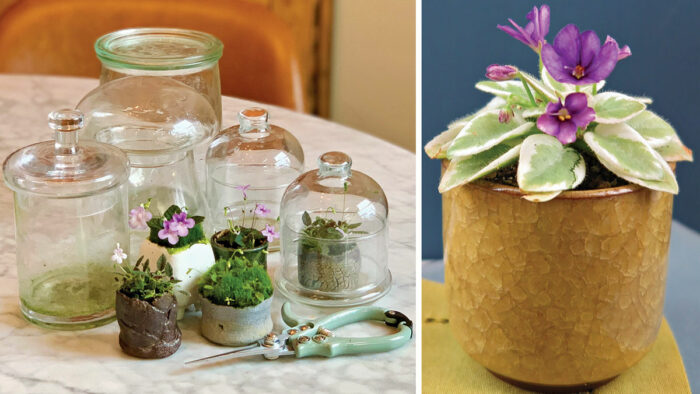 Admitting you are addicted to collecting houseplants is the first step. The second step? Finding more space for new plants! Plants that stay small are the perfect solution for indoor gardeners with limited space. You may live in an apartment or small home and struggle to squeeze large, leafy specimens into crowded windowsills. Or if your home has limited natural light, windowsill space might already be in short supply. Perhaps you want to bring a bit of nature into a small office space or a corner of your desk. As your space overflows with larger selections that you had no idea would get so big, tiny plants can feed your plant addiction without cramping your style.
Imagine being able to grow hundreds of petite plant specimens even if you only have a small bit of space to spare. All across the world of houseplants, there are thousands of small species to discover. Here are a few of my favorites for beginners and experienced plant parents alike.
How small is small?
The terms "miniature," "micromini," or "tiny" are used in the houseplant world to describe species or cultivars of plants that naturally stay smaller than 6 inches tall, but my favorites usually don't exceed 3 inches. For some plants, the designation of "tiny" or "mini" may be relative to the standard size of the parent or related species and varieties.
Thimble cactus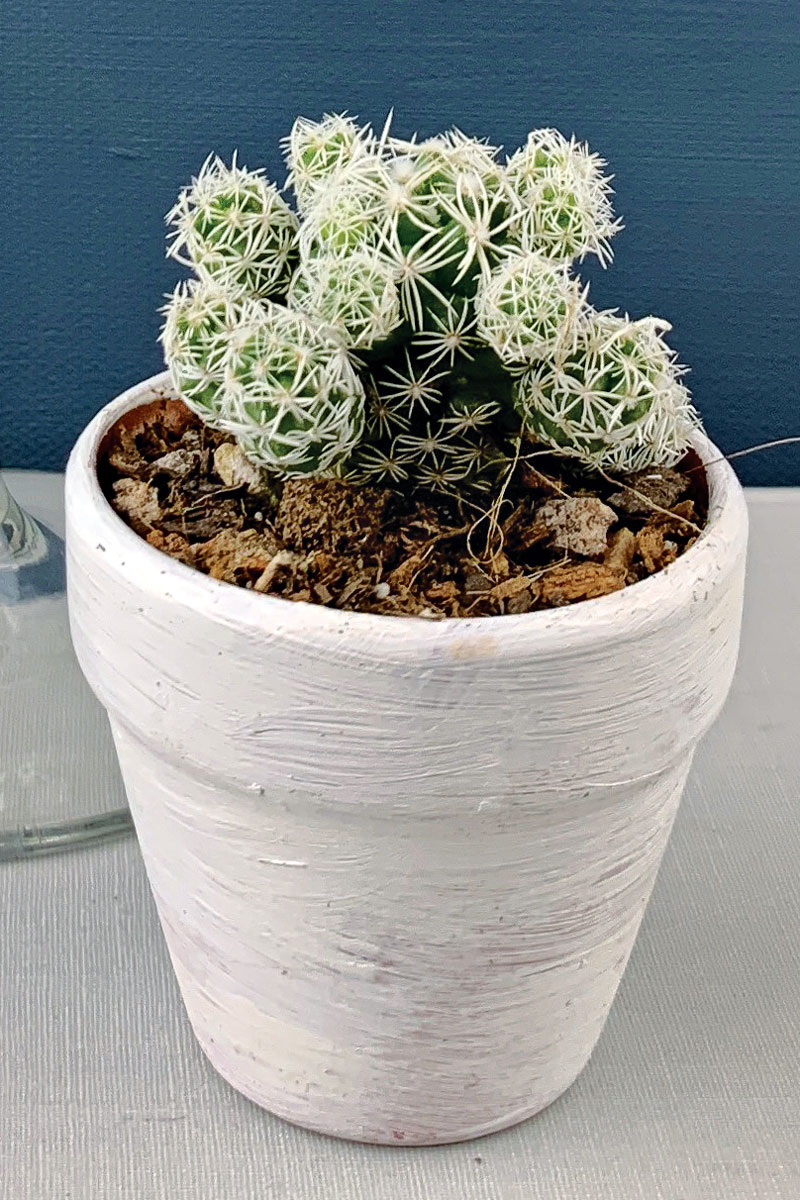 Name: Mammillaria vetula subsp. gracilis
Zones: 9–11
Most cactus species are just too big or too prickly to be suitable for small indoor spaces. This is not the case with the adorable thimble cactus. Thanks to its tiny size—plants stay under 4 inches tall and less than 2 inches wide—thimble cactus fits nicely on a small, bright windowsill or tucked under small grow lights. The fine, matted spines, which radiate in small, starlike patterns, are touchable and rarely bite. During cooler months, plants produce tiny, white, bell-shaped flowers. Like most cacti, thimble cactus needs a lot of light—equivalent to full-sun or partial-sun conditions in a south- or west-facing window. You can also grow it with other small succulents on a shelf with grow lights. Water sparingly, allowing the soil to dry completely between waterings (plants can stay dry for extended periods), and make sure it's planted in a porous container. Handle it with care! Thimble cactus is fragile, and the branching offsets are easily knocked off the plant.
Vietnamese violet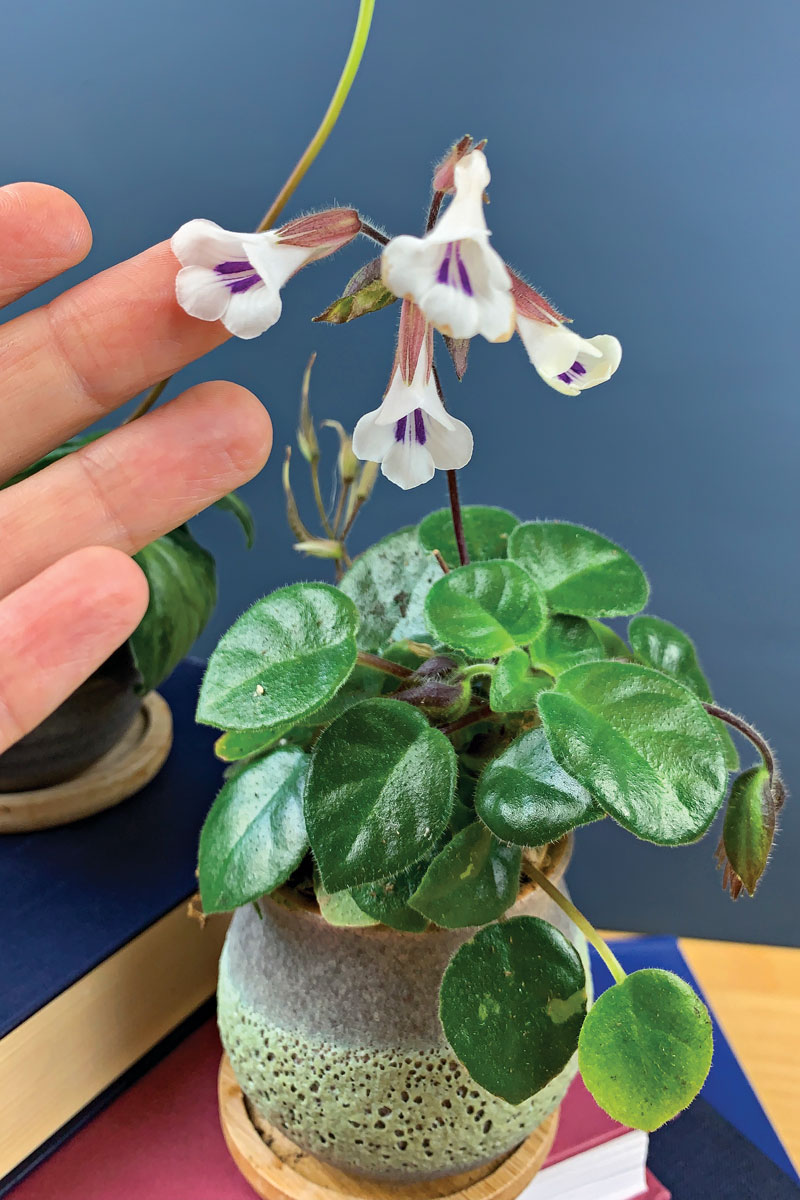 Name: Deinostigma tamiana
Zones: 10–11
A cheery, compact bloomer perfect for a small windowsill or office desk, Vietnamese violet grows 3 inches tall, or 6 inches tall when in bloom. If you have struggled with African violets in the past, you will likely fare better with this more-forgiving species. The compact plants have small, fuzzy, oval-shaped leaves that emerge in clusters of small rosettes. Pure white, tubular flowers with striking purple stripes appear in abundance year-round, bearing ample seed. Medium, indirect light is best to keep plants in flower, so choose a bright, east-facing window, or use a supplemental grow light as you would for African violets. Artificial office lighting is also ideal. Like many gesneriads, these plants appreciate consistent moisture but need good root-zone drainage and can approach dry soil between waterings. The ideal container is porous and 3 inches in diameter.
'Brownii' Kraus's spikemoss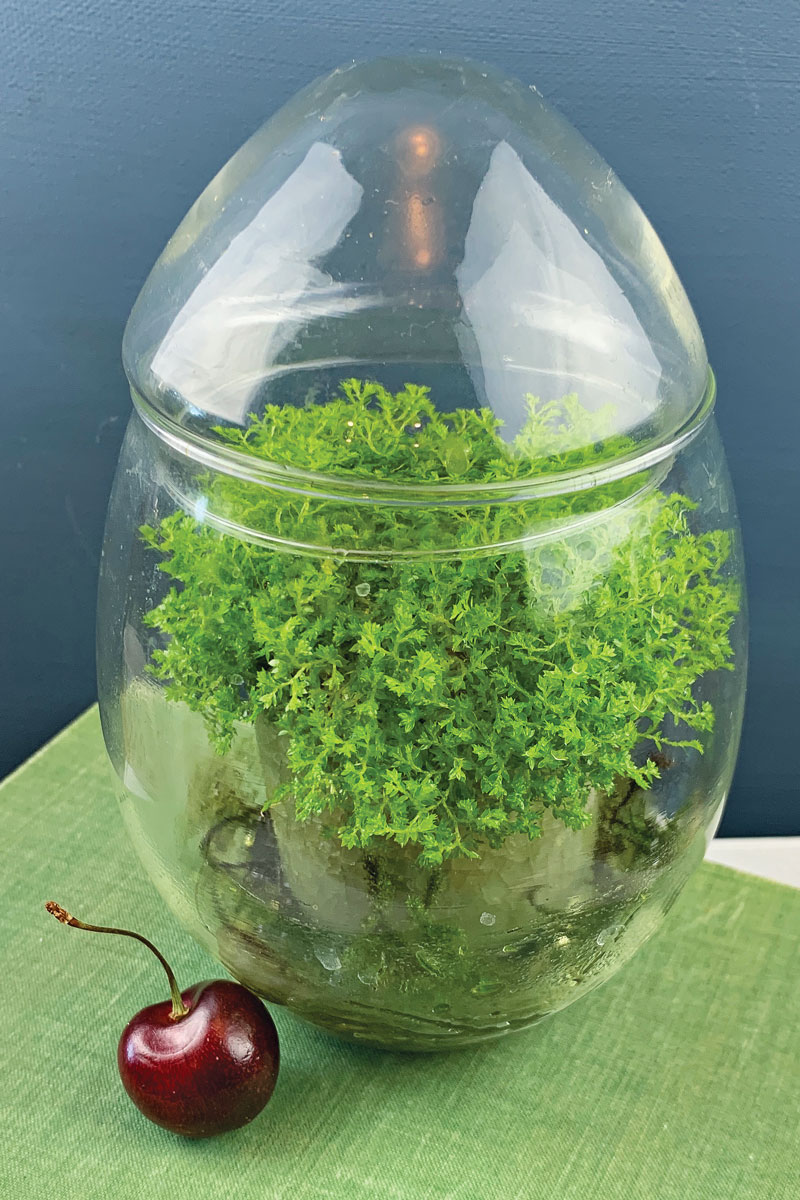 Name: Selaginella kraussiana var. brownii 
Zones: 6–11
If you love moss, then you are bound to adore 'Brownii' Kraus's spikemoss. Species of Selaginella look like a cross between a moss and a fern, but they are neither. This variety is easy to grow and particularly petite, growing only to about 1 inch tall and up to a few inches wide. Its container should be up to 3 inches wide and nonporous. Plants have a lush, moundlike growth habit and cheery, chartreuse foliage. This spikemoss is happy growing in low-light conditions, such as a north-facing window, but may grow more vigorously in an east-facing window or under a small grow light. It needs constant moisture and high humidity with good root aeration. Do not let it dry out. The bright, feathery foliage brightens up any glass jar, bubble bowl, or terrarium planting.
Creeping button fern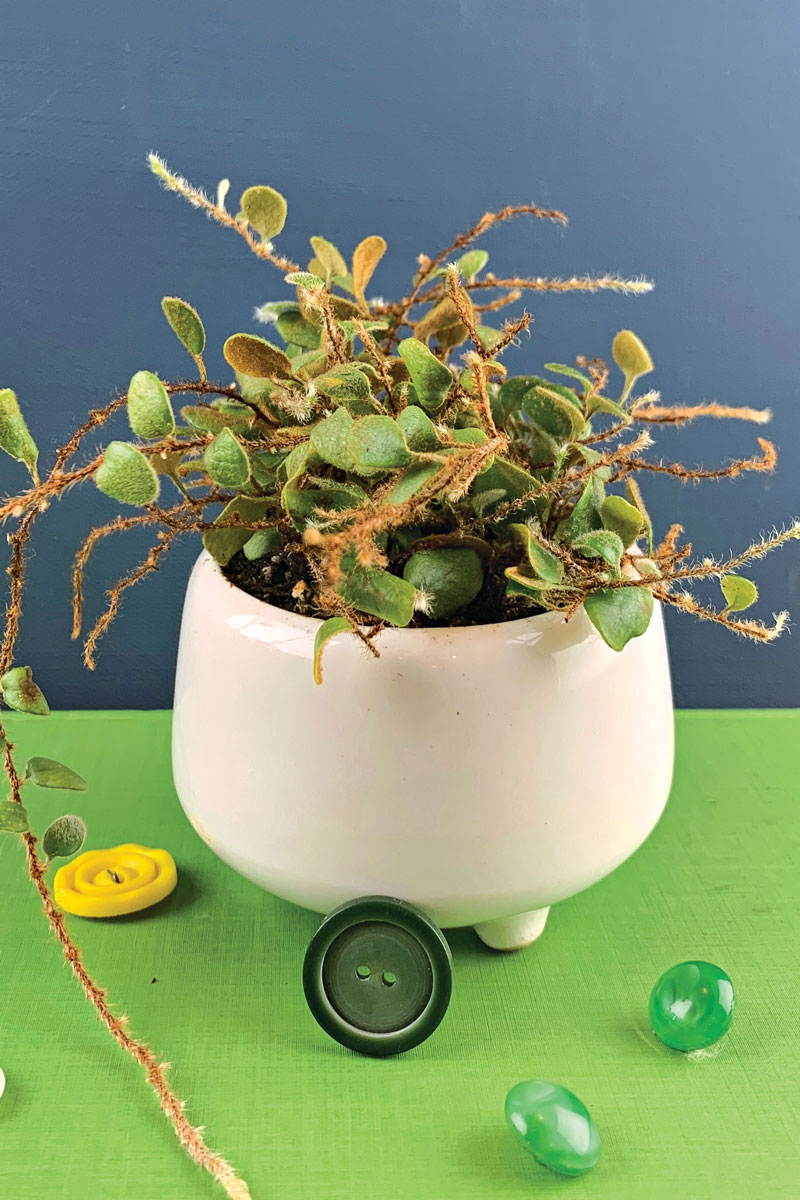 Name: Pyrrosia nummularifolia
Zones: 11–12
Ferns can present a struggle for many keepers of indoor plants. They typically require higher humidity than our homes provide. While I recommend that most tiny fern species be grown under glass, creeping button fern is an exception that is perfectly happy growing in the open windowsill; no terrarium or misting is required. If you do want to grow this fern under glass, creeping button fern can be planted directly into a terrarium or bubble bowl if conditions are not soggy, although it does take consistent moisture. The small, fuzzy leaves are borne along slender, creeping rhizomes that will trail or climb. For this reason, an individual plant can reach up to 10 inches long, although it will only be 2 to 3 inches tall. Plants thrive in medium light in an east-facing window but can tolerate low light. While creeping button fern appreciates consistent soil moisture, as do most ferns, this tough, tiny species tolerates semi-dry soil between waterings. Plant it in a nonporous container.
Micromini African violet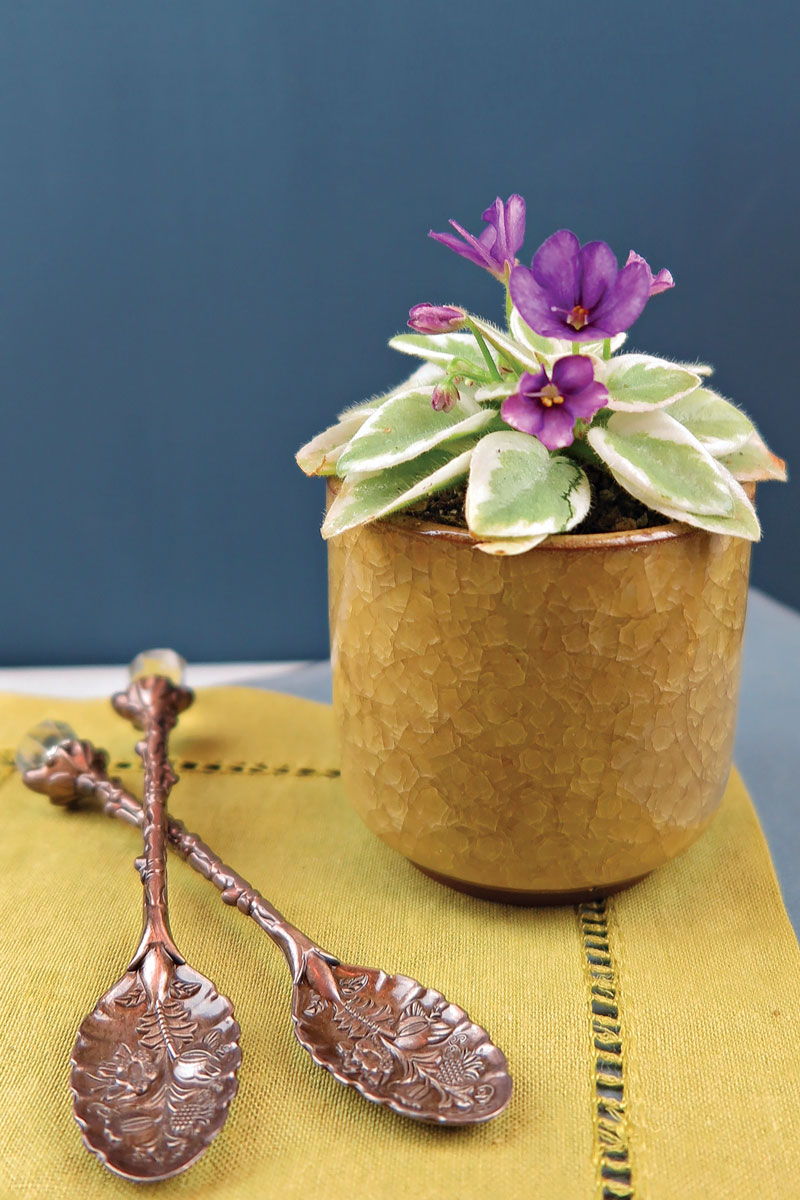 Name: Streptocarpus sect. saintpaulia
Zones: 11–12
Growing a mere 2 to 3 inches tall and wide, these tiny gems brighten up even the smallest of indoor spaces. There are three official size categories of African violet: standard, semi-miniature, and miniature. The adorable micromini cultivars, which are an unofficial trade designation of miniatures, are hybrids from the parent species Streptocarpus afroviola and S. shumensis. African violets thrive in low to medium light levels, with best blooming in medium light or under grow lights. If plants do not bloom, they need more light. Never overpot a micromini African violet, as excess moisture can cause crown rot. The best container for these very small specimens is 2 inches wide and nonporous. Water plants consistently, but let soil dry slightly between waterings. African violets naturally thrive when relative humidity is in the 70% to 80% range, so you can grow microminis under glass or planted directly in well-draining terrariums or bubble bowls.
---
A big impact in a small space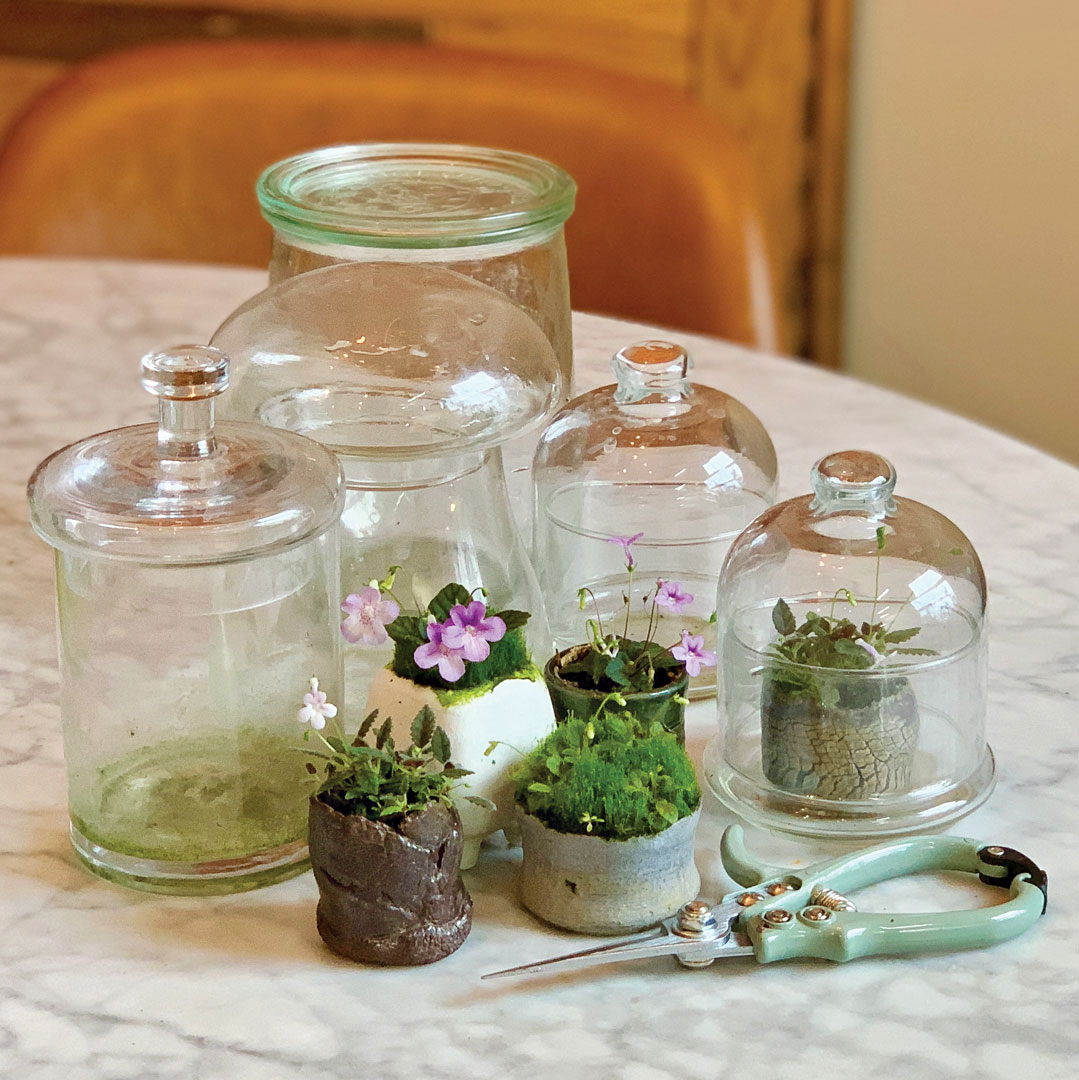 Most tiny plants need tiny pots, but each species is different. Below are some ideas for containing and displaying your small plants.
Get creative with containers. Some tiny species have long, deep root systems, dictating that they should be grown in relatively larger containers, while many succulents or mini-gesneriads need only the tiniest of pots to accommodate a shallow root system. If you love collecting unique and vintage vessels, tiny plants give you the perfect

excuse to expand your collection.

Small teacups, glass kitchen canisters, seashells, and seasoning jars may be appropriate for certain plants. Some of my tiniest plants require containers no larger than a thimble—or an actual thimble! It all depends on the individual plant.
Grow under glass. My favorite way to display my tiny plant specimens is with glass jars, canisters, and Wardian cases (decorative miniature greenhouses). You do not need to get fancy or complicated with planted terrariums. For tiny, humidity-loving plant species, simply set potted specimens inside any glass vessel with a lid, and cover with a cloche or canning jar. Using a Wardian case allows you to display your tiny plants wherever you would like for short periods of time and then place them back under ideal light conditions.
---
Leslie F. Halleck is a horticulturist and author of several books, including Plant Parenting: Easy Ways to Make More Houseplants, Vegetables, and Flowers and Tiny Plants: Discover the Joys of Growing and Collecting Itty-Bitty Houseplants.