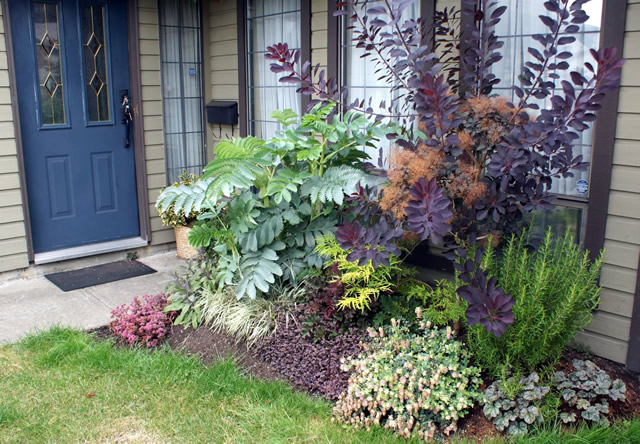 Back with Part 2 of Cherry and Sylvia's garden makeover–gotta love a couple of green thumbs!
"The remainder of our photos showcase the small garden bed by the front door that Sylvia discovered was infested by goutweed a couple of years ago. She removed all the perennials and treated the area with the solarization method to eradicate the goutweed. We planted the new bed in June this year and the photos that you see were taken in September, about a full season later. The Meelianthus major may not be hardy in our area but she was willing to take the risk since it is a magnificent specimen. I opted to add edibles since Sylvia is a wonderful cook as well. We picked edibles that she liked cooking with. She plans to keep the Smokebush trimmed down to a manageable size through the years.
All the gardens and containers are do-it-yourself projects that can be managed through the years if you do some thoughtful planning and budgeting. I hope all you GPODers will take the plunge and try it yourselves sometime. Growing a garden is a most rewarding experience."
Have a garden you'd like to share? Email 5-10 photos and a brief story about your garden to [email protected]. Please include where you are located!
Have a mobile phone? Tag your photos on Instagram or Twitter with #FineGardening!
You don't have to be a professional garden photographer – check out our garden photography tips!
Do you receive the GPOD by email yet? Sign up here.
Follow us: @finegardening on Twitter | FineGardeningMagazine on Facebook | @finegardening on Instagram