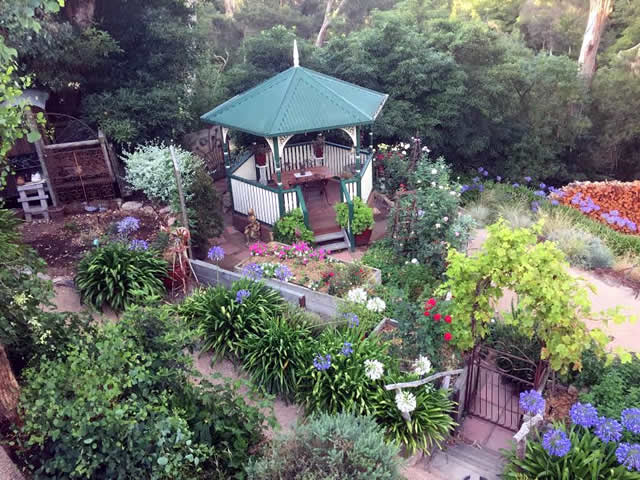 Part 1: Frank Greenhalgh gives us a glimpse of his blooming agapanthus and more!
"Hello there GPODers – I was very surprised indeed at the interest in agapanthus in my early 2016 post of our terraced garden in the small village of Metung on the Gippsland Lakes of the State of Victoria, Australia. I have therefore featured this sun and heat-loving plant here, and included some garden art for a touch of fun and Aussie humour – hopefully to brighten up the start of your winter's day in the northern hemisphere. I have also included a photo of a Japanese maple for colour (autumnal leaves), and a taste of Aussie cooking in the garden fire pit to wet your appetite for longer, warmer days and outdoor living.
Our 1 acre garden slopes into a billabong (i.e. an isolated part of a watercourse) in a temperate rainforest, comprising native daphne (Pittosporum undulatum), paper bark (Melaleuca spp.) and blue gum (Eucalyptus globulus) trees and woody vines etc. I cut the flower heads and stalks off the agapanthus before they set seed to prevent the plant invading the public rainforest area.
A Kubota RTV makes it easier for me to manage the slope whilst gardening, to bring fire-wood up the hill, and to travel to the Lake for fishing etc. It's a lovely piece of Japanese technology and USA manufacturing – although I still get in the wrong side to drive it!
Hope you enjoy this post from a hot part of the globe at the moment."
Have a garden you'd like to share? Email 5-10 photos and a brief story about your garden to [email protected]. Please include where you are located!
Have a mobile phone? Tag your photos on Instagram or Twitter with #FineGardening!
You don't have to be a professional garden photographer – check out our garden photography tips!
Do you receive the GPOD by email yet? Sign up here.
Follow us: @finegardening on Twitter | FineGardeningMagazine on Facebook | @finegardening on Instagram