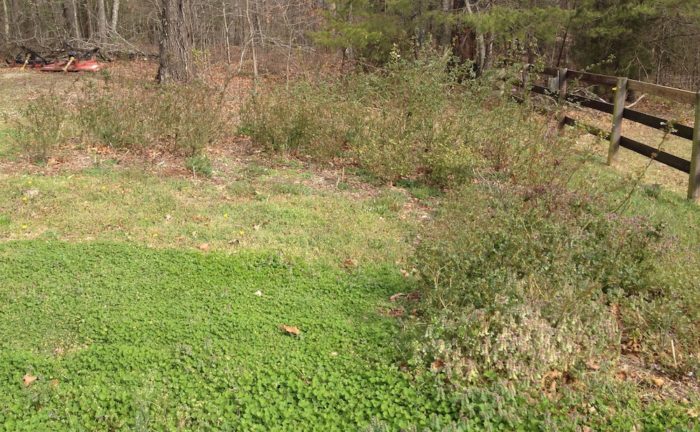 After an unusually warm winter I decided to go ahead and make the plunge to prune earlier than I would normally do.  My rose are already leafing out and actively growing.  Plus the forsythia are blooming in my area so I'm taking that as a sign spring is coming sooner rather than later.
We never had a true dormancy this year.  I was getting my haircut today (at least what's left of it!) and my barber who grew up around here said he's never seen anything like it.  I know some parts of the country did get some snow but in most areas this has been an unusually warm winter.  So should this influence the way we prune?
I'm letting it do so.
Keep in mind I've never dealt with anything like this but in looking at my roses as I started pruning today I'm going to do a few things a little differently this year.
First I'm going to really go after weak and spindly growth.  The roses are pushing so fast, so early that I think getting this growth out of the way might result in a nice round of basal breaks.  Basal breaks are new canes that come from under the ground.  They tend to come more when older growth is cut away.  That's the reason we advise periodically cutting an old cane away at the base of the rose.  We want more basal breaks because the canes that result make a fuller shrub and that means more flowers.  Plus roses bloom best on the more vigorous, younger canes.  More basal breaks this year means next year we can take out more older canes.
I'm pruning a little lower this year.  Part of this is we've had good rains here and I feel that and the warm weather is going to mean the roses are going to really take off.  I suspect by the time they get around to blooming they will have put on some major growth so I'd rather start out a little slower.  If you are still in a drought area you may want to skip this one and prune to normal height.
I'm getting my mulch down quickly.  This is really more about self-preservation because when the roses start growing hard I don't want to be spreading mulch with all those fresh, young thorns around me!
I'm going to go ahead and put my organic fertilizer down now.  Organics feed slowly so even if we get a cold snap I'm not worried about pushing new growth.  But I can already see the roses are in need of fertilizer.   Normally I recommend a spring granular and then just one more in fall.  This year I'm going to seriously think about adding a late spring fertilization using the same organic fertilizer I use in spring.  Probably right when the peak bloom starts to wane.  I feel the first fertilizer going down early, coupled with potential rampant growth means what I put down now may be gone quicker than normal.
Disease.  Without a true winter dormancy the spores stand a better chance of lingering over from last season.  Normally after pruning we advise a spraying with liquid sulfur and horticultural oil to kill any over wintering fungal spores.  The problem is I already have new leaves and if I hit them with liquid sulfur and horticultural oil I'll burn them.
Instead I'm going to use the liquid sulfur as if the roses were actively growing.  Which they are!  I wrote about how to do this in a blog post a while back and you can read it by Clicking Here.
Keep in mind a lot of this is hypothesis based on what I feel the roses are doing.  Having never dealt with a non-winter like this I can't factually say it's going to turn out the way I think.  But I've also learned over the years to listen to my roses and they are telling me to stand back.  They are going to explode this year!
Happy Roseing
Paul