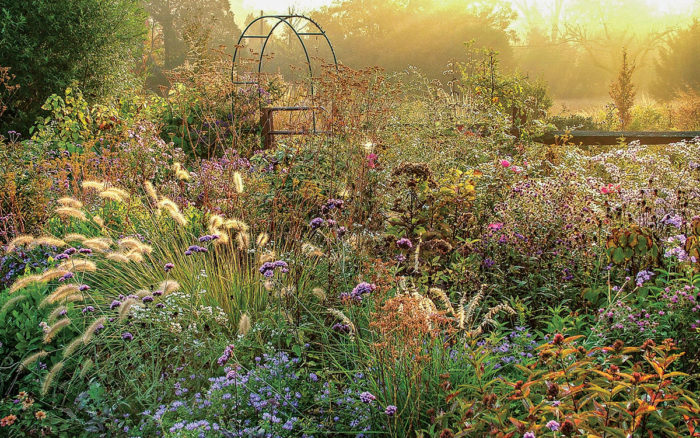 The term "cottage garden" conjures up images of a garden that's bursting at the seams in summer—of herbs, self-seeding annuals, and flowering shrubs mingling together; of vigorous climbing roses scrambling along walls, with poppies, peonies, and showy perennials in vibrant colors peppering the space. It is a style of informality and partially controlled wildness, with plants tightly packed together.
In contrast, the New Perennial style emphasizes the year-round shape and structure of the planting, rather than an abundance of flowers in summer. Roses and showy summer flowers are not to be found; simple, single flowers are planted, instead of frilly doubles. Rather than having a summer peak like a cottage garden, a New Perennial garden—with its sturdy grasses and mostly late-summer-flowering perennials—is left untouched through fall and winter. This allows the diversity of form and structure in old leaves, flowers, and seed heads to be enjoyed, even when the color has drained out of the plants and the garden is in the grip of frosty weather.
Combining elements of these two styles in your garden has many benefits, the primary one being that it can greatly extend the amount of time that the garden looks attractive. You can have a garden that is packed with romantic flowers in summer as well as being colorful in fall, and with a spectacular structure that looks eye-catching in winter. You can have the best of both worlds.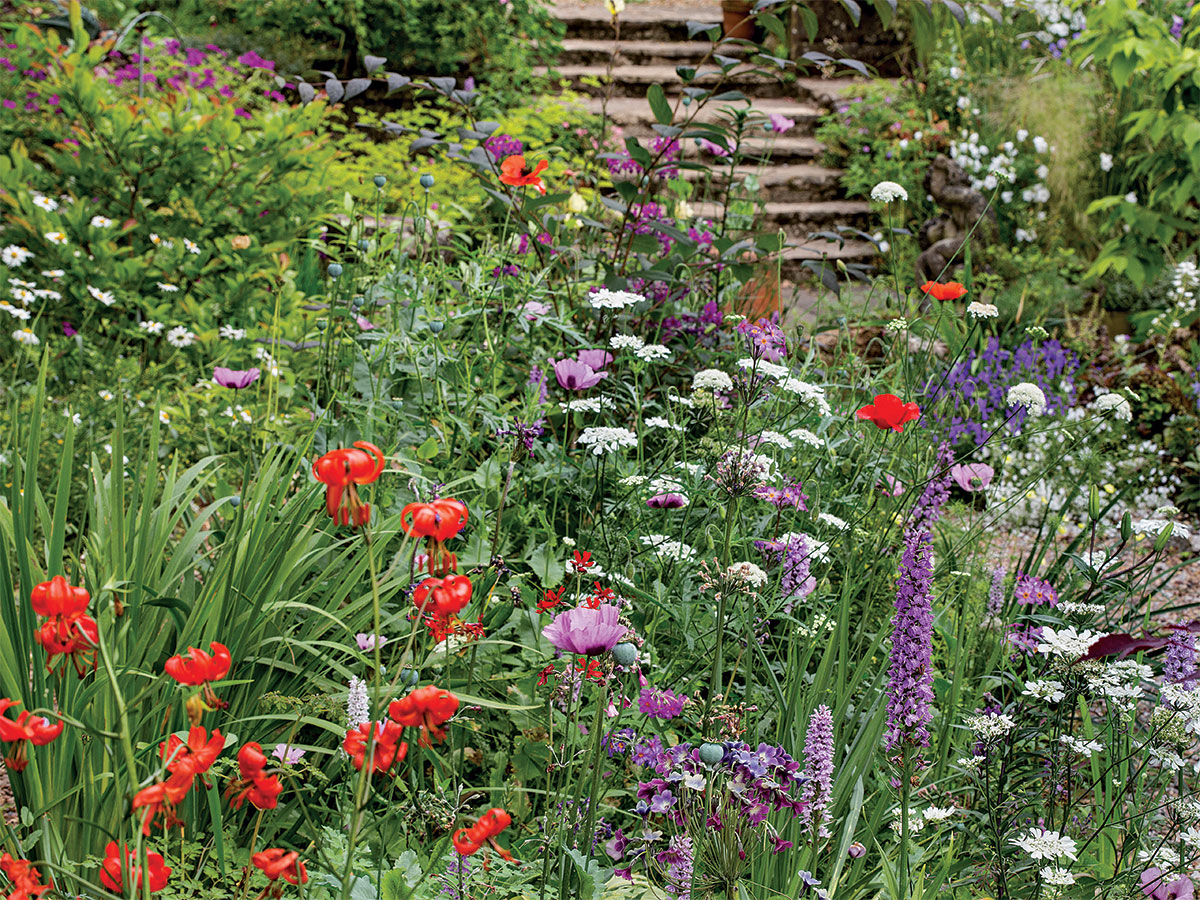 Classic cottage garden style

This style has been around probably as long as there have been cottages.

Late spring or early summer peak
Smaller scale
Emphasis on flowers
Many varieties of plants
Self-sowers encouraged
Nostalgic/classic look
No large groups
Vibrant colors

New Perennial garden style

This approach has exploded with the huge increase in perennial options over the last 40 years.

Fall peak
Larger scale
Emphasis on lasting form and structure
Fewer varieties of plants
Self-sowing discouraged
Modern look
Large blocks of plants
Subdued colors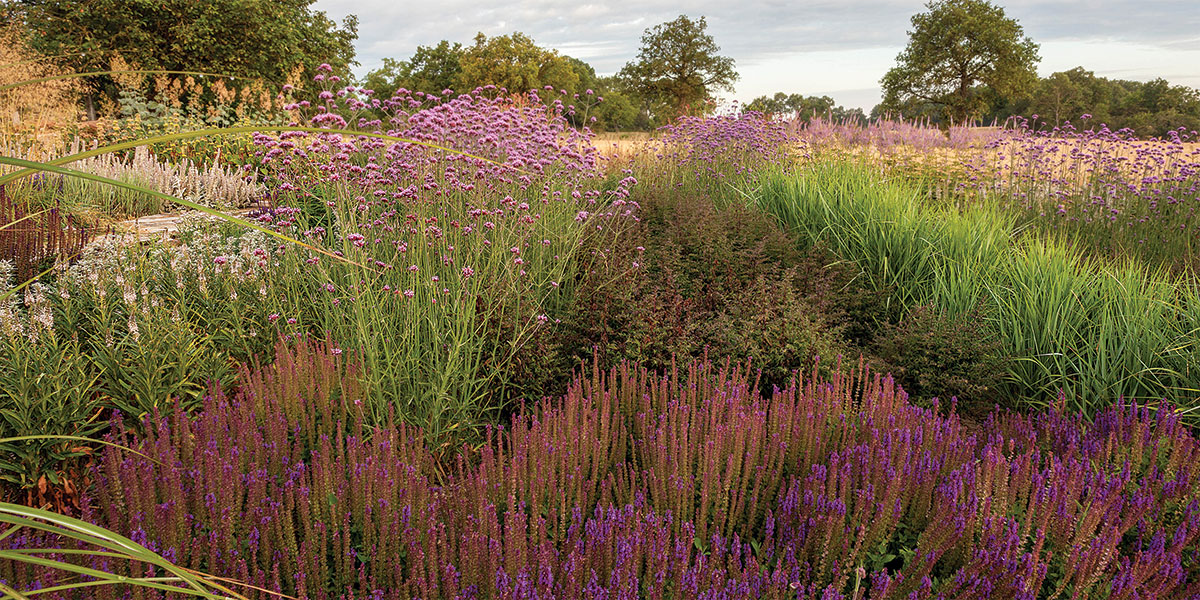 Aim to create a garden of flowing shapes
One of the hallmarks of both styles is plants appearing in drifts. In other words, the same plant appears in several places along the garden. In the cottage garden it is often drifts of bulbs such as star of Persia (Allium cristophii, Zones 4–8), or self-sowers such as California poppy (Eschscholzia californica, annual) randomly scattered throughout a section of planting. In the New Perennial garden the drifts are likely to be more deliberate, with maybe a carefully placed succession of grasses creating a sweeping edge around a path or border. To combine the two styles, choose plants to use in multiples along the garden to act as a backbone—maybe a tall miscanthus (Miscanthus spp. and cvs., Zones 4–9) or moor grass (Molinia spp. and cvs., Zones 5–9)—which will stand out from summer until the end of winter. Then do the same with a cottage garden favorite such as foxglove or hydrangea (Hydrangea spp. and cvs., Zones 4–9).
Control self-seeders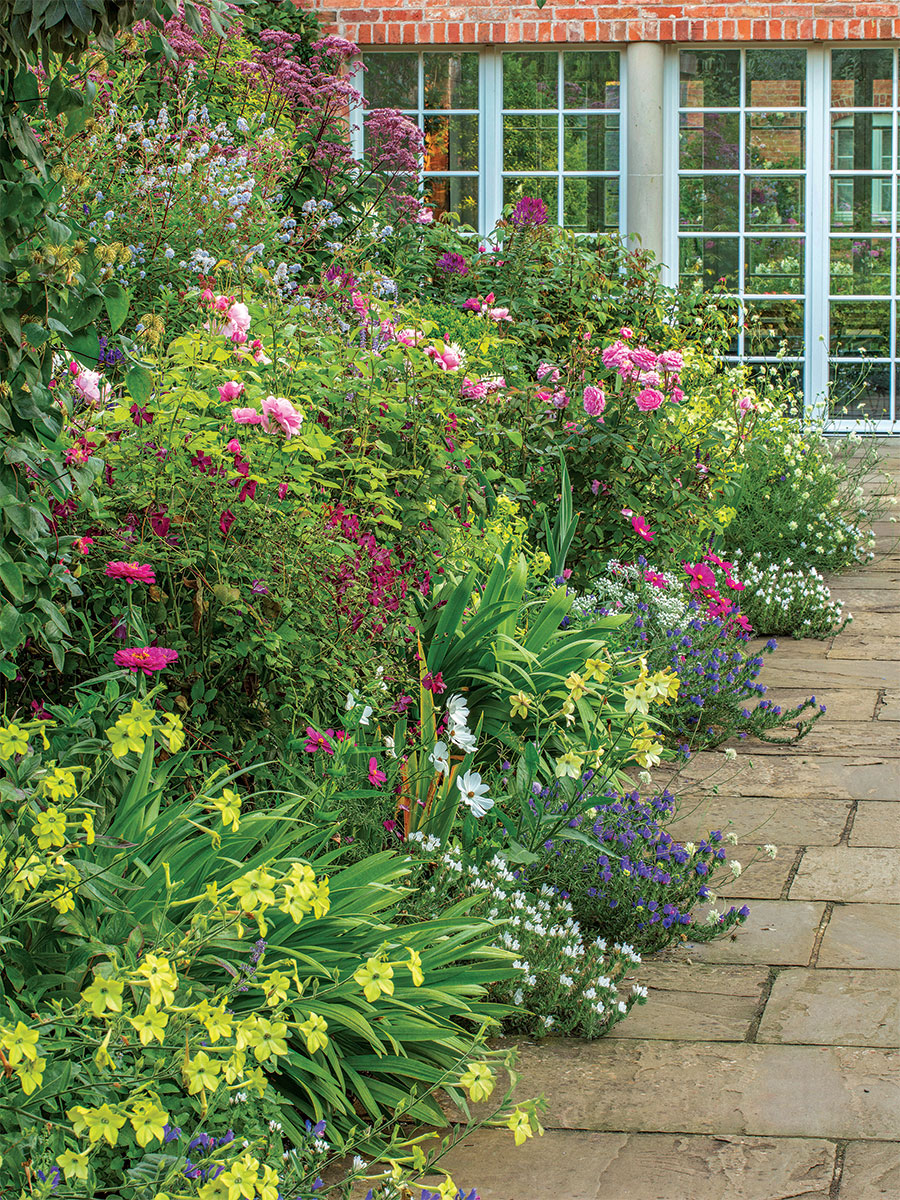 Allowing plants to self-seed is another way of creating a natural flow. This can be seen in both styles, although the randomness of natural germination tends to suit the loose layout of the cottage garden more than the blockier structure of the New Perennial style. Seeing the same plant flowering in drifts along a garden border makes the display look more like a whole. It can also make borders appear longer. Yet if things get out of hand, the garden can begin to look like it is relying too heavily on one plant to do all the flowering, and other plants can get lost. It pays to pull out unwanted seedlings early in the growing season to keep a balance. Self-sowing is essential to the "friendly jumble" of the cottage garden, but the impact of a block of plants is lost.
Cottage garden favorites that can self-seed too much include border-edging favorites lady's mantle and Mexican daisy. Self-seeding grasses such as Mexican feather grass may also need some controlling if allowed to self-seed freely.
Design for spontaneity
Within this framework of backbone plants and self-seeders, add bold, colorful plants in the gaps. These are the spots for those spontaneous plant purchases! Adding bold, colorful plants brings excitement and drama and can help create the feeling of abundance that is the hallmark of the controlled chaos of the cottage garden. And pulling off the same trick within a New Perennial planting can ensure that there are vibrant colors in the garden before the late-summer peak. Strike a balance between early- and late-summer-flowering plants, and, of course, tailor your choices to plants that like the same soil conditions you have in your garden. In dry, free-draining soil, plant cottage garden favorites such as wallflower, shrubby potentilla (Potentilla fruticosa, Zones 3–7), and pale yellow-eyed grass for early summer color. Mingle these with some later-flowering perennials from the New Perennial style such as sedum and New England asters. In heavy soil, partner roses and lilacs (Syringa spp. and cvs., Zones 3–8) with helenium and black-eyed Susans.
By combining the classic cottage style and the contemporary New Perennial style, you will create a garden that celebrates diversity and shows the surprising results that can be achieved when unlikely neighbors are brought together.
See more about cottage gardens
6 Great Plants for a New Perennial Design
6 Great Plants for the Cottage Garden Look
A Cottage Garden That's Not Chaotic
---
Greg Loades is the author of The Modern Cottage Garden.