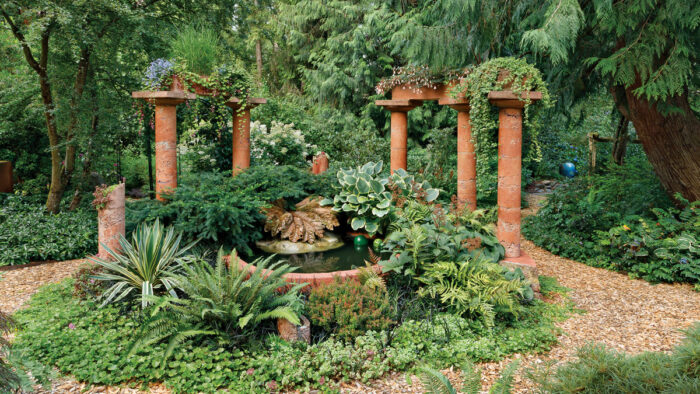 We have all had them: instances in a garden when we just stop. And the words that jump to the front of our minds include "wow," or "yes," or "oh my." Then there are moments when we just lose ourselves, forgetting about anything other than the flitting of birds from branch to branch, the subtle gradation of hues on a flower, or the swaying of a stem in the breeze. We are gone from our normal lives—no laundry, pickup times, or to-do lists. There are just birds, blooms, and breezes.
Whether these moments happen instantly or gradually, they have power. They delight our senses and lift our spirits. If there is any garden where one can see this in practice, it is the garden of Denise Lane. On a property just shy of an acre outside of Seattle, Denise has created a garden that is a collection of moments both big and small, amounting to an experience a ­visitor is ­unlikely to forget. We all want our gardens to have a similar effect, and not just on guests. We want to feel it too. This peek at what makes ­Denise's garden work provides some lessons we can all put into practice.
---
| The Plan |
It seems bigger than it is
Sitting on just under an acre, Denise's garden packs a lot into what seems like a much larger area. Part of the key is screening one area from another with large shrubs and trees.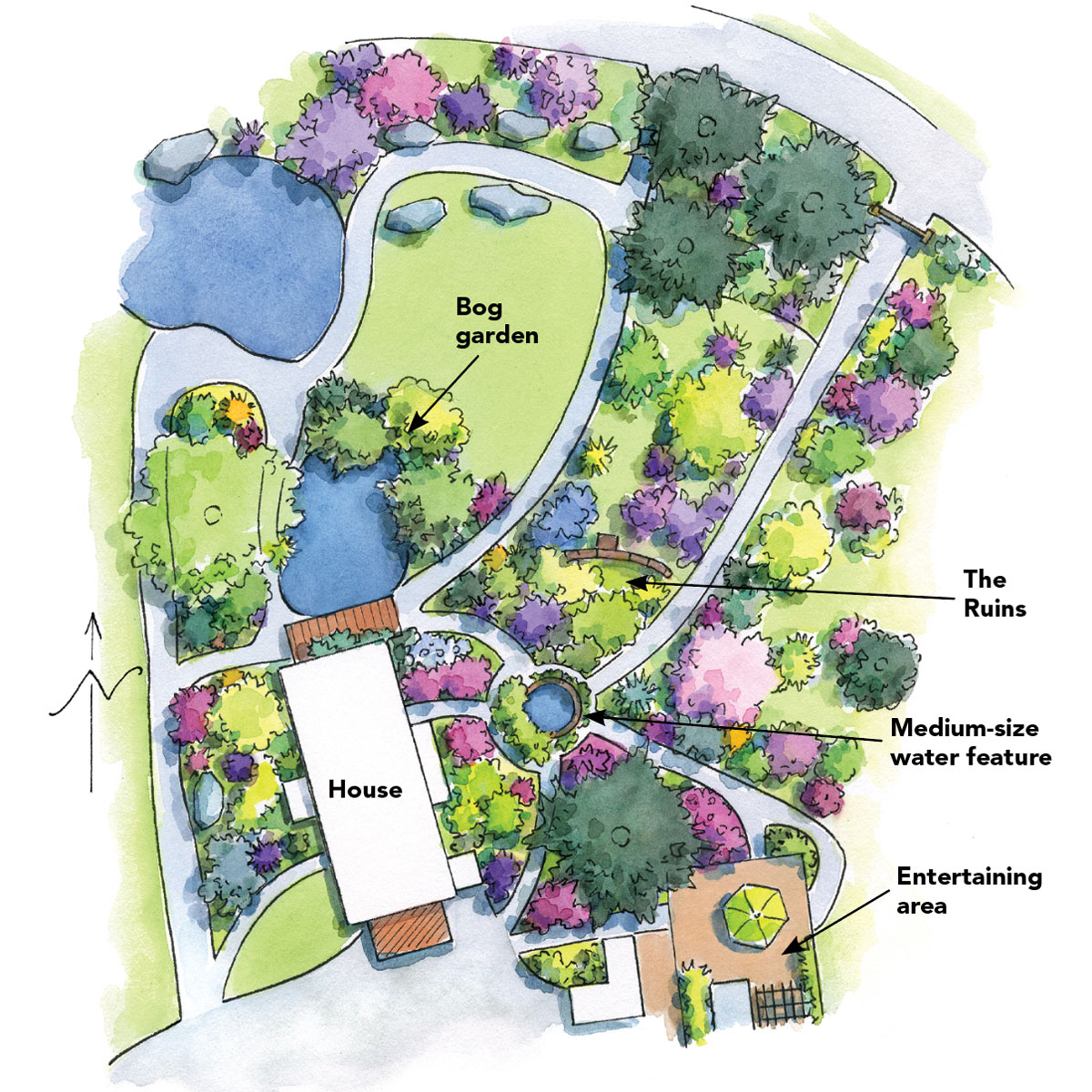 ---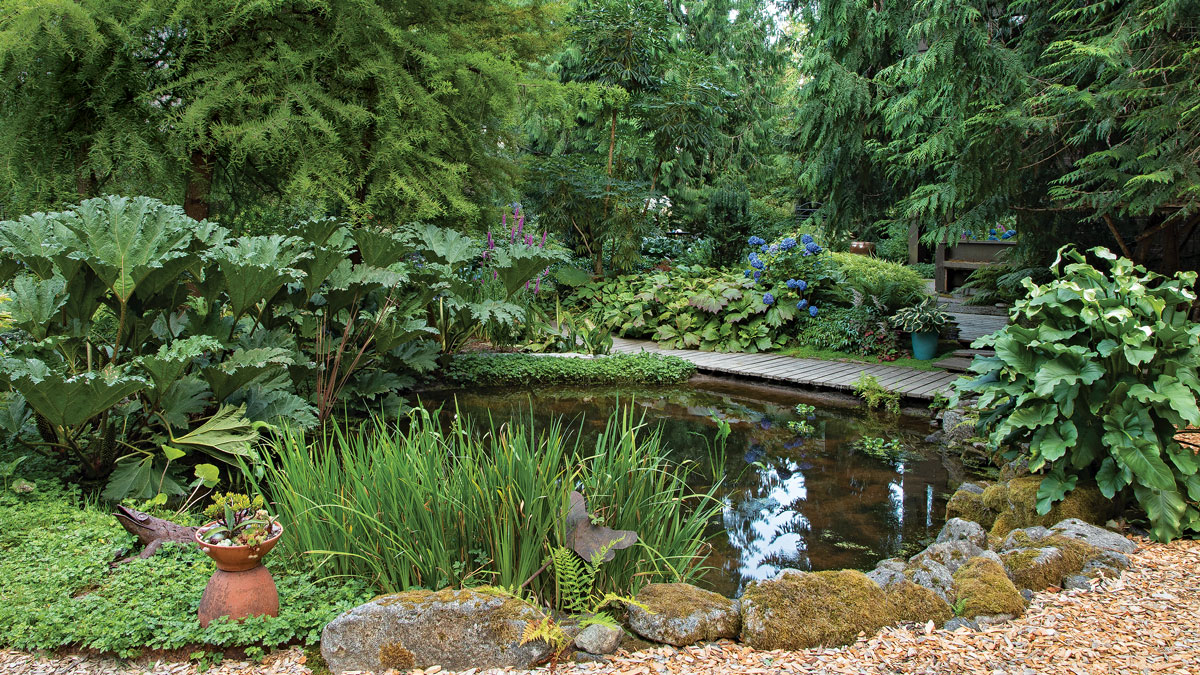 Big moments start the journey
The big moments are the most noticeable. They fill you with a bit of awe and admiration, and Denise's garden has several of them. Plants are perfect for making these moments, a fact about which no gardener needs to be reminded. Perhaps the most obvious statement plant in Denise's garden is the gunnera (Gunnera manicata, Zones 7–10), which she has used on the edge of a bog (photo above). This area naturally holds water year-round, so rather than fight against the landscape, Denise took advantage of the conditions to make the area special. It isn't just the gunnera's size that makes it impressive; it is its architecture. Denise uses other plants with distinct forms and shapes, such as rodgersia, to make an impact (photo below). The larger the number of plants, the greater the impression.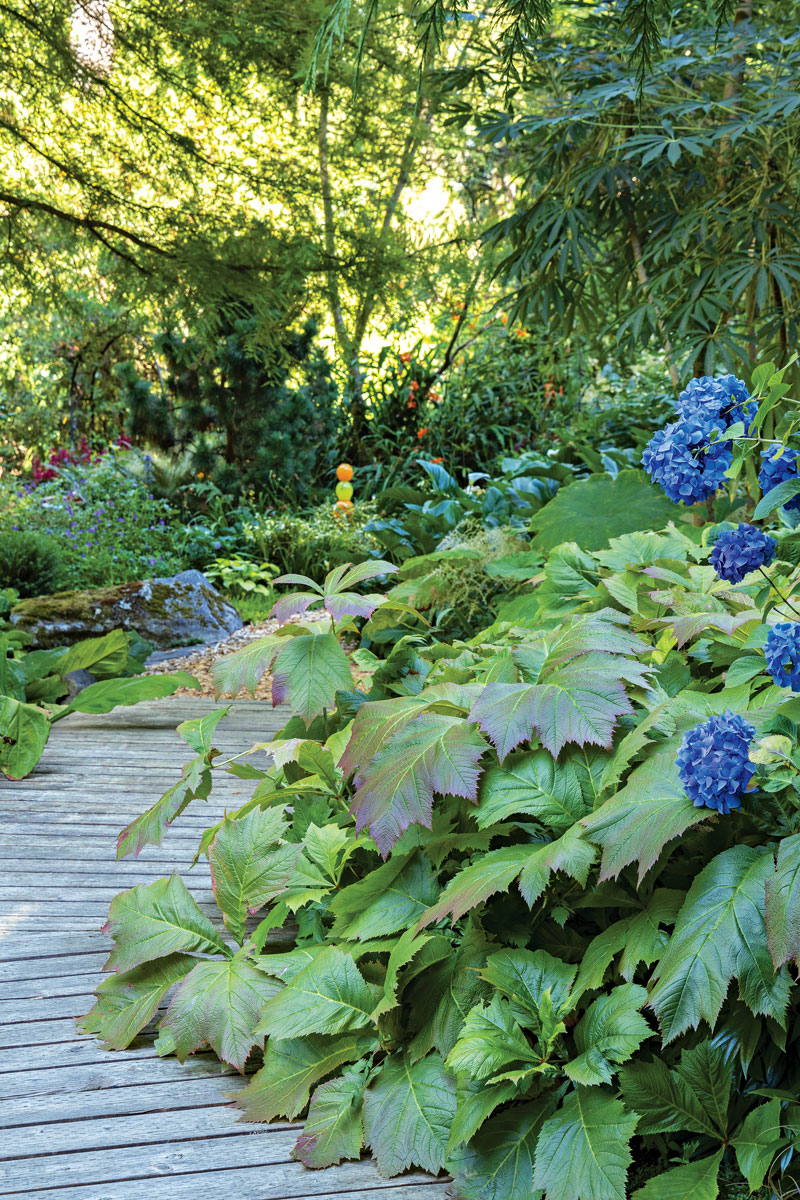 Another big moment is "The Ruins," a water feature surrounded by pillars and lushly planted to provide a sense that nature has reclaimed this spot (photo below). The location of this feature is crucial. Because you can see The Ruins from the house, it beckons you into the garden. Once there, you notice that it sits at the junction of the paths into the rest of the garden. Having lured you in and dazzled you, this area then inspires further exploration. There is more to your journey.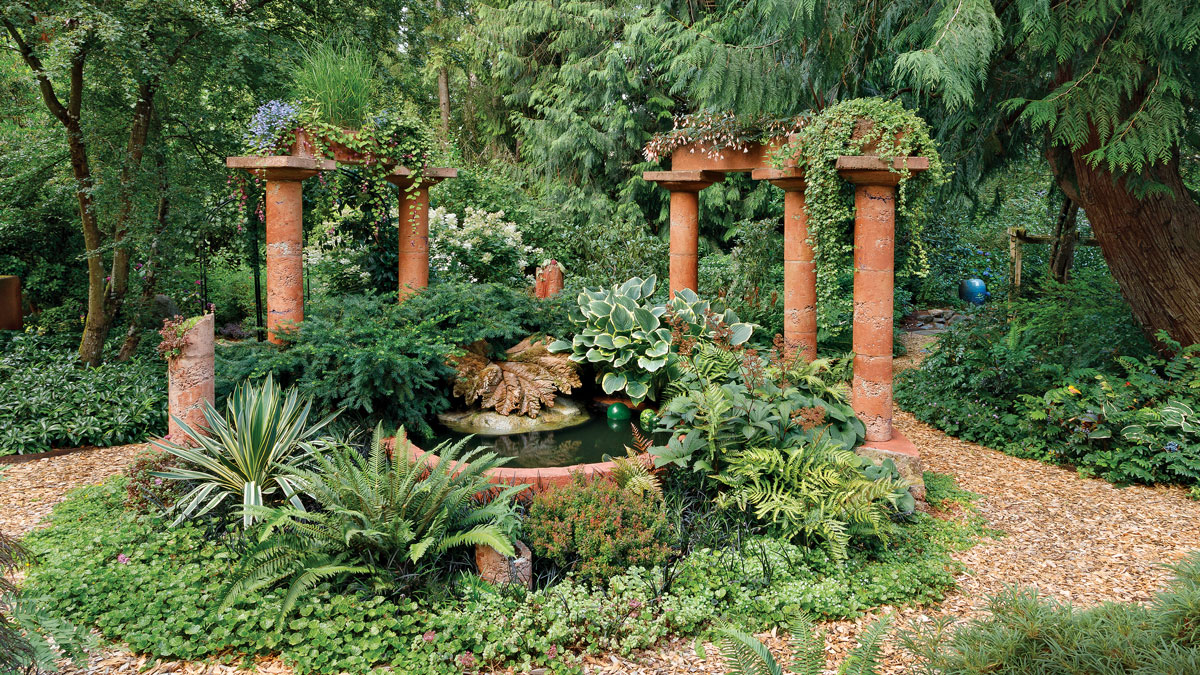 Perhaps the most obvious big moment is seeing the entertaining area. Here you'll find a large patio, a bar, an outdoor kitchen, a firepit, and ample space to wander. What makes the space special is not the size or the accoutrements, but that seeing it makes you want to be there. Denise creates a comfortable atmosphere by having distinct spots within the enter­taining area: a small table and chairs for two, and low seating walls nestled around the dining table and the firepit. These smaller spaces keep the scale from being overwhelming and make the entertaining area perfect for beginning and ending a journey around the garden.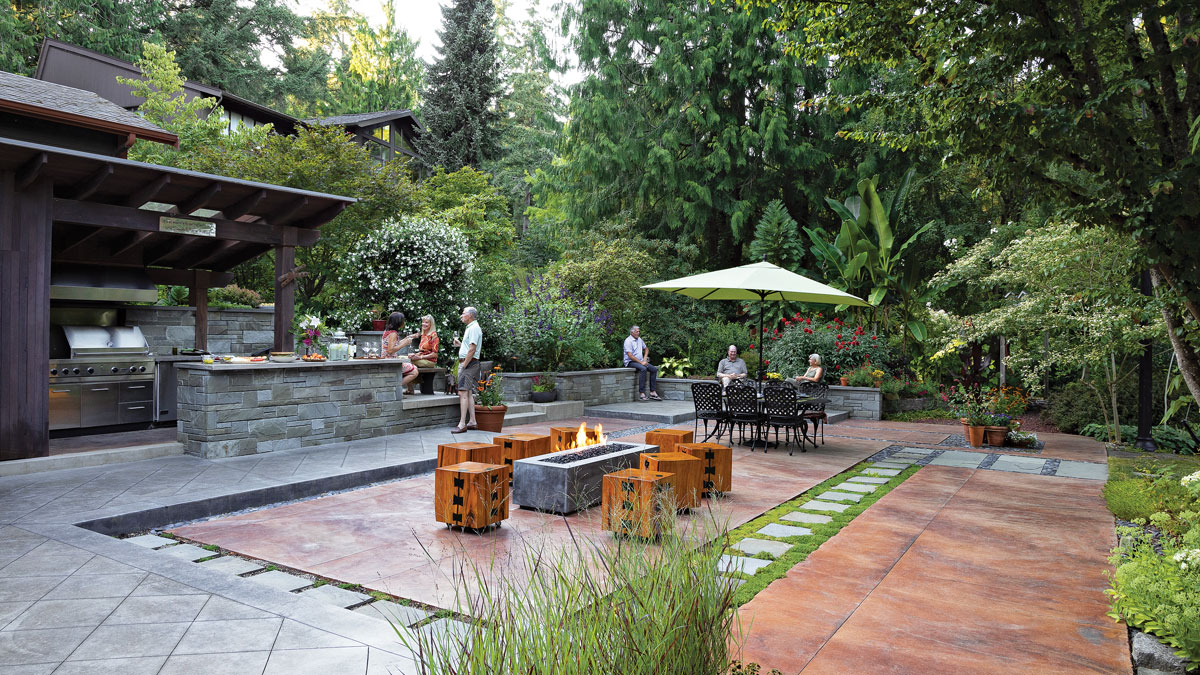 Smaller moments add the charm
If the big moments are the ones that proclaim, "Look at me!" a smaller moment is one that politely calls out, "Yoo-hoo, over here, dear." Some smaller moments just gently clear their throat. These instances add the charm to the garden, providing artistry to the spectacle and rounding out the experience. For instance, after you have been amazed by the entertaining area, a closer inspection reveals how Denise has brought the garden into the space, making this expanse of hardscape an integral part of the landscape.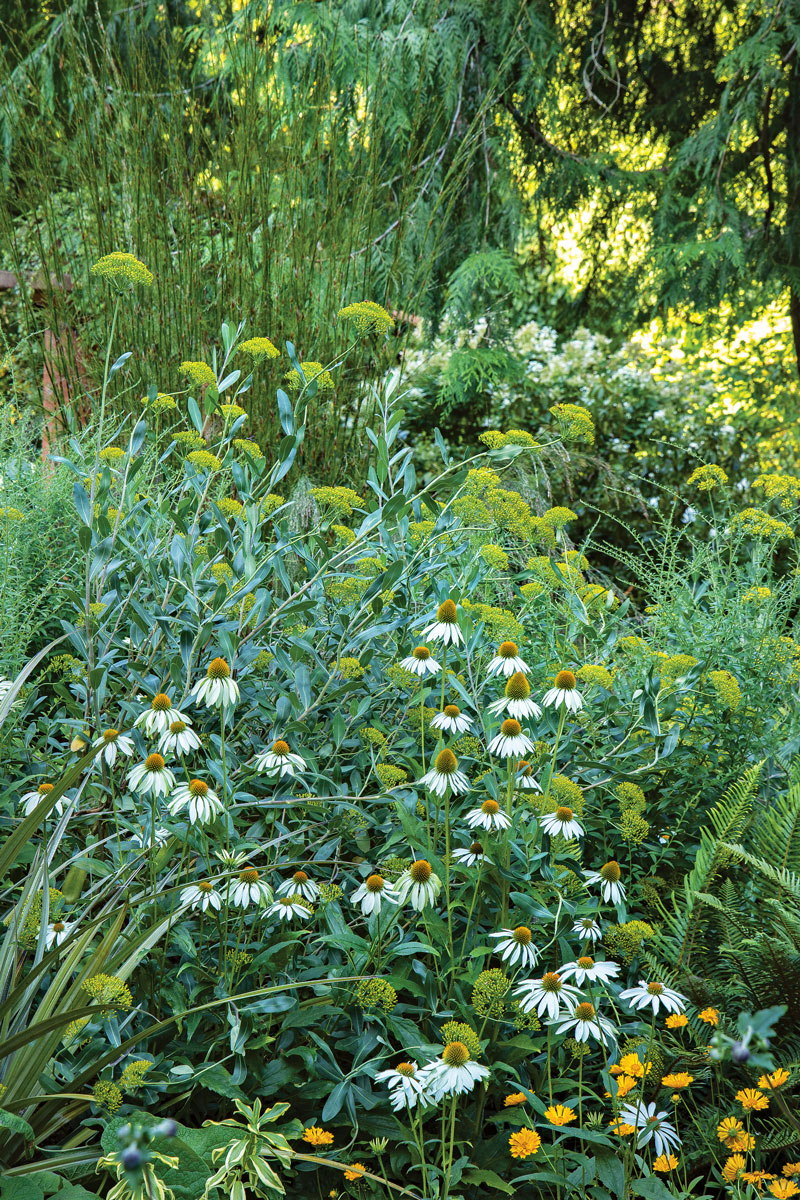 At The Ruins, an impression is created by the columns and the water feature. But when you take time to notice how the outward stretch of the concrete leaf (a gunnera, of course, connecting this area with the bog area) is mirrored by the habit of the plants around it, or how the forms of the plants at the ground level echo the large columns, you are ­delighted on a level that the stature of the feature can't provide. 
Within the length of a border, a special plant combination might be the thing to catch your eye. As a manageable way to approach the creation of these vignettes and combinations, Denise suggests limiting your efforts to "how much area you can see without moving your eyes." Then, she adds, "make that area work." She likes to use color echoes, such as when the ­golden center of 'White Swan' purple coneflower unites the shades of yellow that are above and below it (photo right). 
We all want our garden to have these moments and to be the experience they collectively create. If you are put off by the fact that you haven't the space or the budget to create similar moments, don't be. Concentrate on your garden's moments. Where are they? Make the areas you want to spend time in comfortable. Use architectural plants to create impact. Use color and form to add to your moments. And always remember that no matter how big or small they are, moments in the garden are treasures.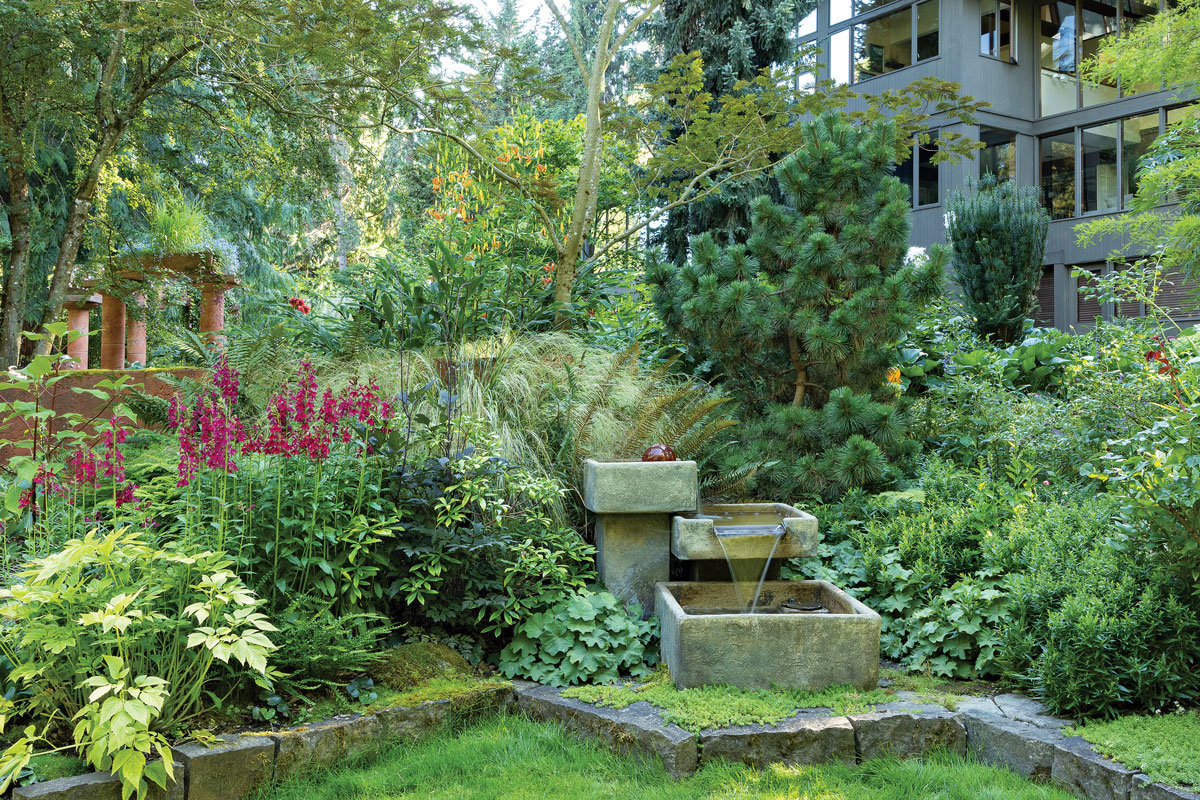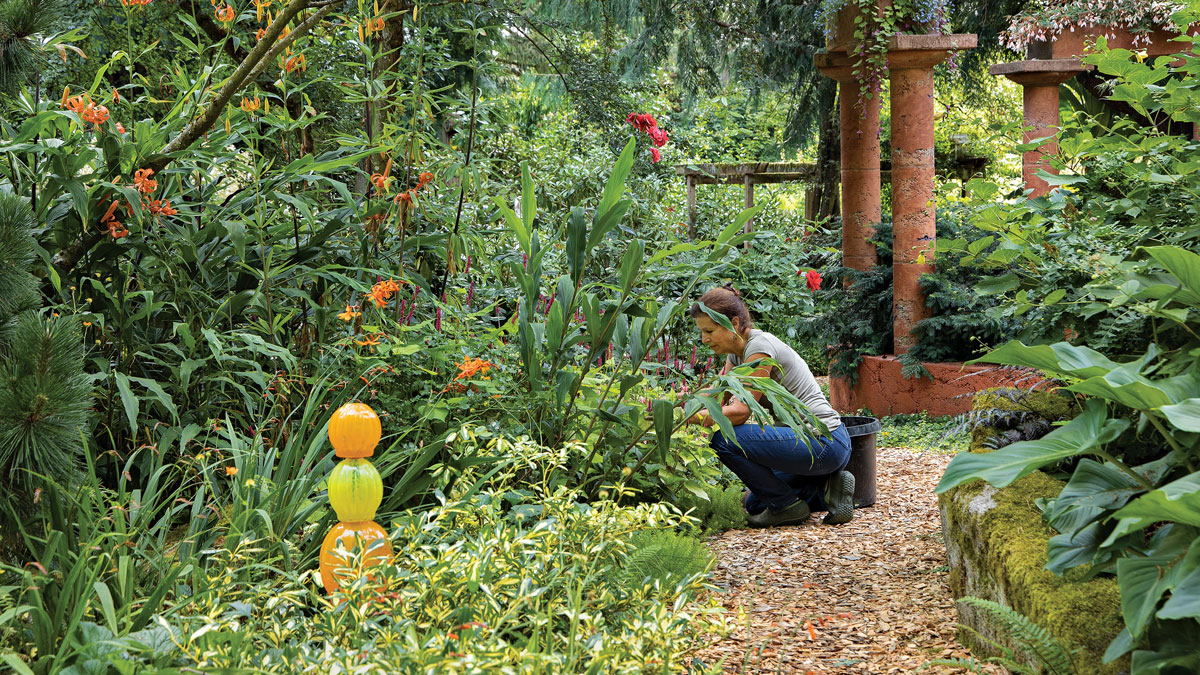 ---
| Plants |
Denise's top picks for eye-catching perennials
If you want to stop a gardener in her tracks, show her a cool plant. It doesn't have to be big; it just has to be interesting. Here are some of the plants in Denise's garden that are worth noticing.
Photo: DoreenWynja.com

1. 'Rotlaub' rodgersia (Rodgersia podophylla 'Rotlaub', Zones 5–8)

Photo: DoreenWynja.com

2. Julia Child™ rose (Rosa 'Wekvossutono', Zones 4–9)
Photo: DoreenWynja.com

3.'Green Goddess' calla lily (Zantedeschia aethiopica 'Green Goddess', Zones 8–10)

Photo: DoreenWynja.com

4. Compliment Deep Red cardinal flower (Lobelia × speciosa 'Kompliment Tiefrot', Zones 6–9)
Photo: DoreenWynja.com

5. 'Little Honey' oakleaf hydrangea (Hydrangea quercifolia 'Little Honey', Zones 5–9)

Photo: DoreenWynja.com

6. 'Purple Gem' dahlia (Dahlia 'Purple Gem', Zones 8–10)
7. Anise sage (Salvia guaranitica, Zones 8–10)

8.  Shrubby hare's ear (Bupleurum fruiticosum, Zones 7–10)

9. 'White Swan' purple coneflower (Echinacea purpurea 'White Swan', Zones 4–9)
---
Steve Aitken is a former editor at large.