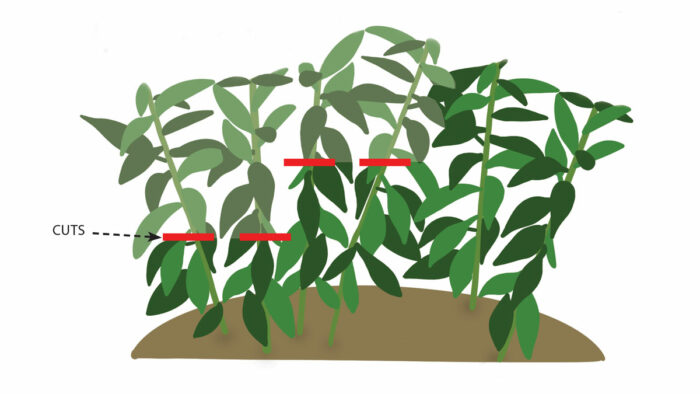 It's midsummer, and you miss that fresh look of your perennial borders. What happened to the spring green foliage and neat habit of your plants? Some plants are sprawling, flopping, and making you think they aren't the plants for you. The good news is that you can fix this. You need to grab your hand pruners and get to work, but I promise it will be worth it. Your plants will look neater immediately, and the pruning will promote new, fresh growth. As my crew and I tend to perennials, we have a mantra: "If it's brown or down, we don't want it around." An ornamental garden and all the plants in it are supposed to look nice. The art of cutting back is about improving the appearance of your plants. Here are some guidelines for grooming that will help you fall in love with them again for the rest of the growing season.
Tidy up early bloomers
Look at your early-blooming perennials one by one, and decide if you would like to improve their looks. Think like a hairdresser who knows that some areas look better with a little flow.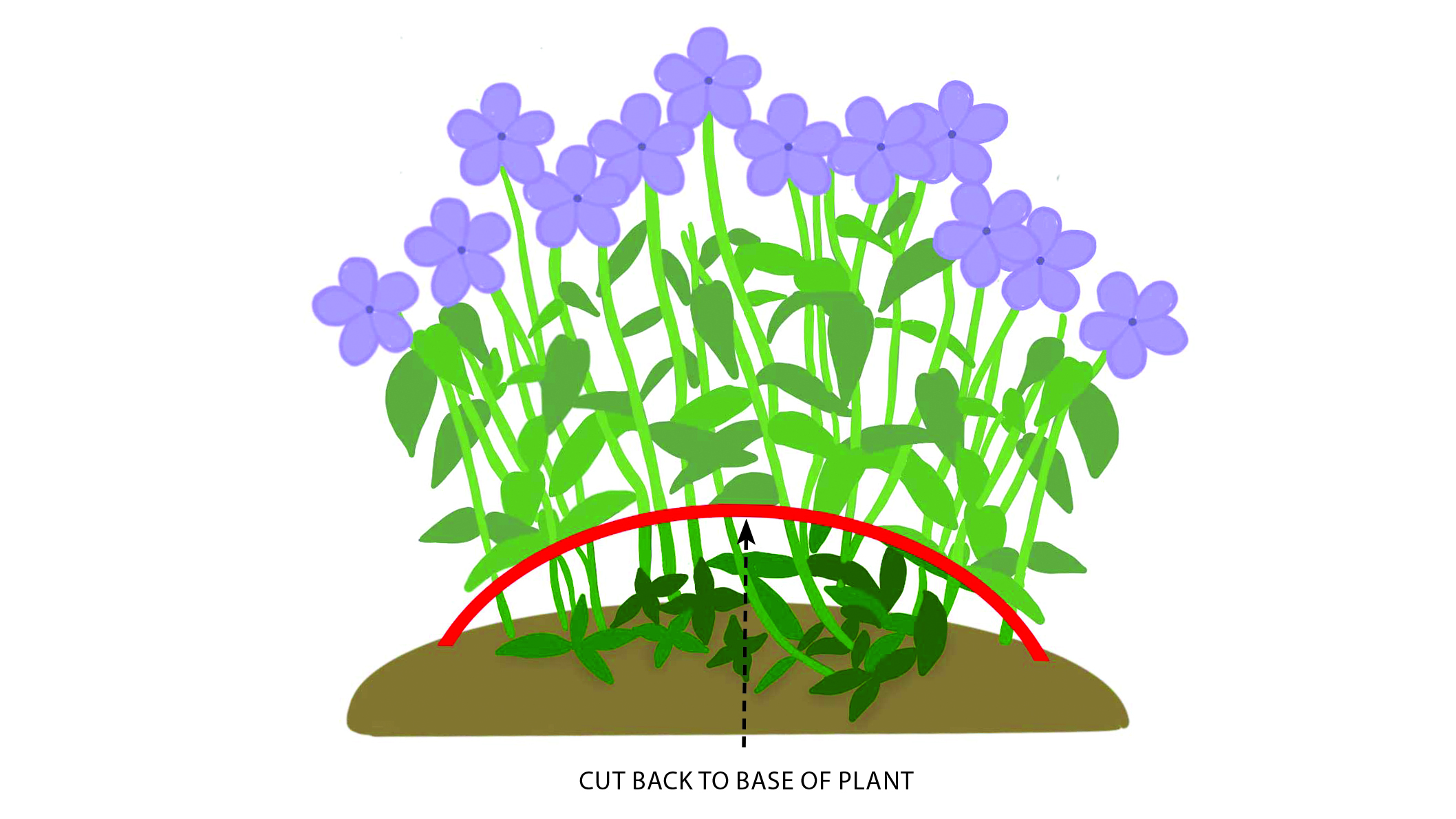 Method 1:
Cut back hard to let new growth take over
You may want to keep hips on your roses and seed heads on your peonies. But some plants definitely need a touch-up. Grooming a plant (pruning it to take away spent flowers or anything ugly) makes the plant look better, but it also forces the plant to put more energy into its root system because it hasn't been allowed to keep its seeds.
Most early-season bloomers can be cut right back to the base to make way for lush, tidy new growth. Woodland phlox and iberis, for example, ­reward you with neat, low foliage if you shear them down.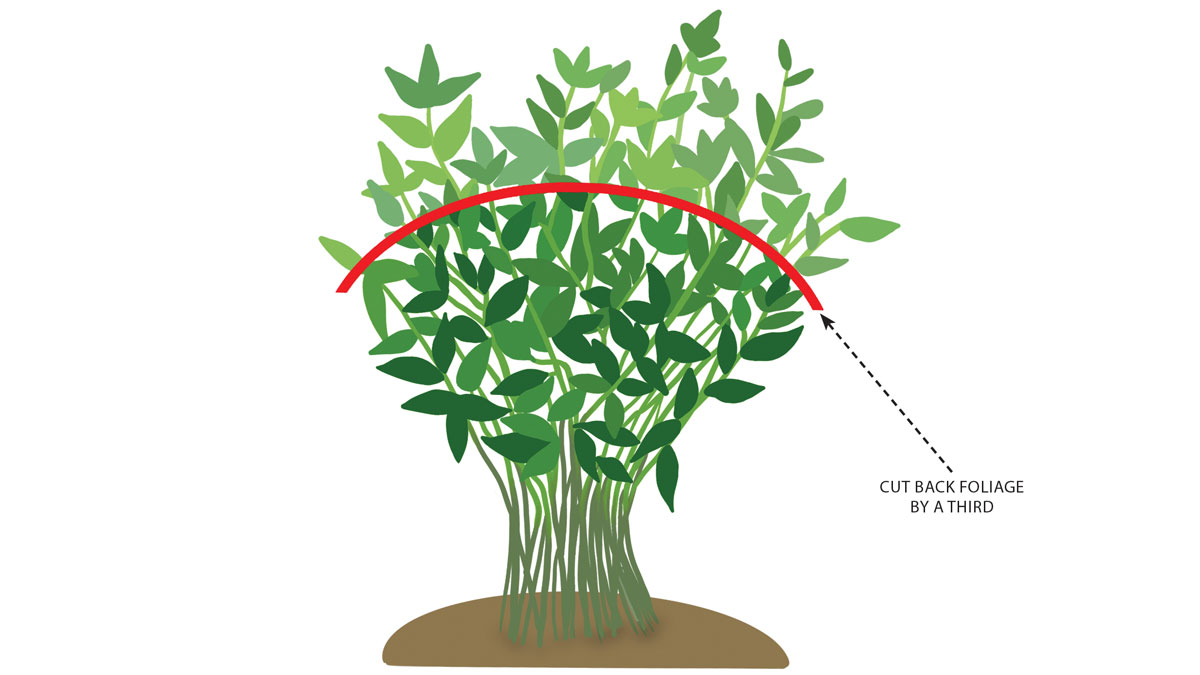 Method 2: A light touch encourages fresh foliage 
Some other early bloomers such as bluestar and baptisia will not sprout new growth from the base after blooming and might tend to get a bit bedraggled as the season wears on. Cutting back the foliage by a third or so will reward you with fresh green growth in the doldrums of summer and will do wonders for a border.
Later bloomers benefit from a little chop
Having tended to the perennials that have had their show, you may now turn your attention to those still waiting in the wings. Mums, garden phlox, sedums, asters—they all may need you to help them get ready for their time in the spotlight. Pruning these plants well before they bloom can keep them from flopping and potentially lengthen their bloom time.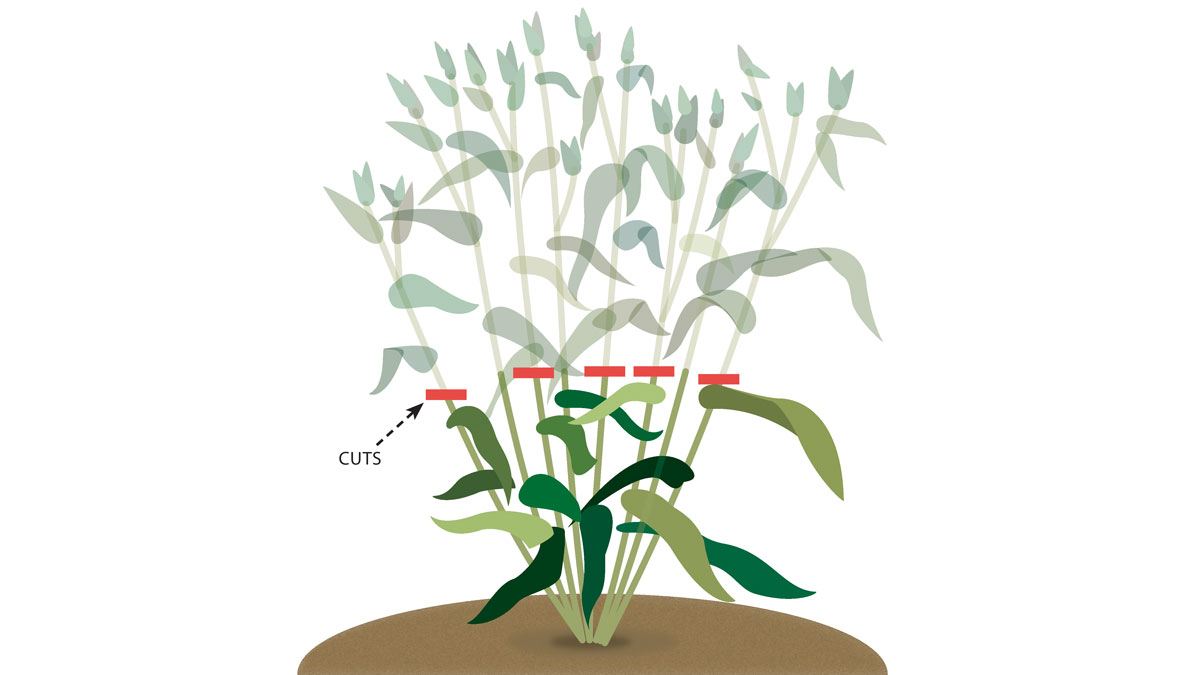 Method 1: Early cuts prevent late flopping
We administer the "Chelsea Chop" to plants we predict will flop. This means cutting a plant back by one-half to one-third its height in late spring to early summer. There is no need to be precise with these cuts, so I usually just grab a handful of stems like a ponytail and snip away. A large swath of plants might cause me to fetch some shears from the truck.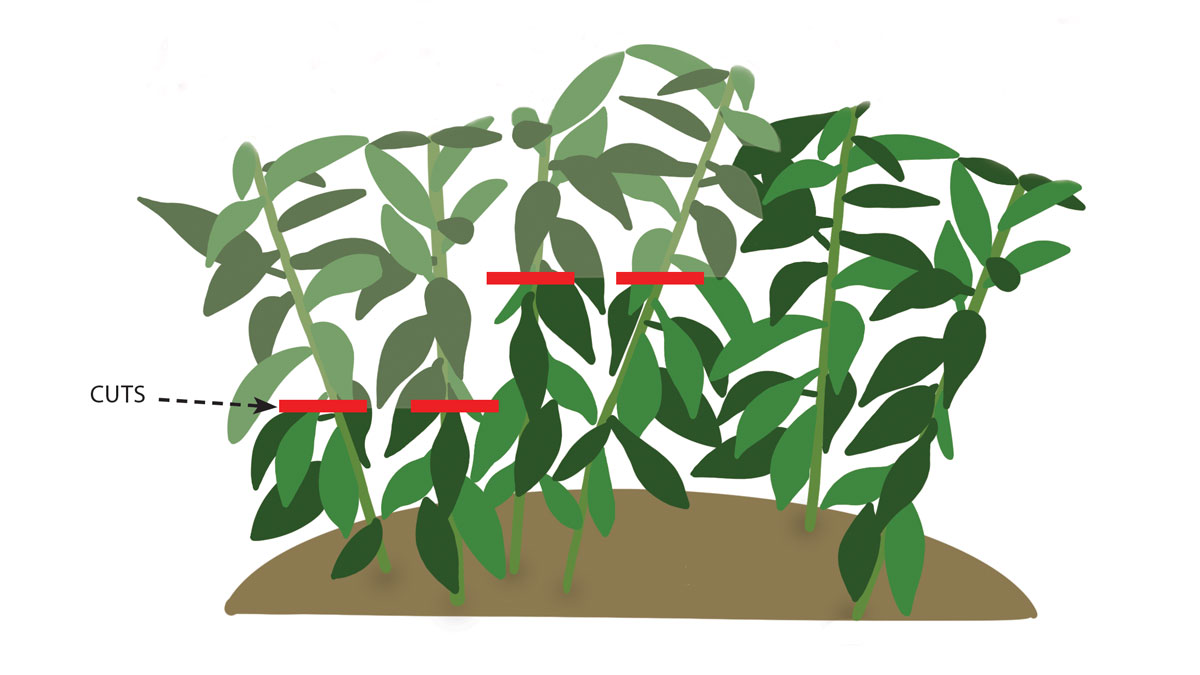 Method 2: "Stadium style" prolongs the bloom season
Pruning perennials at this time will delay when they bloom. A way to avoid that is to prune "stadium style," which will result in a longer stretch of color. If you have a generous supply of bee balms, for example, cut the front in half, cut the middle section by a third, and leave the back to bloom in its own time. You will have successive blooms from back to front that will delight your eyes, amaze your friends, and give you that satisfied feeling of having at least a modicum of control.
As with so many things in horticulture, there are more guidelines than rules on this topic, and I recommend that you experiment with your plants to see how they respond to your surgical ways. None of this has to be done for the survival of the plant, but all of it can be done to get a tidier garden, if that is what you want.
---
Leslie Harris is the owner of LH Gardens, a firm in Charlottesville, Virginia, that designs, installs, and maintains gardens.
SOURCE: DiSabato-Aust, Tracy. The Well-Tended Perennial Garden. Timber Press, Portland, OR. 1998.