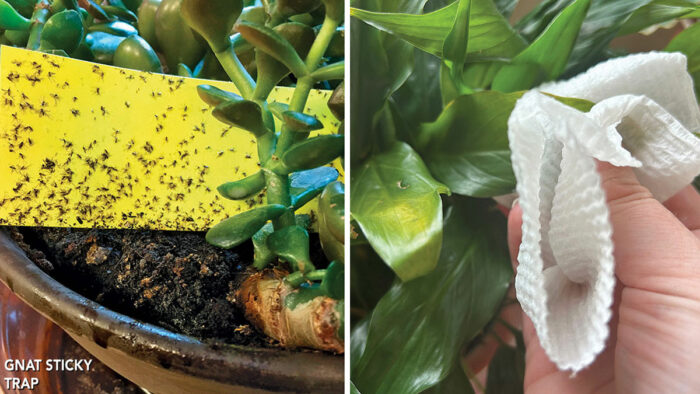 Outdoors, pest populations are kept in check by rain and diseases and by birds, beneficial insects, and other predators; indoors, however, plant pests can proliferate very quickly with nothing to stop them. The most common pests that may infest your houseplants are spider mites, mealy bugs, scale, aphids, and fungus gnats. This can lead to unsightly damage and potentially the death of your plant. There is also the risk that an infestation can jump from one plant to another. For these reasons, pest control is important. First, though, you need to learn how to identify your pest.
Spider mites are hard to spot but create noticeable webs and stippling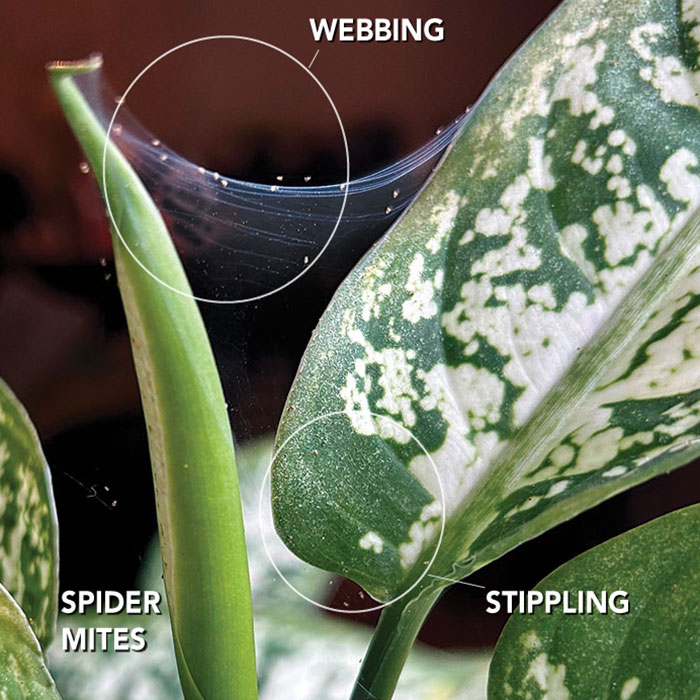 Identification:
Spider mites are not insects but are more closely related to spiders. Their common name comes from the silky webbing they produce when populations are high. These tiny creatures are about the size of the period at the end of this sentence. They thrive in dry indoor environments, and their populations can grow exponentially in a few weeks.
Damage:
The mites typically feed on the underside of leaves, where the removal of cell contents also removes the green pigment of the leaf. This causes stippling, which results in a dusty appearance. Heavy infestations can cause leaves to yellow and fall off and can also lead to the death of a plant.
Control:
Check for mites by tapping leaves over a white piece of paper and looking for tiny dots crawling around. Insecticidal soap is one of the best products to use against this pest. It's a contact insecticide with no residual activity after it dries. Make at least three appli­cations at five-day intervals to control newly emerging mites. Be sure to spray the upper and lower leaf surfaces.
Fungus gnats cause damage under the soil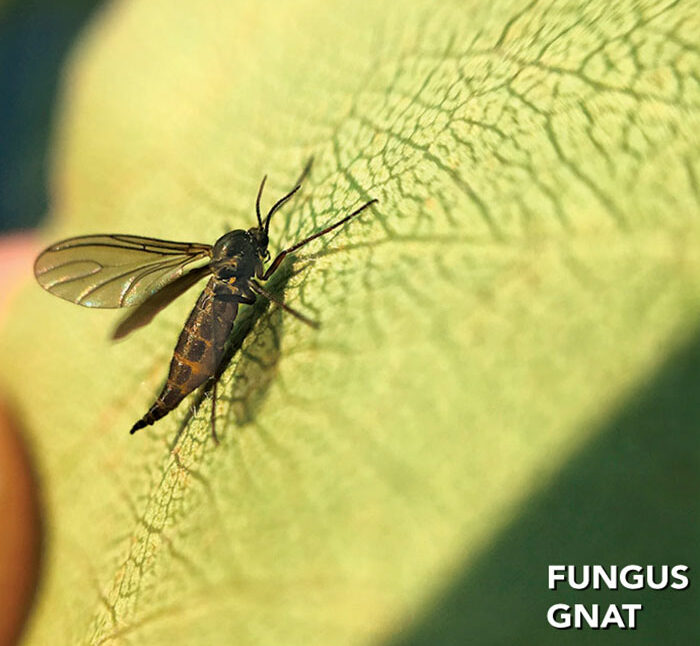 Identification:
Fungus gnats are a species of fly about ¼ inch long and are usually black. The use of yellow sticky traps can help you confirm whether or not you have a fungus gnat problem.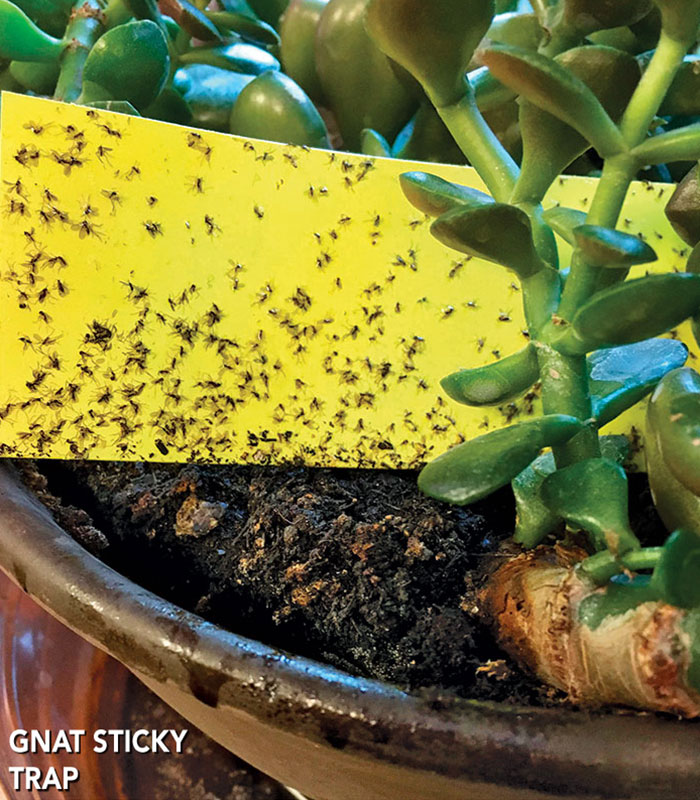 Damage:
Adults do no damage but are often a nuisance. ­Females lay eggs in the soil, and the larvae, called maggots, feed on plant roots, causing stunted growth and potential yellowing or wilting of leaves. This may cause unsightly damage but is not likely to kill a plant.
Control:
Overwatering and wet soil are usually the cause of fungus gnat problems. Always empty saucers under plant containers after watering, and allow time for the soil to drain. Larvae can be controlled with Bacillus thuringiensis subsp. israelensis (Bti), a bacterium that is sold in stores for the ­control of mosquito larvae in standing water. Dissolve the bits in ­water and drench the soil. While yellow sticky traps will capture adults, they are better for monitoring your infestation and will not be totally effective in eliminating them.
Mealy bugs have a distinctive appearance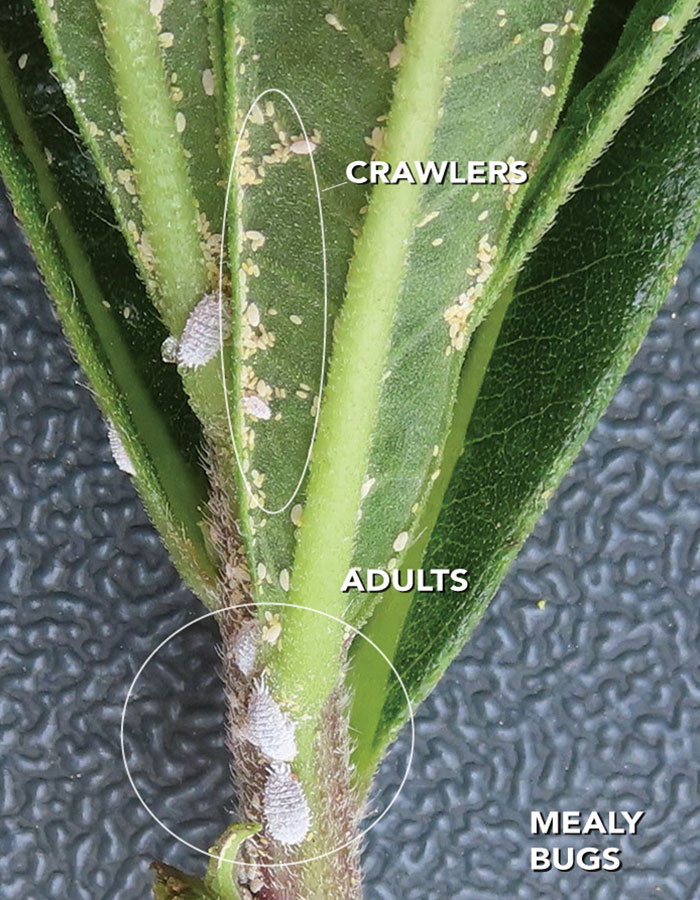 Identification:
Mealy bugs are small insects up to 1 ⁄ 8 inch long with bodies covered in white, waxy filaments. They are most often found feeding on stems but can also be found on the underside of leaves. They exude a substance called honeydew that leaves a shiny, sticky residue. Eggs hatch into young "crawlers," which are pale yellow and lack the waxy filaments until they settle down at a feeding site.
Damage:
These pests suck on plant sap and stunt plant growth. This can cause yellowing or dieback of leaves. High populations can eventually kill a plant.
Control:
Insecticidal soap is effective against crawlers but is not so effective against adults. Adults can be killed with rubbing alcohol applied with a cotton swab. Neem oil is also effective, but always test it on one leaf first and wait a day to see if it burns the leaf before applying it to the whole plant.
There are two types of scale to look out for
Identification:
Scale are round to oval with no visible eyes, antennae, or legs. There are two main groups of scale. Armored scale are covered by a hard shell and are less than 1 ⁄ 8 inch long. Soft scale are usually larger (about 1 ⁄ 4 inch long) and covered with a thick wax. Adults are sedentary once they find a feeding site. Eggs are laid under the protective cover of the female; after hatching, the young crawlers move about on the plant to find a feeding site before producing the protective covering that shields scale insects from most contact sprays.
Damage:
Scale cause stunting of plant growth and can lead to yellowing, wilting, or premature dropping of leaves. They can be deadly if their populations are allowed to grow.
Control:
Small infestations of scale insects can be removed by gently scraping them off the plant when practical. Insecticidal soap is effective against crawlers. Neem oil can smother adults.
Aphid infestations can quickly get out of control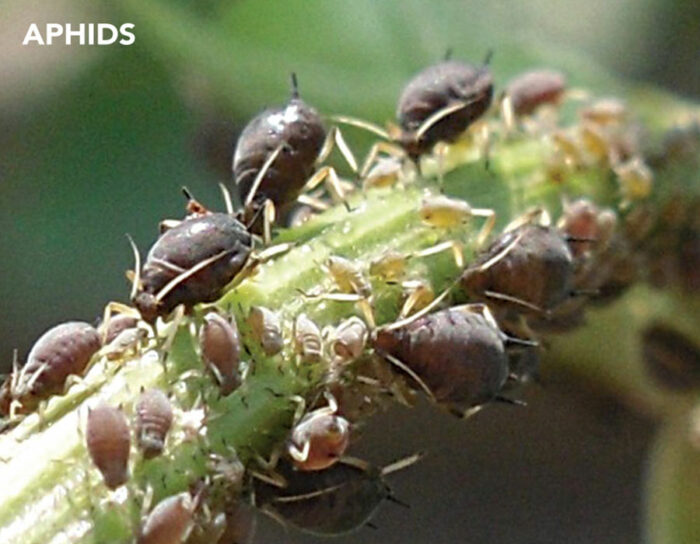 Identification:
Aphids are about 1 ⁄ 8 inch long. They are soft-bodied insects that are normally wingless and can be just about any color depending on their species and the plant they are feeding on. Like mealy bugs, they secrete honeydew. Aphids reproduce at a very rapid rate, so populations can grow quickly if they are not controlled.
Damage:
These insects suck plant sap and can cause stunted, yellowed, or distorted leaves, but they will rarely kill a plant.
Control:
Insecticidal soap is very effective against aphids and is the best bet for indoor infestations.
---
Be proactive with prevention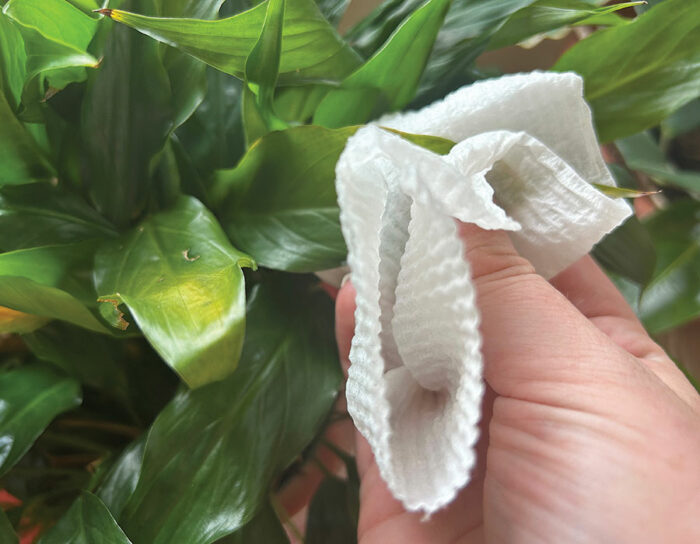 Being smart with houseplant care can help to prevent infestations in the first place. Follow these tips to reduce the likelihood of pests becoming a problem.
Inspect your plants on a regular basis.
When bringing plants indoors that were outside for the summer, isolate them from each other and observe them for several weeks.
Do the same thing to newly purchased plants before moving them close to other plants.
Wipe down your plants with a soft cloth and mild soapy water every month or when bringing plants back inside.
Provide your plant with the right lighting and watering conditions, as stressed plants can be more susceptible to pest infestations.
Practice safety with pest-killing products
Whenever you choose to use a pesticide—whether it's organic or synthetic—follow these tips to make sure you use it safely.
Take your plants outside before spraying them with any product.
If it's too cold outside, spray them in the shower.
Read the label to learn about ­proper application rates and any safety precautions.
If you want to avoid the use of these products, consider pruning out infested plant parts when possible or replacing an affected plant.
---
Paul Thompson is a Distinguished Urban Horticulture Agent in York County, South Carolina, with the Clemson University Cooperative Extension Service, where he has worked since 1994.