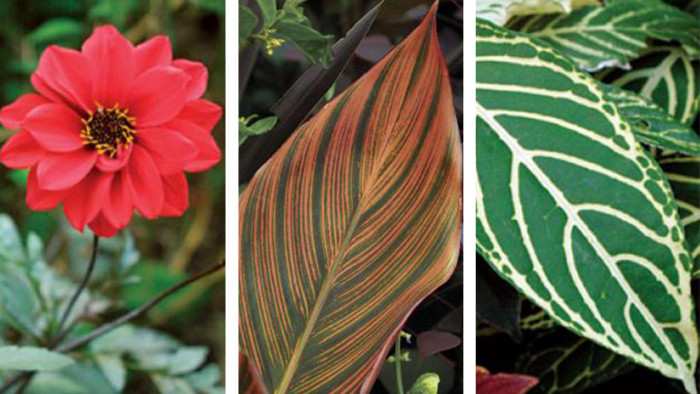 I garden in a steam bath. At least that's what it feels like by mid-July, when daytime temperatures approach triple digits. Perennials that flower for months in cool climates often wave a flag of surrender to the heat after three weeks in North Carolina, as I learned to my chagrin when I began building large-scale perennial borders 15 years ago. Not wanting my garden to play poor stepsister to the exquisite herbaceous borders I'd seen in British garden books, I gradually expanded my plant repertoire over the years to include woody shrubs and summer-flowering bulbs. I created lovely but sedate mixed borders that still, unfortunately, seemed to be lacking in foliar and floral drama, at least once spring's frantic rush of blossoms had faded.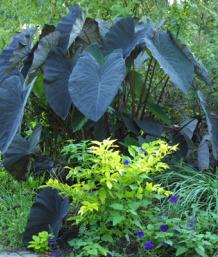 For colorful, lush borders from mid-May to late October's frost, I began looking to the tropics, where daylight hovers around 12 hours all year long and temperatures remain well above freezing. At the equator, tropical perennials provide nonstop blooms and exotically hued foliage year-round. As it turns out, they adapt beautifully to most of the United States, too. They're least happy in the Pacific Northwest and the southwestern desert regions, but I get rave reports from friends and customers from the rest of the country, from Milwaukee to Miami. Given the excellent health and extended performance of tropicals, I'm willing to grow them as annuals, though quite a few function as perennials in USDA Hardiness Zones 7a and higher.
Regardless of whether I have to replant of equatorial beauties. Planted in late spring after night temperatures remain above 50°F, tropical plants take off in early summer's heat and grow with vigor until the first fall frost, bridging the gap between June's daylilies and autumn's asters. After years of experimentation, I've developed some useful design strategies for incorporating tropicals into traditional mixed borders.
Use big, bold leaves as focal points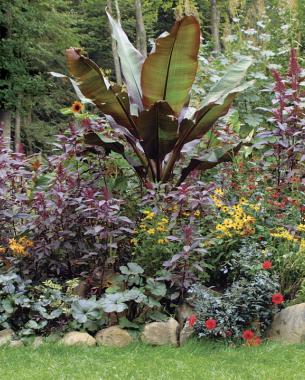 Ask any garden designer and you will hear that bold, oversize foliage is critical to a dramatic visual picture. The most successful borders that I've seen mix a range of tiny to towering textures to keep plantings of traditional perennials and shrubs from looking too busy. By placing big-leaved tropicals as focal points at intervals along a border, you can create a visual respite from jumbled masses of undifferentiated, frilly textures, while achieving visual movement through the border. This can be effective right up to the border's front edge, where textures tend to be timid.
Some tropicals produce leaves so large you could wrap yourself up in them. If you live in the extreme northern or northwestern United States, cold-hardy ornamental rhubarbs (Rheum spp. and cvs., Zones 5–9) and butterburs (Petasites spp. and cvs., Zones 5–9) serve up similarly bold foliage, but in much of the country, these plants collapse from heatstroke in midsummer. Meanwhile, jumbo-leaved tropicals like banana and butterfly ginger lily thrive under these conditions.
Red-leaf Abyssinian banana makes as bold a statement as a gardener could hope for. Over one summer, it can grow up to 8 feet tall, sporting burgundy-backed leaves 6 feet or longer. It becomes an instant anchor, drawing the eye up and out along the smooth length of its leaves, when nestled in a bed of burgundy prince's feather, hardy golden groundsel (Ligularia dentata 'Desdemona', Zones 4–8), golden sunflowers (Rudbeckia hirta 'Indian Summer' and 'Irish Eyes', Zones 3–7), and Dahlia 'Bishop of Llandaff'.
Not every focal point, however, has to be the tallest plant in sight. Grown as an annual, bed of nails only reaches 30 inches to 40 inches tall, but its broad leaves are 24 inches across; they're made even more eye-catching by the inch-long purple thorns protruding from the veins. The little elephant's ear Alocasia 'Hilo Beauty' is even shorter—only 2 feet tall—but its cream-spotted leaves grow a foot long, making a wonderful contrast with finer-textured, low-growing plants.
Tropical focal points
Angels' trumpets (Brugmansia spp. and cvs., Zones 8–10)
Bed of nails (Solanum quitoense, Zones 10–11)
Butterfly ginger lily (Hedychium coronarium, Zones 9–10)
Cannas (Canna cvs., Zones 7–11)
Copperleafs (Acalypha wilkesiana and cvs., Zone 11)
Elephant's ears (Alocasia spp. and cvs., Zone 11)
Gold-vein plant (Sanchezia speciosa, Zone 11)
Hardy banana (Musa basjoo, Zones 8–10)
Red banana (Musa zebrina, Zones 8–10)
Red-leaf Abyssinian bananas (Ensete ventricosum 'Maurelii' and cvs., Zones 10–11)
Shell gingers (Alpinia zerumbet and cvs., Zones 8–10)
Taros (Colocasia spp. and cvs., Zones 7–11)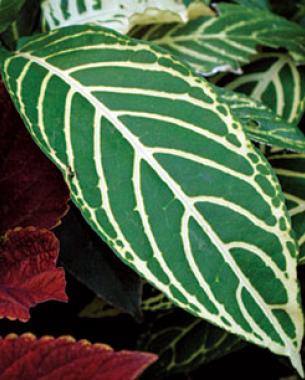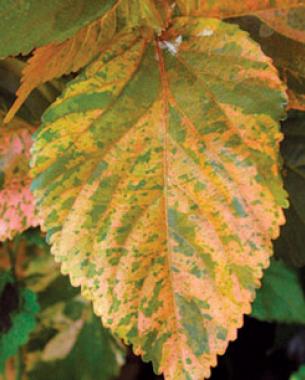 Add tropicals as accents to your permanent plantings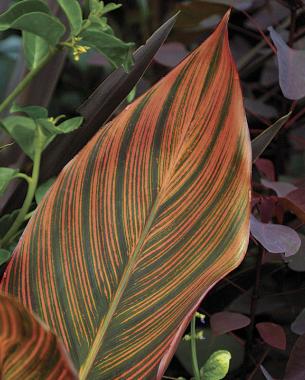 The safest way to experiment with tropicals in the garden is to add them as color accents, inserting a single plant into an open space where its colorful flowers or foliage can add spice all season long. Coordinate the scene by thinking about the flower and foliage colors of surrounding perennials and shrubs. Try selecting a tropical that will enhance the setting rather than clash with established plantings.
For example, perennial asters earn their keep by providing a great show in autumn, but for several months before bloom time, you're left with a mound of nondescript green foliage. Meanwhile, tropical Persian shield looks like a stained-glass window all season long, featuring metallic purple foliage etched with black-green veins. In sun or shade, the foliage of this 30-inch-tall tropical serves as an outstanding color accent, which you can successfully play against any number of colors from silver, chartreuse, or orange to the soft pink flowers of Sedum telephium 'Matrona' (Zones 4–9). And when the feathery, royal purple to pale pink blossoms of the asters (Aster novae-angliae cvs., Zones 4–8) do appear, the effect is striking against Persian shield's mesmerizing foliage.
Because of their gigantic leaves and outrageous flowers, cannas are typically thought of as focal points, but they make exciting color accents, too. When tucked into a space between wispy perennial grasses, the gold-striped leaves of 6-foot-tall Canna 'Pretoria' make a perfect color echo for low-mounding 'Bowles' Golden' sedge (Carex elata 'Bowles' Golden', Zones 5–9). At the same time, the canna's flaming tangerine blossoms strike a fiery note, setting the coppery plumes of late-blooming Miscanthus sinensis 'Morning Light' (Zones 4–9) aglow.
Suggestions for accents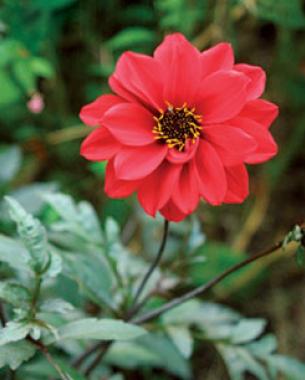 Alternantheras (Alternanthera spp. and cvs., Zones 9–11)
Annual sages (Salvia spp. and cvs., Zones 7–10)
Cannas (Canna cvs., Zones 7–11)
Centaurea (Centaurea gymnocarpa and cvs., Zones 7–9)
Coleus (Solenostemon scuttelarioides cvs., Zone 11)
Cupheas (Cuphea spp. and cvs., Zones 10–11)
Dahlias (Dahlia cvs., Zones 8–11)
Fountain grasses (Pennisetum setaceum and cvs., Zones 9–10)
Lantanas (Lantana camara cvs., Zone 11)
Persian shield (Strobilanthes dyerianus, Zones 8–11)
Pigeon berries (Duranta erecta and cvs., Zone 11)
Prince's feathers (Amaranthus hypochondriacus cvs., Zone 11)
Shisos (Perilla frutescens and cvs., Zone 11)
Star clusters (Pentas lanceolata and cvs., Zone 11)
Tropical mints (Plectranthus spp. and cvs., Zone 11)
Tropical smoke bush (Euphorbia cotinifolia, Zones 9–11)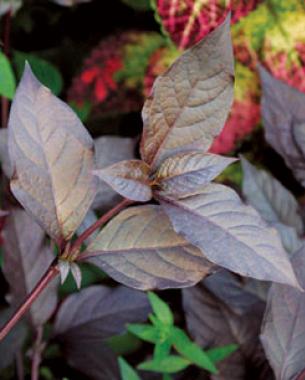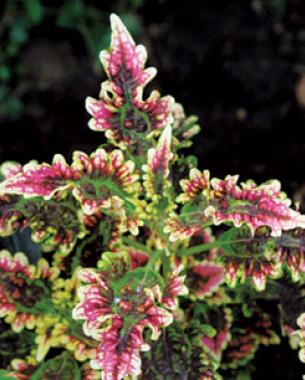 Mix and match tropicals to create a vignette
My first tropical vignette came compliments of the local deer, and for once (and only once) I am grateful for their visit. Faced with a midsummer gap and a large group of visitors due in six weeks, I yanked out the grazed stubs of perennials and frantically filled the space with fast-growing tropicals. The plants grew so fast that they filled the space with time to spare, and I was hooked on a new garden style. Now, my borders always have open coves where tropicals can time-share with fall-planted, spring-blooming bulbs.
For the best results, give your coves sturdy backdrops of robust perennials or shrubs. Select perennials with especially good foliage and that reach as tall as 4 feet or more, like Joe Pye weeds (Eupatorium spp. and cvs., Zones 3–9), Culver's root (Veronicastrum virginicum, Zones 3–8), ironweed (Vernonia noveboracensis, Zones 5–9), swamp sunflower (Helianthus angustifolius, Zones 6–9), and ornamental grasses. In choosing companion tropicals, I pay attention to color echo and contrast, and I also make sure to designate a dramatic focal point for each composition.
At almost 7 feet tall, black stem taro (Colocasia esculenta 'Fontanesii') can certainly serve as a focal point for a shrub-backed tropical cove. With its somber 3-foot-long leaves, 'Fontanesii' makes a great centerpiece for wine-purple sage (Salvia vanhouttei 'Paul', Zones 9–10) and self-seeding annual shiso. Purple leaf sand cherry (Prunus × cistena, Zones 4–8) adds another dose of purple to the scene, while woody gold-leaf yellow bells (Forsythia × intermedia 'Goldleaf', Zones 6–9) and blue juniper (Juniperus scopulorum 'Wichita Blue', Zones 4–7) provide remarkable color contrasts.
Another idea is to anchor a vignette with the grand, gold-ribboned foliage of Peruvian gold-vein plant. Echo its color with variegated pigeon berry. Add wine red coleus 'Oxblood' and red and yellow 'New Hurricane' to accent the ruby stems of gold-vein plant. Contrast all that flashy brightness with lots of dark foliage, like giant burgundy fountain grass, shrubby purple smoke bush (Cotinus coggygria 'Purple Robe', Zones 5–8), and black-leaved 'Bishop of Llandaff' dahlia.
Adding tropical accents, focal points, and coves to my borders has created dimensions of color and texture I only dreamed of when I first began gardening. Best of all, I no longer pine for the British look in my garden beds. I've found my own style, one that works for my climate and tastes, with plants that look super from planting time until fall frost.