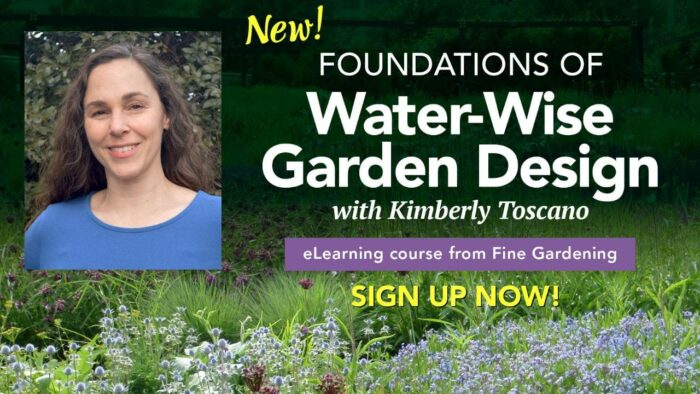 It's easy to feel helpless in the face of unprecedented drought, water restrictions, and soaring temperatures—but we gardeners are not powerless. With careful planning we can create beautiful, drought-resilient gardens that thrive no matter what the weather may bring. And by applying water-conservation techniques in our backyards, we not only lessen our dependency on supplemental water but also help to preserve and protect natural waterways downstream. 
In this online course, you will learn how to make the most of rainfall by implementing strategies that keep rainwater on-site. You will discover ways to minimize the need for supplemental irrigation while building drought resiliency in the landscape. The lessons learned will give you the confidence to create sustainable spaces in your yard, whether you are landscaping a newly built house or renovating an older garden. 
---
Topics covered include: 
Understanding and managing your soil type

 

Making the most of rainfall

 

Planning efficient irrigation

 

Dealing with watering restrictions

 

Finding drought-resistant plants

 

Choosing alternatives to water-hungry lawns

 
About Your Instructor
Kimberly Toscano is an accomplished horticulturist with an eye on design. Formally trained in horticulture, environmental science, and entomology, she is interested in all things edible as well as garden design and landscaping for wildlife. Kim takes a holistic approach to gardening and landscaping, working in harmony with the natural environment. This includes organic and sustainable gardening practices, careful management of water, and enhancing biodiversity in the landscape. 
Before establishing a career in garden writing and consultation, Kim served as writer and host for Oklahoma Gardening, a weekly PBS television program produced by the Oklahoma Cooperative Extension Service. In this role, she shared her expertise through more than 1,000 video segments covering all aspects of gardening, environmental stewardship, and sustainable living. To support her programming, Kim designed over a dozen gardens that were installed at The Botanic Garden at Oklahoma State University, including a formal terrace, an organic vegetable garden, and themed ornamental plantings.