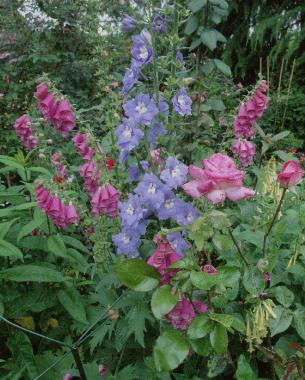 I always thought the only way to make a tasteful garden in overcast Seattle was to stick to pastels. So I cautiously blended those soft shades in mimicry of whatever color theory I'd read about most recently. My garden was as dull as the leaden skies above. Then, one spring morning, I took a trip to my neighborhood nursery. After a sodden, monochromatic winter, I was hungry for color. And I found it, in the lurid hues of a huge, healthy Canna 'Tropicanna'. Its bold, pink-striped leaves and vivid orange flowers, so unlike anything in my mild-mannered garden, were simply irresistible. Back at home, I placed it in our backyard pond, pot and all, and found that the canna's explosive brightness brought life to all those surrounding pastels.
In a flash, that canna taught me to disregard subtlety or anyone else's notion of good taste, and kindled my desire to create a more personally appealing garden using the colors I love most. Since then, experimenting with color has become more rewarding to me than any other aspect of gardening. Color is what catches my eye, stirs my heart, and inspires my plantings. After years of playing with different color combinations in sun and shade, I've learned that blue, yellow, white, pink, and green are the easiest colors to start with and that, together, they can make a great garden all by themselves. And my experiments with these five colors prompted my pursuit of the most challenging of garden grails: creating a garden that reflects my personal sense of color.
Green holds the garden together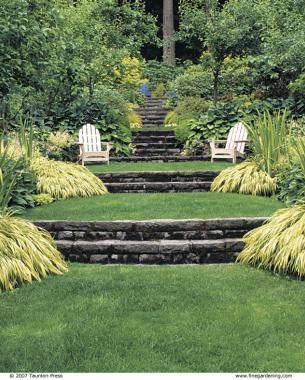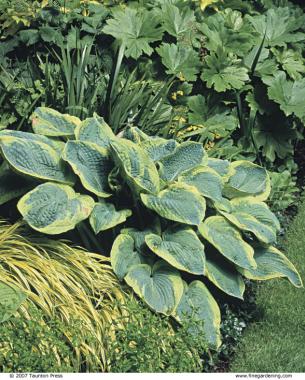 Green is the dominant hue of any garden, but as Gertrude Jekyll lamented, gardeners often forget it is a color. In fact, green is a rich color with a huge range of variation. This is the color that unifies the garden. Green is not a primary color, but a combination of yellow and blue, with shades ranging from the near-yellow of lady's mantle (Alchemilla mollis) through the deep, dark green of yews to the blue-green of Hosta 'Blue Moon'. If yellowish greens prevail, the effect is of sunlight and warmth; when blue-green predominates, it cools down the garden, creating a sense of distance.
Japanese gardens have long taken full advantage of the range of greens. A swath of fluffy moss, a needled pine, a pruned curve of azalea anchored by a stone, and you have an understated yet timeless garden, all in seasonless green. Green can also enliven a garden; think of the cheery lime-green bracts of Euphorbia polychroma or the jazz of yellow-on-green variegation. I always pay attention to the green of foliage, even when I'm buying a plant for its flowers. And to liven up the garden, I introduce plenty of contrast by using a variety of plants with dark, pale, yellowish, or blue-green leaves. I also toss in a bit of variegation here and there for good measure.
Both in horticulture and in floristry, green flowers are new and sought after. And no wonder—green flowers look good with every other color in the garden. They are the ultimate mixer, the belle of the ball. Like the greens of foliage, the soft green cups of bells of Ireland (Moluccella laevis) or the flared trumpets of Nicotiana alata 'Lime Green' provide a rest from hotter colors and serve as gentle contrast for cooler colors. The effect is subtle yet sophisticated.
Use white to soothe or sparkle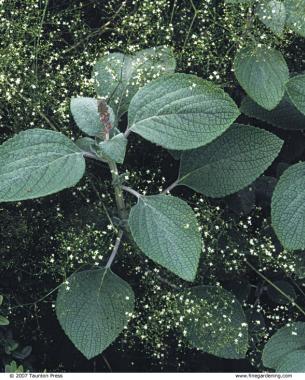 White is as mistake-proof as a color can be. I use it in bold strokes to liven up the garden, or in quiet flourishes to cool it down. White, if used with some restraint, easily plays a starring role. When I put large, eye-catching white flowers like hydrangeas or lilies at center stage, I avoid placing other whites around them for fear they might look muddy or bluish in comparison. Instead, I surround my star player with foliage, and let it shine.
White can also play a supporting role. Smaller white flowers, such as Geranium incanum 'Album', weaving in and out of plantings, perk up other colors. Plants blooming with a haze of tiny white flowers, such as baby's breath (Gypsophila spp.) and Crambe cordifolia, create a softening scrim for bolder, brasher colors. Those floral veils can be used to hide something or to create an alluring, see-through effect. Baby's breath, for example, makes a fine, gauzy skirt when planted about the homely stems of leggy plants like roses, while crambe looks best at mid-border so that big, back-of-the-border plants can be viewed through its haze of flowers. White is just as adept as a bit (yet crucial) player; think of the white eye sparkling in the center of a purple delphinium. Therein lies the flower's buzz, its energy.
Like green, white is actually a whole range of color. Have you ever tried to match a white paint chip? There are hundreds of tints, hues, and shades of warm or cool gray, yellow, or pink. I avoid cooler, muddier tones and favor glowing whites, such as 'Iceberg' roses or potato vine (Solanum jasminoides).
I've found that white can soothe or sparkle. What looks more cool and restful than an all-white garden? For sparkle, flowers of clean white and foliage in hues of silvery gray harmonize with all other colors and bring unity and elegance to planting schemes. Whenever a bed or border looks too busy, I pull out colors and replace them with the simplicity of white flowers or white-variegated foliage. Without the distraction of colors other than white, the subtle interplay of foliage colors becomes more apparent, and the form and textures of plants are more clearly visible.
There's no such thing as too much blue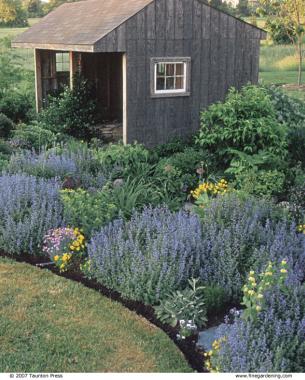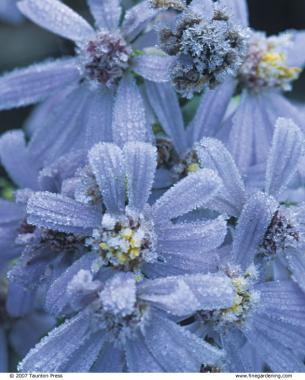 Blue vies with white as the easiest, most welcome color in the garden and, like white, it performs the trick of both cooling down the garden and livening it up. Blue is the color of fresh water and clear skies, yet in nature it often tends toward lavender, violet, or plum. Clear, true blue is the most prized flower color; think of the royal blue of some gentians (Gentiana spp.), the sky blue of the Himalayan poppy (Meconopsis betonicifolia), or the near-navy of some monkshoods (Aconitum spp). It's always worth seeking out true blues and using them over and over for the glowing, gemstone quality they bring to the garden.
Blue recedes in the landscape. It can be used to lure the eye toward a distant focal point or to create visual shadows— picture a puddle of blue-leafed hostas. It can also create a feeling of spaciousness. A patio surrounded by a frenzy of hot-colored crocosmias (Crocosmia spp.) seems smaller than one floating in a sea of surrounding silvery-blue lavender such as Lavandula angustifolia 'Pacific Blue' or 'Blue Cushion'.
The color blue is useful in foliage as well. Glaucous, or blue-green, foliage adds a soothing note to jarring color contrasts. Hostas such as H. sieboldiana 'Elegans' provide large glaucous leaves to cool down the garden all summer.
As with white, it's nearly impossible to go wrong with blue. You can mix blue into any color scheme and only improve it.
To create her personal sense of color, the author relies on the pure hues exhibited by these flowers, rather than using just pastels.
Yellow is effective all season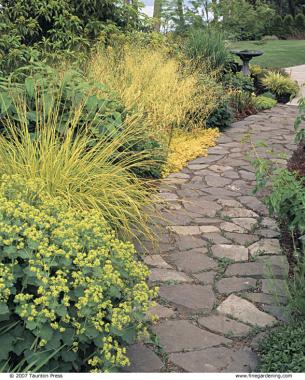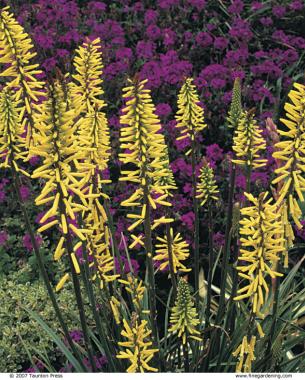 Yellow is, hands down, the color to throw into a mix of plants for instant warmth and spark. Orange or red flowers generate the same heat, but often clash with other plantings. And yellow comes not only in flowers, but in foliage as well, making it effortless to add a splash of sunshine to plain green plantings or to brighten a patch of shade. Yellow is effective all season, from the first spring daffodils to the sunflowers and black-eyed Susans (Rudbeckia spp.) of fall.
But yellow can be tricky. A friend recently lamented a failed attempt to mix yellow into her usual color scheme of pink, mauve, and blue flowers. The idea of using yellow to fire up tired pastels was inspired, but the chromey yellow marigolds (Tagetes spp.) and perennial tickweed (Coreopsis verticillata) she used were too brash. The problem is that to most people yellow means rain-slicker yellow, a hue that's difficult to blend harmoniously with other colors. Had my friend used C. verticillata 'Moonbeam', a pale-yellow cultivar, it would have enlivened her pastels without jarring her nerves. The key to using yellow to bring luster—rather than competition—to other colors is using it in softer shades ranging from creamy to buttery. I skip chrome yellows, and plant plenty of gold sunflowers and black-eyed Susans to bloom along with the purples and deep reds of autumn with which they harmonize so beautifully.
Plants with yellow foliage splash sunshine in the garden month after month. It's possible to layer yellow into the garden from the trees overhead to the ground cover at your feet. My favorites for foliage among woody plants are golden locust (Robinia pseudoacacia 'Frisia'), a large, fast-growing tree with droopy leaves that stay sunny yellow from spring until frost, and the elderberry Sambucus racemosa 'Sutherland Gold', which provides a mid-size, frothy yellow filigree. For ground covers, the dependable old stalwart dead nettle comes in a gleaming shade of pure yellow (Lamium maculatum 'Aureum').
Pink flatters other colors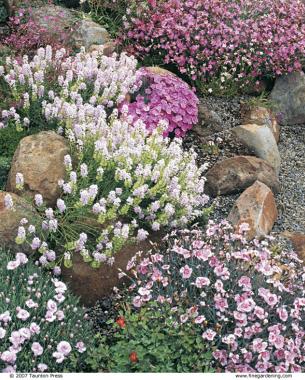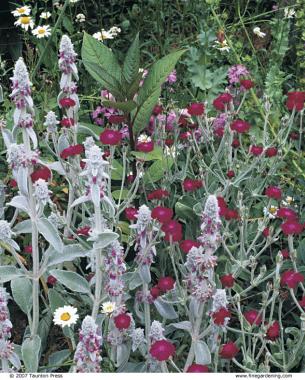 Pink can work as a dependable neutral. Just as a pale-pink mohair sweater outrageously flatters the complexion, so too do soft shades of pink bring out the best in all the deep, dark shades of garden green, from glossy magnolia leaves to deep green yew. Pink also associates easily with almost any shade of blue. And clear, soft pinks mix well with nearly everything in the garden—even oranges in the apricot range and reds that veer toward ruby.
Yet I've heard friends say a hundred times, "I try to avoid pink," and never understood why. Maybe they're thinking of searing magentas or, worse yet, weak, fleshy pinks. But it's easy to avoid those extremes and stick to the range of lovely pinks in between. Think of baby pink, bubble gum, strawberry ice cream, or the soft pink of Lavatera 'Barnsley'.
Pink with nearly any foliage color makes a pleasing color scheme all by themselves, but it's hard to beat the timetested combination of pink flowers combined with gray foliage—pink roses underplanted with lacy, silver artemisias (Artemisia spp.) is a classic pairing. Lest pink appear old-fashioned, think about how artfully it plays off dark-foliaged plants like purple smoke trees (Cotinus coggygria 'Royal Purple'), or how it blends with burgundy in a variegated barberry (Berberis thunbergii 'Rose Glow').
If pale pinks seem pallid, you might keep in mind a couple of tricks to using brighter pinks. First, remember that warm pinks, those in which yellow predominates rather than blue, better complement most other colors; the 'Alma Potschke' aster (Aster novae-angliae 'Andenken an Alma Potschke') is an example of the bright watermelon hues that seem to go well with everything. The second trick is selecting plants whose foliage serves as a foil for intensely colored flowers. The magenta pink of rose campion (Lychnis coronaria), for example, is softened by its silvery foliage.
If you worry about mixing pink and yellow, which can be tricky, take a look at how nature has combined the two on the flashy, splashy leaves of the ground cover Houttuynia cordata 'Chameleon'. Its bright watermelon pink, softened with a dose of green, blends beautifully with the buttery yellow. It's hard to imagine anything as idiosyncratic as a gardener's favorite set of colors. Just as the plants and the layout of a garden are distinctive to its creator, so too is its palette of color. But in most cases the color scheme emerges only after a long period of experimentation.
In the meantime, there's no need to worry about getting too technical with color. So forget about hue, tone, saturation, color blocks, color echoes, or any of the other theories of using color in the garden. Color's beauty is truly in the eye of the beholder. Choose the colors you love most and combine them fearlessly. You can't go wrong if you use plenty of blue and white in both leaves and flowers, a generous number of foliage plants to soften and blur the edges, and the full range of your favorite colors.