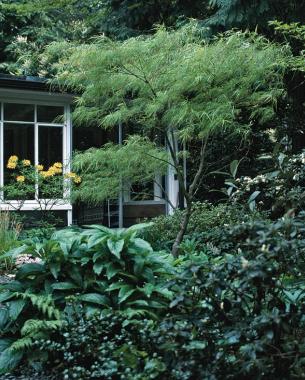 Trends and fashions occur with trees and shrubs, just as they do with clothing and automobiles. Unlike what we wear or drive, however, woody plants can often remain "fashionable" for many decades due to their inherent longevity, adaptability, and vigor. Thus, we have outstanding plants like PeeGee hydrangea and 'Bloodgood' Japanese maple, which have graced gardens across the country for many years. These plants may be tried-and-true, but sometimes we need to mix in a little diversity to keep our landscapes from appearing mundane.
Looking to new and improved variations of garden icons is a great way to keep designs from becoming stale. A good number of new or underused versions of our woody-plant favorites become available each year, but unfortunately, only a select few ever get their due. Here is a list of great cultivars of common plants that are not only new, different, or beautiful but also worthy of a spot in our gardens.
'Dolchica' spirea boasts coarsely toothed leaves with red new growth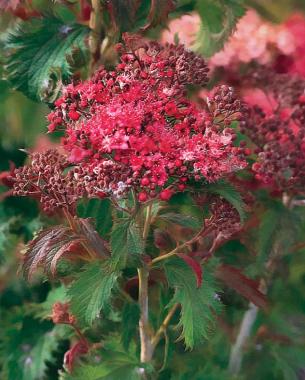 Japanese spireas (Spiraea japonica cvs., syn. S. × bumalda cvs.) are widely grown for their easy­going nature and mid- to late-summer purplish pink blooms. Typically growing 3 to 4 feet tall, old-fashioned selections like 'Anthony Waterer' and newer gold-leaf cultivars like 'Goldflame' and 'Limemound' dominate the market. There is, however, a 2- to 3-foot-tall selection called 'Dolchica' that deserves a share of the spotlight.
Sporting coarsely toothed deciduous leaves, flushed purplish red on the new growth, 'Dolchica' has a tidy, textural appearance that sets it apart from other spireas—even when not bearing its annual profusion of cerise flowers. It's hardy in USDA Hardiness Zones 4 to 9 and is not prone to producing albino shoots like 'Crispa', a similar-looking cultivar. It thrives in full sun and moist, well-drained soil. For a playful use of color and texture, move beyond the basic foundation-planting format and partner 'Dolchica' with the contrasting foliage of other Japanese spireas. It is also an excellent shrub for a mixed border.
'Lavender Lady' lilac stands its ground in the temperate South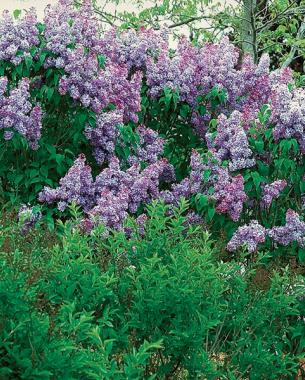 Adored for their colorful, scented spring blooms, classic lilacs (Syringa spp. and cvs.) have been part of the American landscape for many decades. Yet gardeners in the South have typically felt nothing but frustration when growing these plants. Known for their powdery-mildew problems and winter-chill requirement to bloom, lilacs have been prolifically developed for improved performance as well as for new blooms. One of the best introductions, known as 'Lavender Lady' (S. × hyacinthiflora 'Lavender Lady'), has been right under our noses since it was patented in 1954 by breeder Walter Lammerts of Descanso Gardens in southern California.
The patent has long since expired, but 'Lavender Lady' is still alive and kicking. Hard to miss in mid- to late spring, this 10- to 12-foot-tall selection sends out a profusion of highly fragrant, lavender lilac–colored flowers. It is noted more, however, for its low winter-chill requirement and tolerance for heat and humidity. Hardy in Zones 3 to 9, 'Lavender Lady' blooms abundantly in warm-temperate areas like California, Texas, and most of the southern United States. Its widespread adaptability and mildew-free leaves make it a top-notch landscape plant for locations with full sun and fertile, well-drained soil.
'Pee Wee' oakleaf hydrangea fits in smaller spaces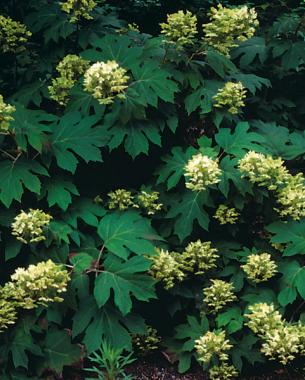 Lilacs aren't the only plants that are considered classic garden shrubs. The big, billowy blooms of hydrangeas (Hydrangea spp. and cvs.) have filled many garden voids and vases for several generations. While PeeGee hydrangea (H. paniculata 'Grandiflora') and bigleaf hydrangeas (H. macrophylla cvs.) remain among the most popular, it's our native oakleaf hydrangea (H. quercifolia) that deserves more attention.
Hardy in Zones 5 to 9, oakleaf hydrangea grows well in full sun or partial shade. It provides a visual extravaganza as the season progresses with its bold, textural foliage; huge, panicled flowers; striking purple, red, orange, or yellow fall colors; and attractive, cinnamon-colored exfoliating bark. Most cultivars, however, grow to 10 to 12 feet tall and wide, limiting their planting options. 'Pee Wee', on the other hand, is a selection that remains small—only reaching a height of up to 4 feet and a width of 6 to 8 feet. From midsummer until autumn, 'Pee Wee' also produces smaller flower heads that are well proportioned to its "dwarf" stature.
'Hearts of Gold' redbud puts forth a brilliant display of golden leaves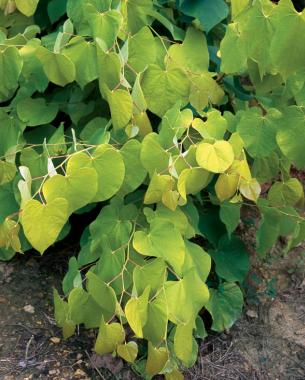 I can't think of a more fitting companion for an azalea than the next woody all-star plant: gold-leaf eastern redbud (Cercis canadensis 'Hearts of Gold'). Starting the spring season with similarly colored lavender pink flowers, this deciduous native sprouts superb heart-shaped pure gold leaves, adding a new dimension to an already popular small-size tree. Only recently discovered in North Carolina, 'Hearts of Gold' is quickly rising to the top of many gardeners' wish lists.
Like other redbuds, 'Hearts of Gold' is hardy to Zones 5 to 9 and prefers full sun to partial shade in well-drained soil. It matures at 20 to 30 feet in height and slightly more in width. Its new growth emerges with faint bronze tinges, which quickly change to bright golden yellow. Under all but the driest of conditions, the leaves will not burn. Older leaves that are enshrouded within the tree canopy will turn to chartreuse and eventually various shades of green, but this only makes the plant appear more dramatic as the dark center is lit by the golden outer veneer
Silver Willow provides shimmering color and texture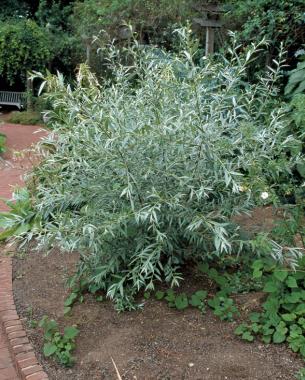 While gold is a hypnotic color in the garden, let's not forget silver. Easy to incorporate into any scene, silver adds a soothing, cooling effect to a design. Willows (Salix spp. and cvs.) are usually not the first plants that come to mind when seeking out silver, and one selection that is often overlooked is the superb silver willow (S. alba 'Sericea', syn. S. alba var. sericea and S. alba f. argentea, Zones 4–9). Overshadowed by the popular weeping types and those with brightly colored stems, silver willow is a striking shade tree that bears wonderfully narrow, finely textured foliage that shimmers in the slightest breeze. Its silver color comes from tiny, silky hairs that adorn both sides of each leaf.
Reaching a mature height of up to 50 feet (up to 100 feet in the Pacific Northwest), silver willow is best for large spaces with full sun and moist soil. It is particularly happy near ponds and waterways. As with virtually any willow, it can be short-lived with brittle stems and tough, sewer-invasive roots. Plants, however, can be kept more shrublike and under control with an annual, ground-level coppice pruning, a practice commonly done in Europe.
'Koto-no-ito' Japanese maple shines with threadlike green leaves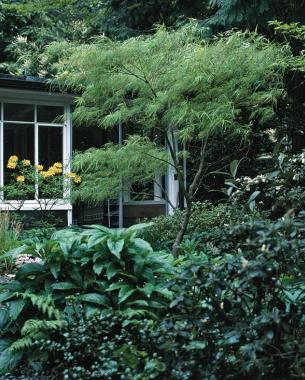 With the sea of popular cultivars of purple-leaf Japanese maple (Acer palmatum), like 'Bloodgood', which flood garden centers each year, it's hard to believe that there are more than 350 other cultivars that range dramatically in bark color; leaf color, shape, and size; and mature plant size and habit. One of the more notable selections is 'Koto-no-ito', a cultivar belonging to the Linearilobum Group, which is comprised of Japanese maples selected for elongated, narrow leaf lobes.
'Koto-no-ito', meaning "harp strings" in Japanese, is aptly named for its threadlike green leaves, which break into five to seven lobes and gradually taper to fine points. The leaves turn an attractive butter to lemon yellow in autumn and stand out against the tree's green bark. 'Koto-no-ito' usually reaches 10 feet after 10 to 15 years, with mature plants looking like a wonderful, wispy green haze from a distance. Despite its delicate appearance, it is hardy in Zones 5 to 9 and is generally more tolerant of drought and sun than other cultivars with finely dissected leaves. As with other members of the Linearilobum Group, leaves that are produced later in the season will have broader lobes. Nevertheless, 'Koto-no-ito' is a perfect specimen for patio and container plantings.
'Aphrodite' witch hazel awakens in winter with pumpkin orange blooms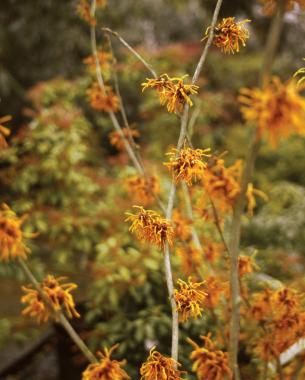 When it comes to the quiet winter months, no other group of plants shines like witch hazel hybrids (Hamamelis × intermedia cvs., Zones 5–8). Highly valued for their winter blooms and fall leaf colors, these attractive deciduous shrubs are the progeny of the Japanese witch hazel (H. japonica) and Chinese witch hazel (H. mollis). Among the most commonly found cultivars are the copper-colored 'Jelena', the brick red 'Diane', and the many sulphur to cadmium yellow types such as 'Arnold Promise' and 'Pallida'. Further selection and breeding has continued to bring forth additional selections, one of the most noteworthy being 'Aphrodite'.
This newer witch hazel gives 'Jelena' a run for its money. Opening in February, after 'Jelena' has faded, 'Aphrodite' explodes with larger flowers that are a deep pumpkin orange. Each blossom emits a rich, sweet fragrance, perfuming the garden for days—sometimes weeks—when temperatures remain cold. For the best display, plant 'Aphrodite' in full sun to partial shade and in a location where sunlight will backlight its flower petals when viewed from a prominent indoor window.