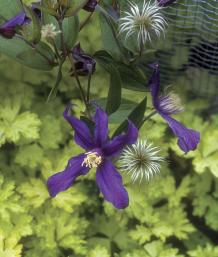 For most gardeners the mention of clematis brings to mind a vine of midsummer color—perhaps the abundant pink blossoms of 'Comtesse de Bouchaud' or the fragrant bluish bells of 'Betty Corning'. I think many would find a nonclimbing clematis to be something of a novelty. Clematis 'Evisix', which has the trademarked name Petit Faucon, is a recent introduction that combines the distinctive blossom of a vining clematis with an herbaceous habit.
Petit Faucon was raised and introduced by Raymond Evison of Guernsey Clematis Nursery. It was a chance seedling of the large-flowered cultivar 'Daniel Deronda' and most likely the herbaceous species Clematis integ­rifolia. Petit Faucon received the Royal Horticultural Society's prestigious Award of Garden Merit in 2002.
Nodding deep blue flowers open in late May to early June and are produced freely into mid-August. The blossoms, composed of four to six slightly twisted tepals, are 3 to 4 inches across when fully open. Each flower is crowned with orange-yellow stamens, which ripen to attractive silvery white seed heads. The bronze-green leaves of early spring gradually change to handsome dark green in summer. Although the habit starts out upright and bushy, the stems become decumbent (lying on the ground with their tips up) in early summer and grow to over 36 inches long.
Like all clematis, Petit Faucon prefers full sun and a cool root zone in well-drained soils. It is hardy in USDA Hardiness Zones 4 to 9 and adaptable to a wide range of soil types. Since it is herbaceous, it should be cut back to the ground in late fall or early spring before new shoots emerge. Rabbits can be troublesome during the spring, but this perennial is otherwise pest-free.
Support Petit Faucon with pea stakes in a sunny border or allow it to grow through and over low shrubs, conifers, or ground covers. The dark blue flowers nicely complement the blue-green leaves of cypress spurge (Euphorbia cyparissias, Zones 4–9) and the chartreuse-variegated leaves of creeping buttercup (Ranunculus repens 'Buttered Popcorn', Zones 3–8). Whether left to ramble on its own or through nearby plants, Petit Faucon adds an exciting dimension to the perennial garden.