Sweet woodruff
name: Galium odoratum
usda hardiness zones: 5 to 8
size: 6 to 12 inches tall and 1 to 2 feet wide
conditions: Partial to full shade; moist soil
If you could describe spring by a fragrance, then it might just be the perfume of sweet woodruff. This creeping ground cover creates a dense mat of fragrant, lance-shaped leaves in whorls along square stems. Its deep green leaves are even more fragrant once dried. Tiny, sweet-smelling, star-shaped white flowers appear to sparkle along the tops of the foliage in mid- to late spring. Sweet woodruff is generally well behaved—although, when it's happy with its conditions, it can spread a bit too enthusiastically. It does, however, go dormant in summer when water is scarce. The pure headiness of this plant must be the reason why the ancient Celtic and Germanic people used it for flavoring their May wines.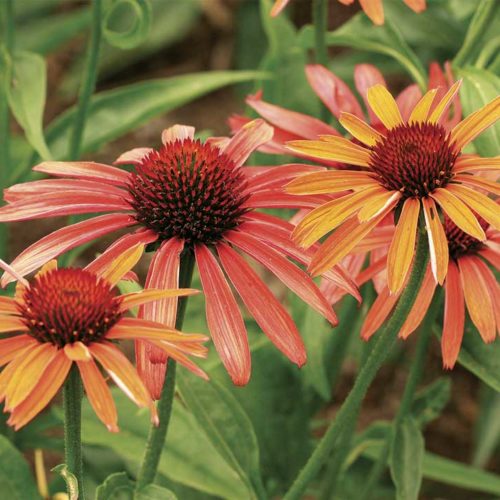 'Hot Summer' coneflower
name: Echinacea 'Hot Summer'
zones: 3 to 9
size: 2 to 3 feet tall and 1 to 2 feet wide
conditions: Full sun; well-drained soil
Large, fragrant, cone-shaped flowers on extremely sturdy stalks make this easy-care peren-nial a perfect choice for almost any garden. The blossoms open as yellow-orange and become deep orange before maturing to dark red. This color change gives the effect of multiple flower colors on the same plant. 'Hot Summer' coneflower grows in an upright clump, with blooms appear-ing from summer until frost. Deadheading is not necessary, although it will keep the plant looking tidy. This plant is a butterfly magnet and is deer resistant. If the flowers are allowed to go to seed, they make a great food source for goldfinches in winter.
'Kudos Ambrosia' hummingbird mint
name: Agastache 'Kudos Ambrosia'
zones: 5 to 10
size: 16 to 20 inches tall and 12 to 18 inches wide
conditions: Full sun; well-drained soil
You can expect masses of multicolored blooms from shades of cream and apricot to rose-pink with this plant. The flower spikes sit above deliciously fragrant gray-green foliage. 'Kudos Ambrosia' hummingbird mint is the perfect filler plant for your perennial beds and borders, but it is an absolute knockout when planted en masse. I love to site it along paths, where its fragrance is released when you brush by. It blossoms over a long season—from early summer to early fall. Allow 'Kudos Ambrosia' to dry out (if possible) between waterings. It also attracts hummingbirds aplenty—which will bring additional interest and beauty to the garden.
'Chattahoochee' phlox
name: Phlox divaricata ssp. laphamii 'Chattahoochee'
zones: 3 to 8
size: 6 to 12 inches tall and 1 foot wide
conditions: Full sun to partial shade; rich, well-drained soil
Showy and incredibly fragrant lavender-blue flowers cover this low-growing spreader in spring. 'Chattahoochee' phlox is perfect for naturalizing as it expands slowly, rooting at the end of each of its nodes. It makes a perfect rock-garden plant, and it is exceptionally useful as a midspring cover for early-spring bulbs. Plant it along the edges of containers and raised beds to take advantage of its trailing habit. To prevent powdery mildew, occasionally prune some of its stems to improve airflow. This phlox, like most phloxes, appreciates a light layer of mulch around its base to keep its roots cool.