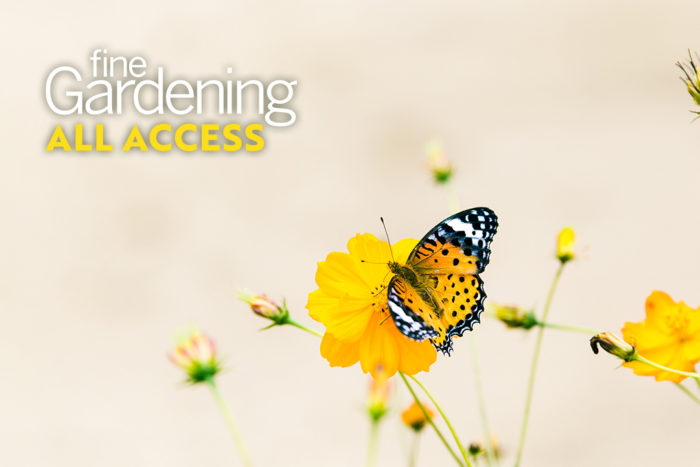 Gardening is all about the passion. The pure joy of growing a seed into a thriving plant, the sensory overload of your garden in bloom, the joy of sharing an abundance of tomatoes with your neighbors.  As caretakers of the earth, we each strive to create a place of serenity for the mind, soul, and spirit. Not just for ourselves, but for anyone who happens by or comes to visit.
Gardeners know a garden is never truly finished. You embrace the changing seasons and work hard to add your own touch of color to mother nature's canvas. And sometimes — you need more than your passion to make that vision a reality. You need a helping hand.
We get it, we're gardeners, too.
Opening up the world around you
For 30 years, Fine Gardening has had the expertise and resources to help you.
You have lots of questions – Is this the right plant for my zone? Can I tame that overgrowing plant? How do I attract more pollinators? Should I rip it all out and start fresh? –  We have the answers that are right for your area and your plans.
You want a community where you can ask questions, share your green-thumb, and unearth the really good stuff.  We're making it happen.
Fine Gardening ALL ACCESS:
I am excited to announce the launch of our new Fine Gardening ALL ACCESS membership. For the first time ever, we're offering unprecedented access to 30+ years of trusted, high-quality content — all curated for you and your corner of North America.
It's everything you already love about Fine Gardening, but with incredible regional-specific insight, information, and inspiration so you can grow the garden of your dreams right where you live.
ALL ACCESS is local. Dig into rich "Your Region, Your Garden" content, written by gardening experts  who live where you do and can provide timely advice for the climate and challenges of your zone.
ALL ACCESS is comprehensive. Easily search 30 years of Fine Gardening online. Dive into hundreds of video tutorials. Discover how to grow your best garden ever.
ALL ACCESS is everything you've been asking for, including Fine Gardening magazine. Exclusive regional newsletters. Special offers from local garden resources. Members-only opportunities. Answers from expert gardeners from around the country.
Go deeper with ALL ACCESS
I'm truly excited to offer you this opportunity to enjoy the new Fine Gardening ALL ACCESS. Find out more here.
Steve Aitken
Editor, Fine Gardening