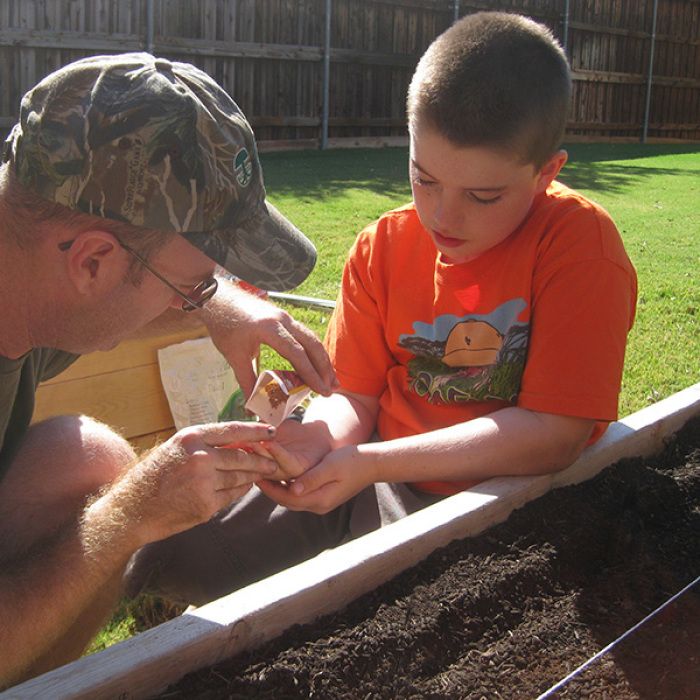 I got the opportunity to install a couple of raised garden beds for a family who is trying to live a greener lifestyle. One of the main reasons they wanted to start a vegetable garden was to create a learning environment for their son. So I would not only coach and teach two adults with virtually no vegetable gardening experience, but I would also mentor a young man.
The following is a diary of sorts. I need to mention, however, that I do not have any children myself, so this experience is coming from a different point of view than that of a parent.
It's 9:00 in the morning and the weather is simply beautiful, as a "cold" front broke a long streak of 100-degree days. The beds already had the organic soil and amendments in them, but the soil needed to be cultivated a little to allow for easier seed sowing. I also measured out the planting areas per my design (yes, I actually lay out my garden beds using advanced software).
Right about the time I finished with that, John (the son) and his mom came out. Eager to get started, I quickly finished setting up. I started with a short speech on the benefits of growing your own food organically, and then we were ready to get our hands dirty.
Since we were planting a fall garden, almost everything was going to be direct-sown, except for the green onions and some lettuce transplants I pulled from my home garden.
With a 4-foot 1×2 piece of wood in hand, we made "visually perfect" rows in which to plant our seeds. As I explained the intricacies of planting seeds, we tore open the first packet: "Cherry Belle" radishes. I demonstrated the "tap the packet" method in the first half of the row and then showed John the "pick it from your palm" method. Radishes planted and covered—check.
We then planted the green onion sets. The lesson and challenge here was correct spacing.
And then, ah yes, the carrots. But not just any carrots—colored carrots. Yep, I had a surprise up my sweaty sleeve. When I showed them the packet of a colored variety, I could hear the double "thump" of their mouths hitting the ground! They had never even heard of such a thing. The lesson here was showing them that the possibilities are almost endless when it comes to the different veggies and varieties.
Carrots, bok choi, lettuce, and spinach seeds planted—check.
We used plant/row labels made from old metal white window blinds. The lesson here? Repurpose anything you can to save money and be creative.
With all the plantings complete, it was now time for them to water their garden masterpiece. I brought a gift for them as a token of my appreciation for their business—a metal watering can.
My job was complete, for now. They were so excited and couldn't wait to see the emergence of the seedlings.
In reflection of the day, I made a few observations:
• Involve kids in all aspects of the gardening experience. They may not understand your easy-chair-sitting thrill of going through a pile of seed catalogs over the winter, but they will definitely look forward to planting seeds.
• If you are having a "garden planting day," do as much prep work beforehand as you can. John's attention span wandered a bit while we were planting.
• Make it short and sweet. If there is a lot to do, consider breaking it up into smaller jobs. You'll keep their attention longer, and they won't get overwhelmed with information.
• Always practice safety. If you have tools lying around, make sure they're out of the way and with the tines down. Don't leave lids or packages of organic amendments or fertilizers open. And don't forget the sunscreen and bug repellant.
• Cherish the moments. Take lots of photos that you both can share and enjoy.
What other experiences have you enjoyed with your children in the garden?