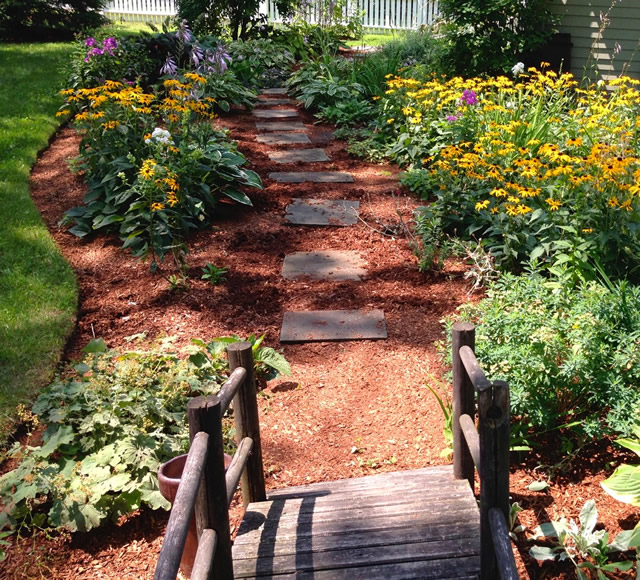 Cindi Jacobs has created a garden that ignites her senses and offers space for relaxation
"Wayland, MA has been home to my family the past 19 years. Our town is all of 6 miles round, with no sidewalks, and lots of conservation land. Texture, variety, and hardscape are my constant cravings. After that I'm trying to create color for each season. I call my garden style "English Eclectic".
The area is 1 acre with about 2/3 landscaped and 12 beds. We had to leave room for kickball, whiffle ball, an across the yard pulley, badminton etc. Pictures show spring and summer blooms, but many times I have a lot of just varied green, purple and white shades. My yard is mainly shade, except near the black fence/pool area which is sun. Challenging for sure, however I have grown accustomed to it. My favorite plants are Hosta. With so many varieties and little care, I gravitate towards them especially the large leaf ones. I also love paths and places to sit. Maybe not as often as I like, but I enjoy sitting and having a cup of tea, wine, or a snack. Feeling relaxed and welcoming is the mood I want to create as we entertain a lot and enjoy time with friends. The fire pit area has given me a sense of pleasure and pride, building and revising it over the years.
Even with my love of perennials, I must confess though I consider my specialty containers and window boxes. After helping friends and long time clients with their outdoor containers, I was encouraged to add the service to my organizing and design business, "SimplyDone". There are many pictures under the gardening section of my website, www.simplydoneathome.com if you would like to see more.
I hope to enjoy my gardens for a few more years, however, I look forward to the day a have just window boxes and containers- and yes they will be lush."
Have a garden you'd like to share? Email 5-10 photos and a brief story about your garden to [email protected]. Please include where you are located!
Have a mobile phone? Tag your photos on Instagram or Twitter with #FineGardening!
You don't have to be a professional garden photographer – check out our garden photography tips!
Do you receive the GPOD by email yet? Sign up here.
Follow us: @finegardening on Twitter | FineGardeningMagazine on Facebook | @finegardening on Instagram