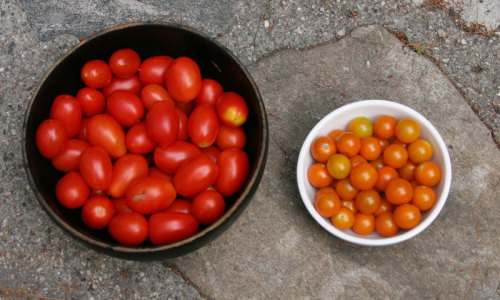 The results are in, and our winner, randomly chosen from the 74 visitors who shared their experiences on the 2010 Tomato Roundup post, is MidAR, who gardens near Little Rock, Arkansas. Congratulations, MidAR; you'll soon be receiving a copy of Cooking from the Garden.
Like so many of us, MidAR is an experienced and dedicated gardener. As she says, "I love cooking! We started gardening here 15 years ago with a couple of raised beds and kept enlarging the garden, which now consists of 14 raised beds enclosed with fencing to keep the deer and bunnies from devouring the plants. Herbs include rosemary, parsley, cilantro, oregano, sage, basil, chives and thyme. Our favorite crops are tomatoes and jalapeno peppers. We also grow okra, onions, cucumbers, zucchini and yellow squash, green beans, sugar snap peas, turnip greens, lettuce and spinach annually. We also have some blackberries."
Where did tomatoes fare best?
Not everyone who responded posted their location, but from those who did, you can see what kind of season it was. Tomato growers in New England rebounded from a blight-ridden, cold and wet 2009 in a big way, as hot, dry weather made for ideal tomato-growing conditions. On the West Coast, where cool conditions prevailed, growers were not so blessed. In the Midwest, the weather was hot and wet, with mixed results for growers. In the Southeast, hot, dry weather brought decidedly mixed results.
Which tomato varieties were star performers?
Among small varieties, Sweet 100, Sun Gold, and Juliet get high marks. Among the larger varieties, Carmello, Better Boy, and Celebrity performed well for most growers. Taste, of course, is a personal matter, and what pleases one person may not appeal to another.
The best tomatoes for next year's garden?
So many varieties, so little space. With close to 800 types to choose from, a gardener has some difficult decisions to make. I generally go with about 3/4 tried and true and use the rest of the space to audition varieties that catch my eye in the seed catalogs.