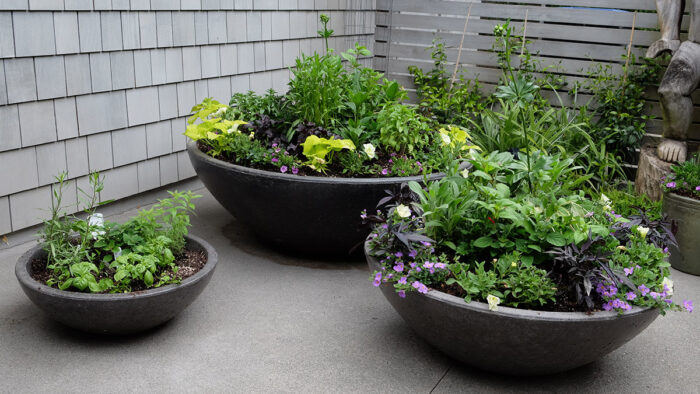 Our gardens are bursting with growth in early summer: roses are budding, peonies (Paeonia spp. and cvs., Zones 3–9) are blooming, and dahlias (Dahlia spp. and cvs., Zones 7–11) are shooting out of the ground seemingly overnight. With everything in the ground going crazy, it's hard to believe that I still have the urge to put together some summer containers. But now is the perfect time to plant something that will be seen up close and personal. I love to put containers at the entry to my house, on my patio and as focal points along pathways. Hanging baskets and planted containers are available at the nursery, so some people wonder why you would plant your own. There are many advantages to creating your own containers. Here are just a few ways to be creative with your containers this summer.
Create your own plant palette using your design intuition
Planted containers in the nursery can be very generic and can contain either a jumble of colors with plants trying to appeal to everyone, or just one plant overflowing a pot to look lush. Often the one-plant containers start looking tired after just a month or so. The jumble of colors makes me crazy because the color combinations commonly chosen at many nurseries often don't look right. For example, strong yellow just looks bad with soft pink. Containers are low-risk opportunities to try your hand at using your own color palette with plants.
Test out new plants with limited risk
Breeders are always coming up with new plants. You can find cool, new petunias, million bells (Calibrachoa), and other annuals that are fun to grow for the first time. You can also seek out unusual annuals like dayflower (Commelina communis), blue star (Isotoma axillaris), heliotrope (Heliotropium arborescens), cerinthe (Cerinthe major 'Purpurascens'), and my favorite, safflower (Carthamus tinctorius), to use in your designs. I also love using new perennials that can be put into the garden after the season is over. Testing out new plants in containers is a great outlet for your creativity.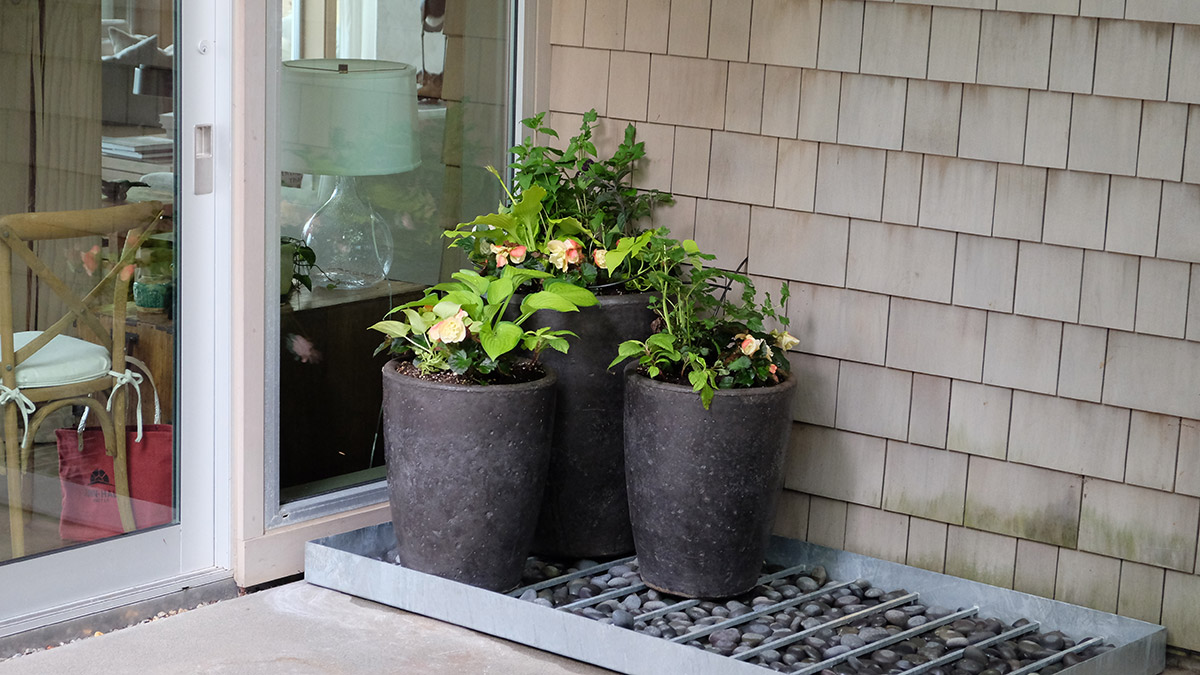 Keep the displays active and vibrant year-round
Investing in containers is expensive, so being able to use them for more than one season is important. Plan to replant them more than once in the year for fabulous displays year-round. I like to plant my containers in the fall with spring bulbs; in the winter I add seasonal foliage to the tops of the seemingly empty pots. In the spring after the bulbs are finished, I lift them out and replant them into black nursery pots to finish gathering energy until they go dormant by letting them grow on until the fall. The containers are then planted for the summer, and again in the fall. If you have a greenhouse, you can start the planting process in a nursery pot and transplant into your containers when you're ready to swap out the plants each season.
Make a statement with focal-point flair
Whether it's with a boxwood (Buxus spp. and cvs., Zones 4–9) topiary or fat cannas (Canna spp. and cvs., Zones 8–11) and other tropical foliage, containers are the place to add statements to your patio area. If you don't have space for a full-blown tropical garden, it's easy to create a container with that look. Experimenting with trimming your own animal out of boxwood is also a fun project in a container. If it looks bad, you can always move it out to the back of the potting shed to recover.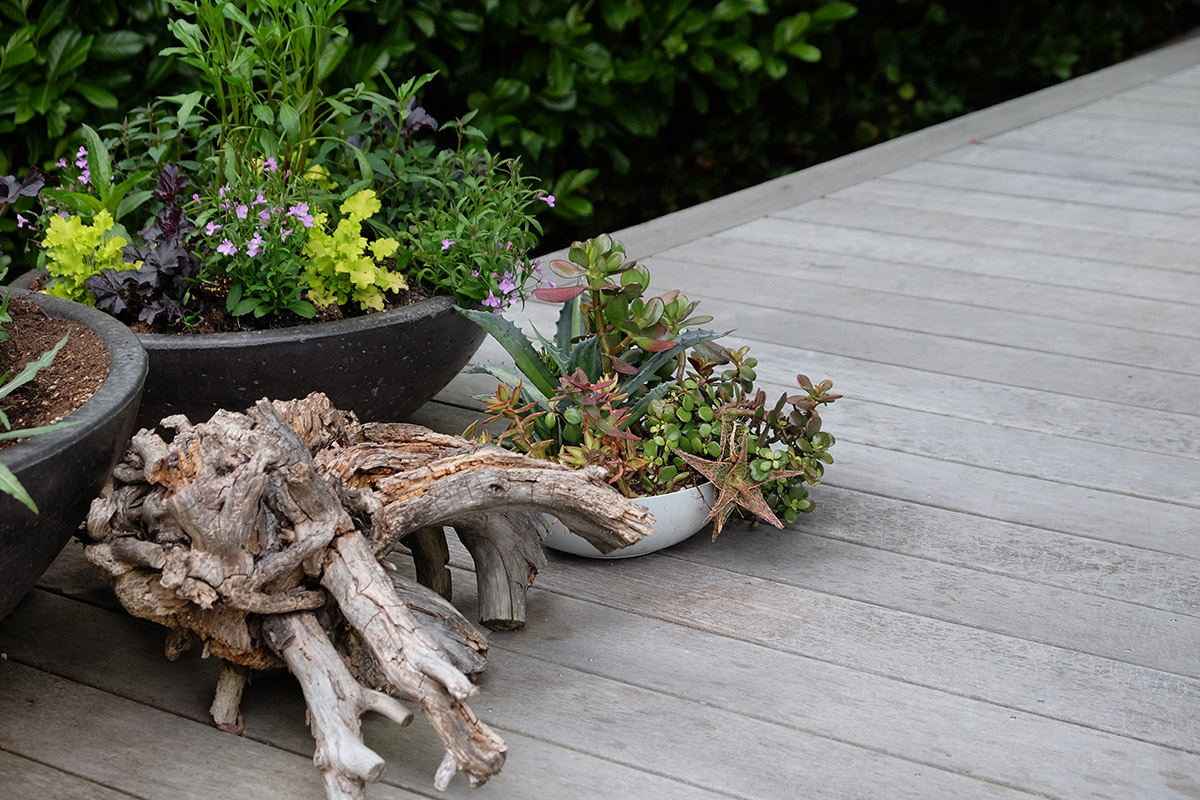 Place your rare or tender plants front and center
Plant a rare plant in a container so that you can keep it in view all season long. That angel's trumpet (Brugmansia spp. and cvs., Zones 8–11), lotus (Nelumbo nucifera, Zones 4–10), Chilean firetree (Embothrium coccineum, Zones 8–11), or green bottlebrush (Callistemon viridiflorus, Zones 8–11) that you have been coveting can be nurtured and grown in a container before you add it to the garden or put it back in the greenhouse over the winter. Succulents, agaves (Agave spp. and cvs., Zones 7–12), and sedums (Sedum spp. and cvs., Zones 3–11) make great easy-care container focal points that hardly ever need to be watered. They can be overwintered in a garage or unheated glasshouse over winter.
—Susan Calhoun is the owner of Plantswoman Design in Bainbridge Island, Washington.
View Comments