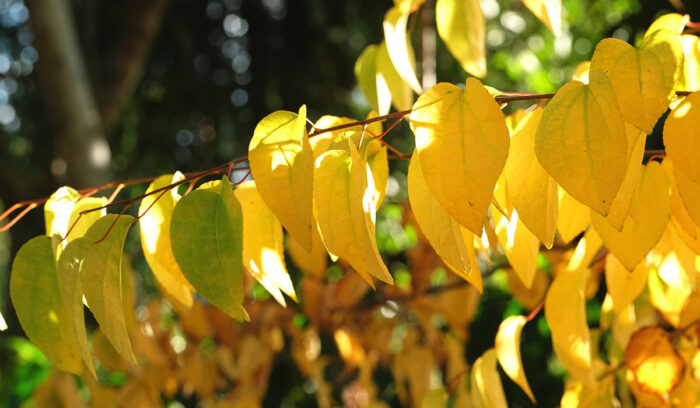 Although summer is a great and botanically bountiful season, fall is always a much-welcome time of year—especially after the heat of summer. I love living in the Northwest. The extremes in the seasons make the gardening year so diverse and exciting. I particularly love the fall when cooler nights and days trigger a wonderful palette of color to appear across the landscape. Many perennials put on a good fall-color show, but the trees are what I wait for every autumn.
In my garden, and in gardens I design, each tree must have more than just one season of interest. This is especially true in small gardens where the space given to a tree is very valuable. Here are some of my favorite trees with great fall color for the Northwest.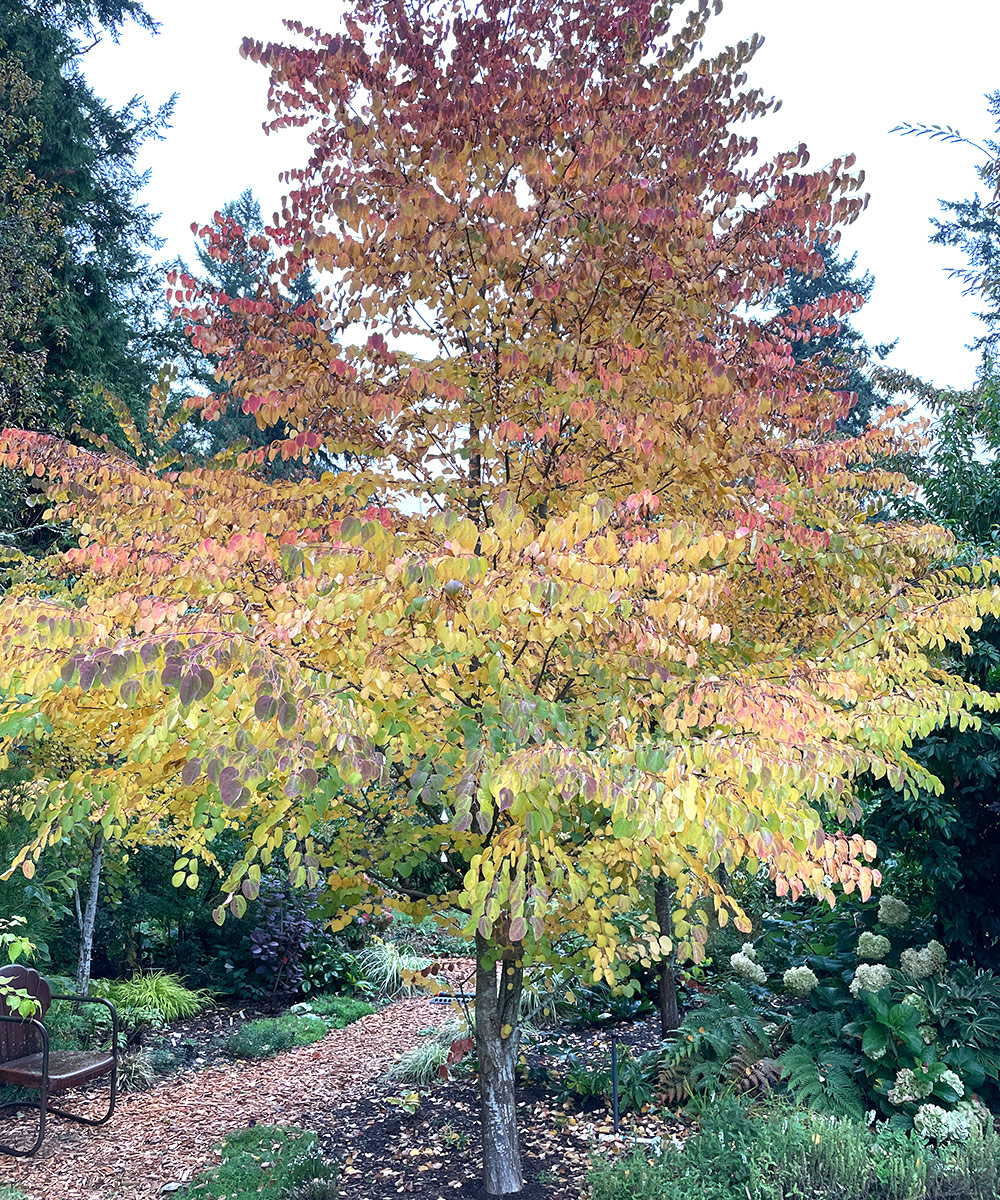 Katsura tree is a beautiful choice for full sun or partial shade
Katsura tree (Cercidiphyllum japonicum and cvs., Zones 4–8) is a must-have tree in my garden. Pest and disease free, easy to grow, and with good structure, this shallow-rooted species grows well in sun or partial shade, making it the perfect tree for most garden settings. The fall color is amazing, with shades of apricot turning brilliant yellow. Before the fall color starts to really kick in, katsura tree gives off the most enticing fragrance. Some think it smells like caramelized sugar and cinnamon, while others say the smell resembles cotton candy. The katsura leaves are about the size of quarters and will blow across the garden after falling, leaving very little to clean up. The tree takes on another dimension with dark branches against the winter sky until the bright green luminous leaves push out in the spring. With the species growing to 40 feet tall and 30 feet wide or more, there are two dwarf varieties that both grow to about 12 feet tall and 4 feet wide: 'Boyd's Dwarf' (Cercidiphyllum japonicum 'Boyd's Dwarf') and 'Heronswood Globe' (Cercidiphyllum japonicum 'Heronswood Globe'). These are truly spectacular trees in any garden.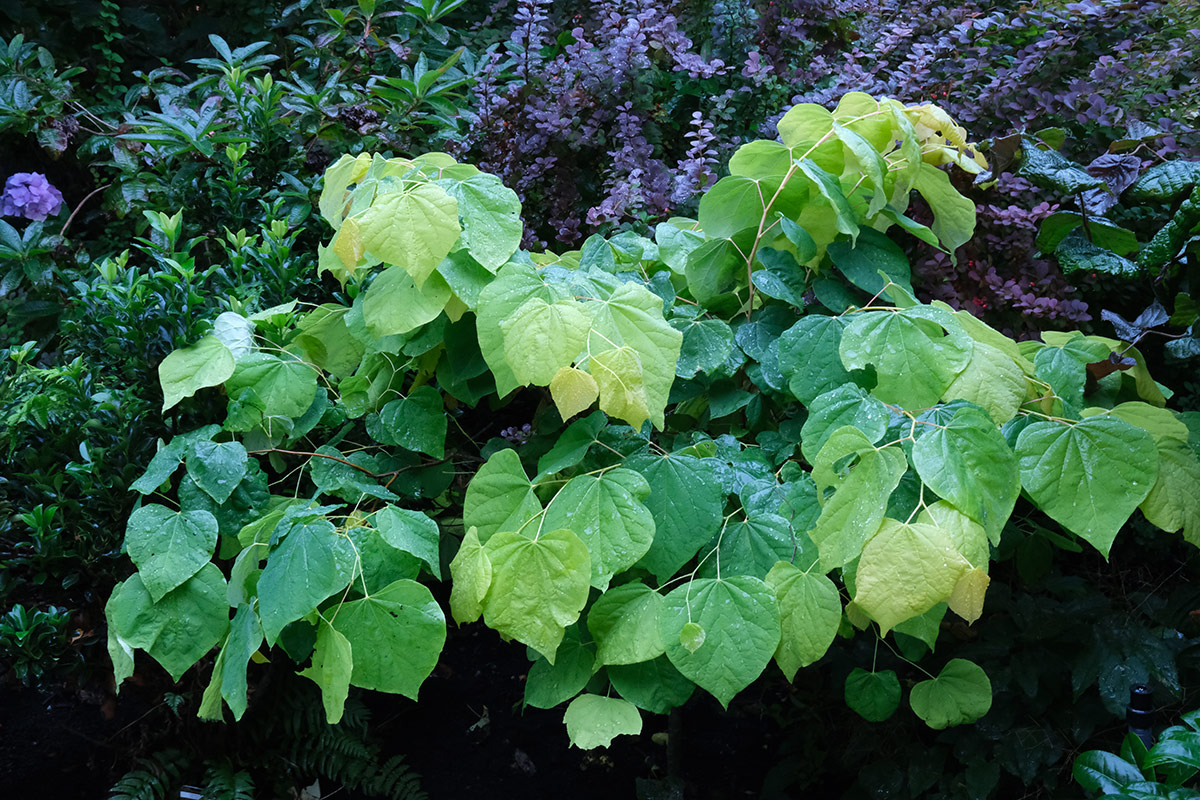 The Rising Sun™ eastern redbud is an excellent native with fiery fall color
The Rising Sun™ eastern redbud (Cercis canadensis 'JN2', Zones 5–9) is another multiseason tree with fabulous fall color. Strangely enough the leaves of this selection start the color change right after the lavender flowers finish blooming in spring. Each branch produces green, apricot, bronze, and gold leaves throughout the growing season. This tree grows best with afternoon shade and is a good choice for small gardens since it only reaches 10 to 15 feet tall and 6 to 15 feet wide. In a larger garden, it deserves specimen placement, without crowding, to showcase its amazing structure and color. Its fall color is like a pillar of fire before the heart-shaped leaves flutter to the ground.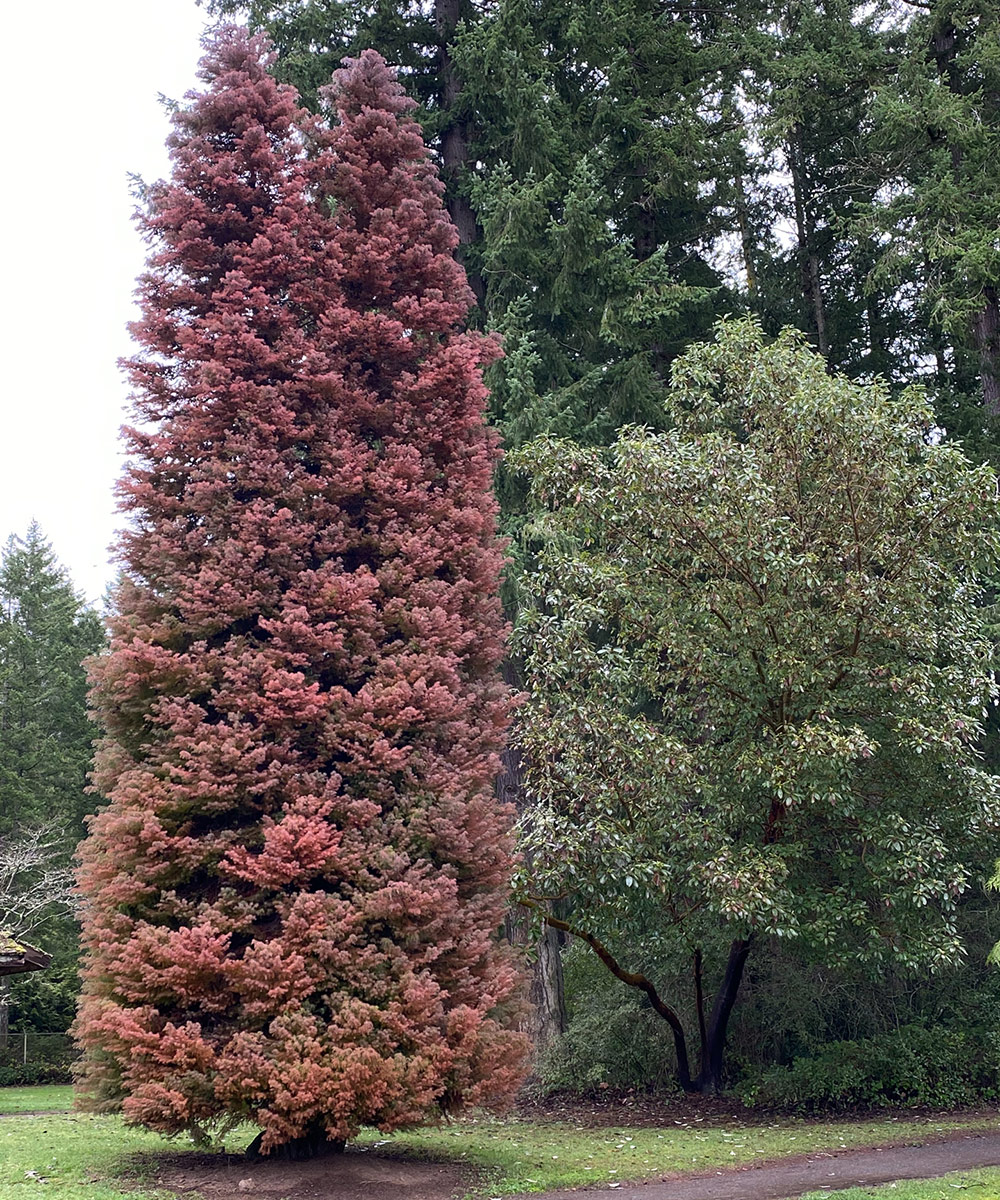 'Elegans' Japanese cedar shows that even conifers can get in on fall color
Fall color is not just about deciduous trees. 'Elegans' Japanese cedar (Cryptomeria japonica 'Elegans', Zones 5–8) is a wonderful conifer tree that changes color in the fall. The green branches have a slightly weeping layered look that changes to plum and red plumes when the weather cools. The beautiful color remains until spring, when fresh new growth becomes green again. A fast grower, 'Elegans' can reach 60 feet tall and 20 feet wide. It is adaptable to many different types of situations, and when given good water, a slow-release fertilizer, and well-drained soil, it creates a stunning statement in the garden. There are many dwarf cultivars available, but not all have fall color. When selecting cultivars, be sure to check the plant tag or description for fall color and growing conditions that match your garden.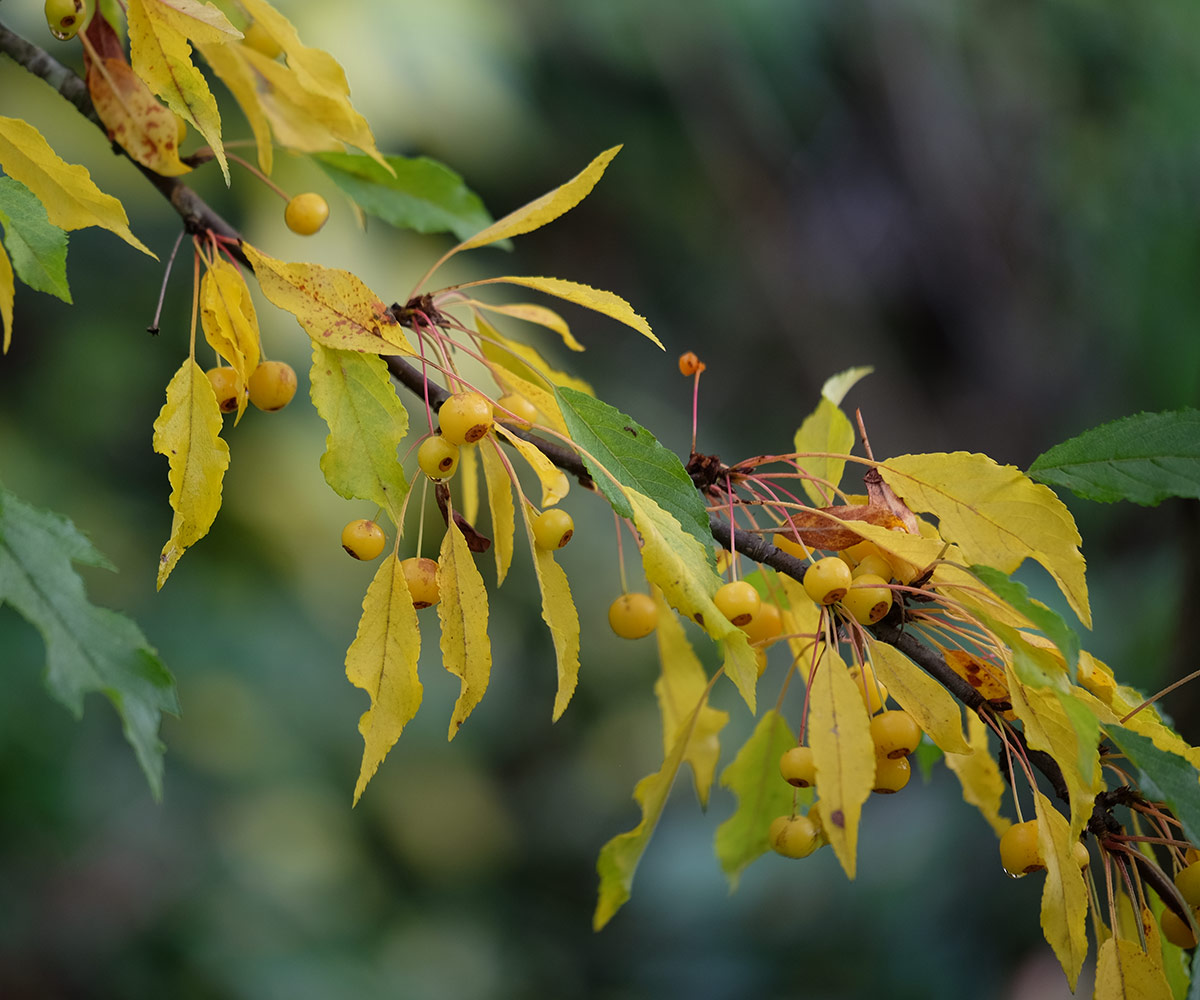 Golden Raindrops® crabapple dazzles with striking yellow leaves and fruit
If you are looking for a tough tree for any situation, the Golden Raindrops® crabapple (Malus transitoria 'Schmidtcutleaf', Zones 4–8) is a solid choice. I became intimately acquainted with this tree at a Northwest Flower and Garden Show display garden I created. We forced a 15-foot-tall specimen tree in a greenhouse for the show—where it was put to the test when it was severely damaged during placement and suffered from environmental shock. After the show, we held out little hope for its recovery, but we heeled it into a garden bed at my office.
Now five years later, I am happy to report that this tree is absolutely fabulous and has never missed a beat. It puts out a prolific display of white blooms in spring. In fall, it puts on another stellar performance when its small leaves turn brilliant yellow among tiny yellow fruits that birds love. Long after the leaves are blown off, the yellow fruit prevails through most of the winter until the birds finish them off. Golden Raindrops® does best when planted in full sun or bright shade. A great carefree tree for any garden, even with little water, it grows to about 20 feet tall and is 15 to 20 feet wide.
Here are a few of my also-ran fall-tree favorites:
Mandarin Jewel® Kousa dogwood (Cornus kousa* 'Madi-11', Zones 5–8) features bright orange seedpods in fall.
'Sunsation' magnolia (Magnolia 'Sunsation', Zones 5–9) has large leaves that turn yellow with a touch of red in the fall, and large seedpods on stark dark branches in winter.
Golden Bell Tower™ Persian ironwood (Parrotia persica 'Chrishaven1', Zones 4–8) is a columnar tree with rippled leaves that change to brilliant orange-yellow dipped in red in fall.
If you are thinking about adding a fall color tree to your garden, fall is the best time to do it. The nurseries are usually getting new stock in, and many of the trees are in color. Cooler temps and rains help with success in planting. Water well and often until the rains make the soil moist again. Add compost in the hole and as a mulch; this will provide continuous slow-release nutrients during the fall and winter. Don't add fertilizer during fall planting.
*This plant is considered invasive in some areas of the country. For more information, please visit invasiveplantatlas.org.
—Susan Calhoun is the owner of Plantswoman Design in Bainbridge Island, Washington.