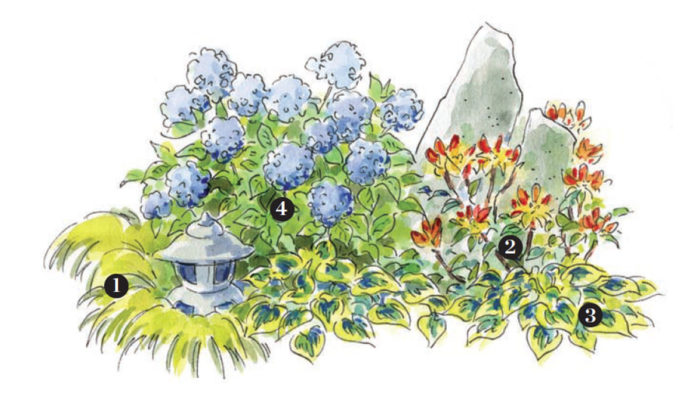 1. 'All Gold' Japanese Forest Grass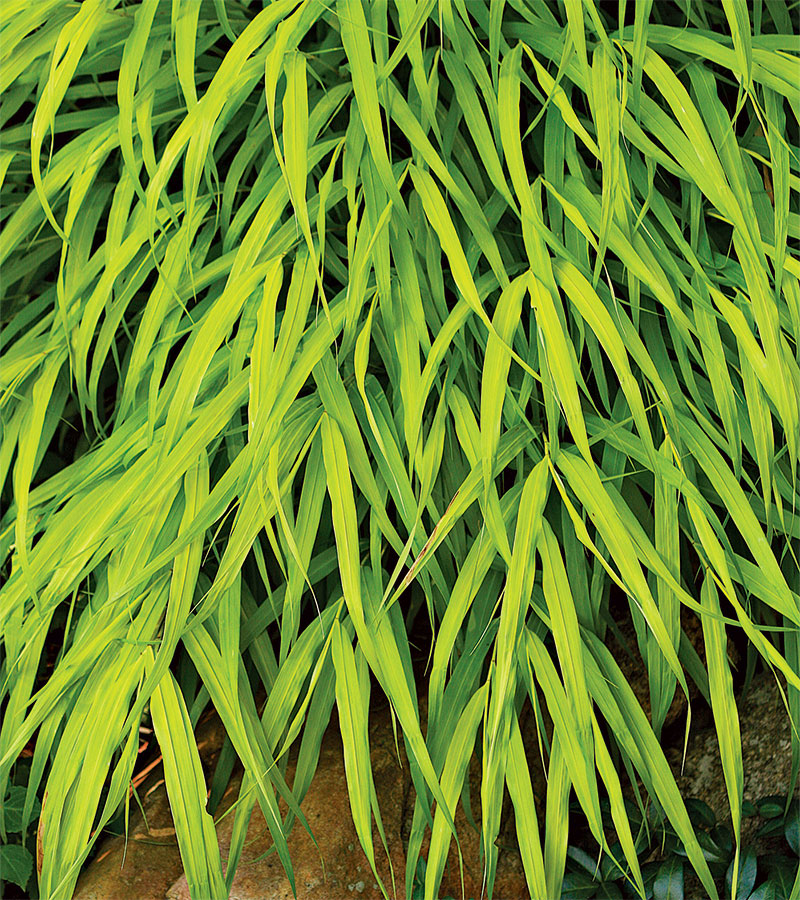 Hakonechloa macra 'All Gold'
Zones: 5–8
Size: 12 to 15 inches tall and 2 to 3 feet wide
Conditions: Partial shade; fertile, well-drained soil
Native range: Eastern Asia
Shockingly brilliant and well-behaved, this ornamental grass glows in the garden. In April the buttercup yellow blades emerge and quickly form a lush clump by May. As the clump matures, it broadens to graceful mounds that move with the slightest breeze. The golden yellow color will hold through the growing season with some morning sun. If there is more shade it will soften to chartreuse. This is an excellent plant to soften bold foliage and mix with cool colors such as blues and purples, or hot colors such as reds and oranges. Water this grass regularly during extended dry periods, and protect it from the reflective heat of intense late afternoon sun.
2. 'Arneson Gem' Deciduous Azalea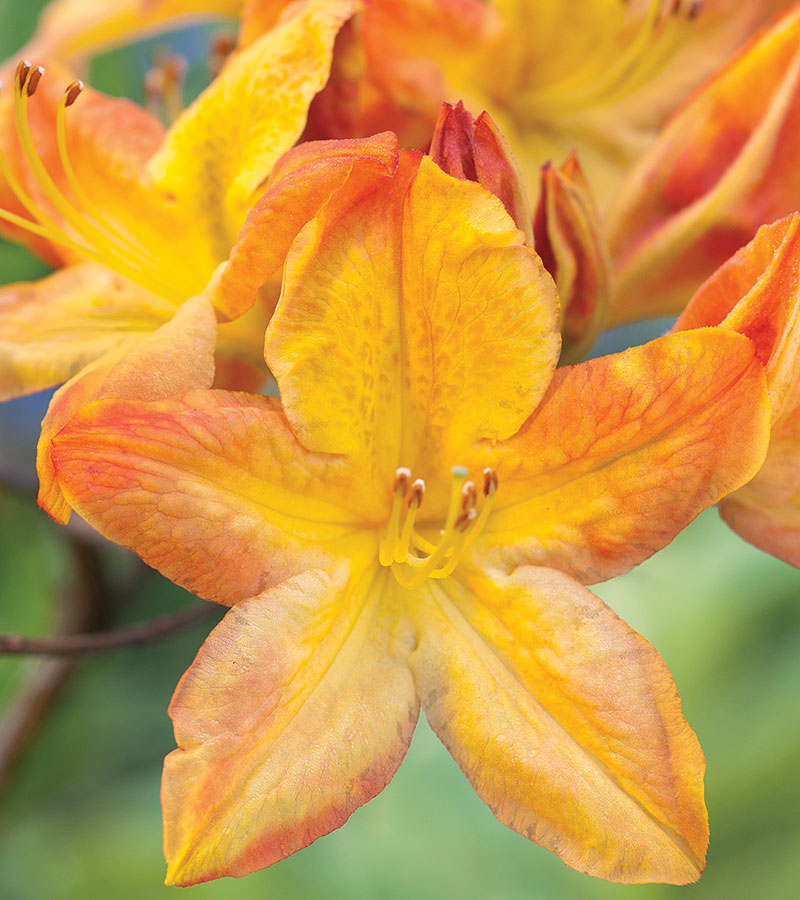 Rhododendron 'Arneson Gem'
Zones: 5–8
Size: 4 to 5 feet tall and 3 to 4 feet wide in 10 years
Conditions: Full sun to light shade; moist, well-drained soil
Native range: Interspecific hybrid of Asian species
This compact deciduous azalea packs a powerful floral punch in late April to early May. As the leaves start to unfurl, the prominent flower buds begin to open, revealing a cluster of deep red buds that later open to fiery golden orange flowers that provide a blaze of color in the garden. Once this azalea is finished blooming, dark green foliage that's resistant to powdery mildew remains until the autumn, when it is replaced with lovely fall color. 'Arneson Gem' is great to use as an accent with cool colors or to add punch to yellow- and orange-blooming plants.
3. 'Liberty' Hosta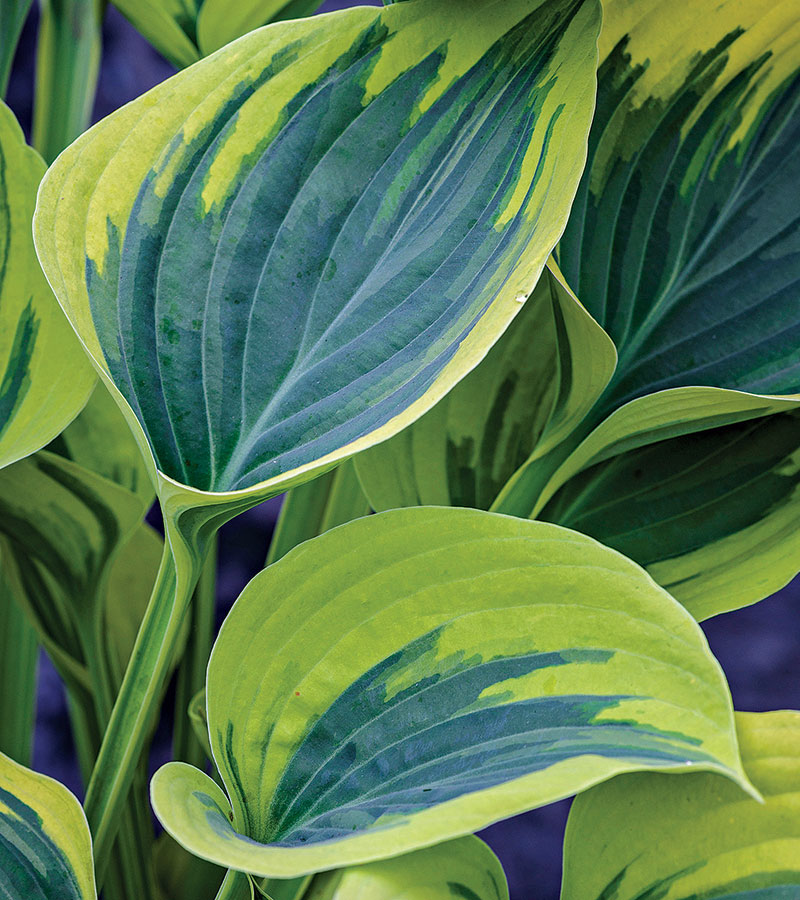 Hosta 'Liberty'
Zones: 3–9
Size: 20 to 24 inches tall and up to 36 inches wide
Conditions: Partial shade; well-drained soil, with regular watering during dry periods
Native range: China, Japan, Korea
'Liberty' is a sport of one of my favorite hostas, 'Sagae', and it improves upon an already stellar plant. Large, bold leaves emerge in April and mature into a beautiful stately clump in May. The foliage has a wide, golden yellow border surrounding a bright, blue-green center and is slightly twisted. As the foliage matures, it becomes thick and heavy in substance and resistant to munching from slugs and snails. The robust foliage is a perfect contrast with fine foliage and combines well with bright colors. Watch for slugs and snails on young growth.
4. 'Merritt's Beauty' Hydrangea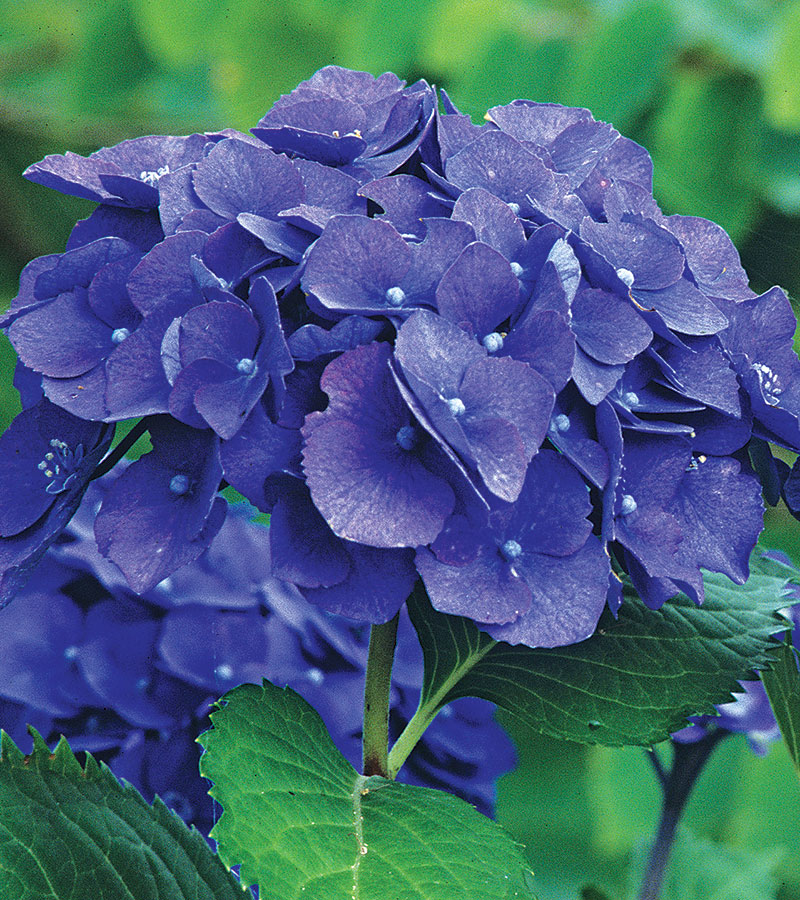 Hydrangea macrophylla 'Merritt's Beauty'
Zones: 6–9
Size: 4 to 5 feet tall and 5 to 6 feet wide in 10 years
Conditions: Morning sun with light afternoon shade to open shade; well-drained soil, with regular watering during dry periods
Native range: Japan
This classic hydrangea does everything a hydrangea should. Opening in May, it picks up when most rhododendrons and azaleas are just finishing their bloom. When grown in our typically acidic Northwest soils, its large, rounded flower heads open to a brilliant deep blue or sultry purple brushed with intense blue. As the blooms fade, they turn shades of green and burgundy, with hints of turquoise providing interest throughout the growing season. In alkaline soils, the blooms will be a saturated rose red. The bold deep green leaves are the perfect foil for the flowers, and they combine well with variegated foliage and fine textures.
—Richie Steffen is the executive director of the Elisabeth C. Miller Botanical Garden in Seattle.