1. 'Stairway to Heaven' Jacob's Ladder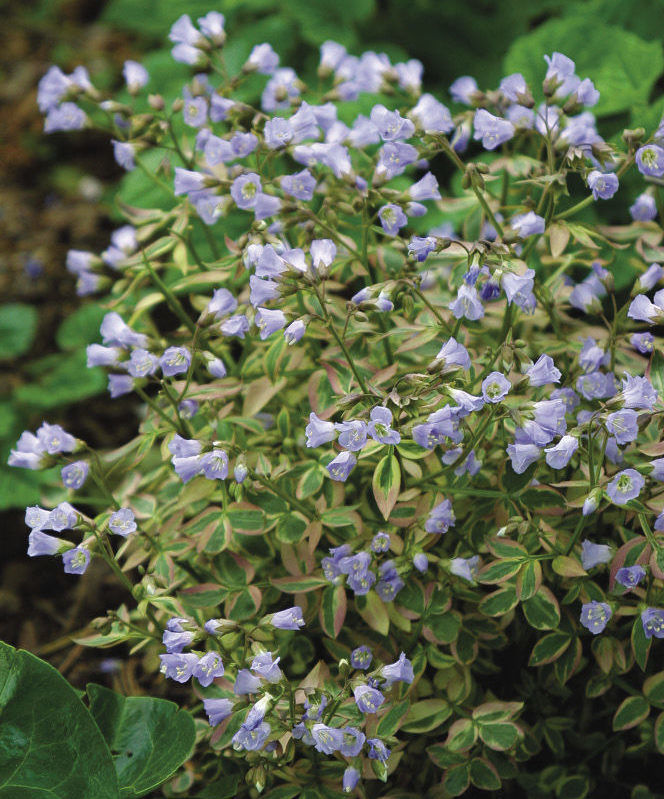 Name:

Polemonium reptans

'Stairway to Heaven'

USDA Hardiness Zones: 3 to 8

Size: 15 to 18 inches tall and 12 to 15 inches wide

Conditions: Full sun to partial shade; moist, well-drained, loamy soil

'Stairway to Heaven' is slated for stardom in my garden. With its emerald green leaves and ivory margins that display an occasional tinge of pink, this native beauty is so showy as a foliage plant that you almost forget it flowers until the blossoms appear in early summer. And flower it does: 'Stairway to Heaven' boasts clusters of sky blue blossoms that hover for weeks above the foliage, attracting numerous, nectar-loving pollinators. I can't wait to add this spectacular performer to my new green-and-white garden.
2. 'Sophia' False Lupine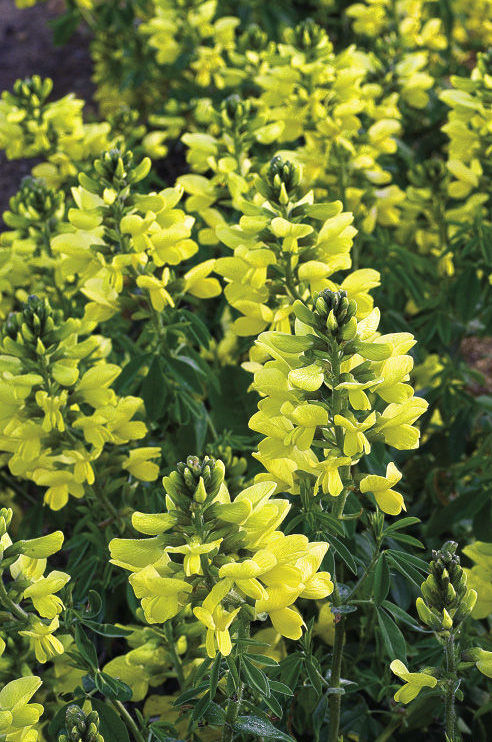 Name:

Thermopsis chinensis

'Sophia'

Zones: 5 to 9

Size: 18 to 24 inches tall and wide

Conditions: Full sun; average to dry soil

This sweet, floriferous, truly compact cultivar of false lupine takes center stage in early spring. Abundant, pealike, canary yellow flowers bloom in sunny spikes alongside spring ephemerals and bulbs before most other perennials awaken. The pearly, bluish green foliage of 'Sophia' remains neat long after the flowers give way to attractive seedpods. While I have always loved the early yellow flowers of the native Carolina lupine (T. villosa, Zones 4–8), I'm looking forward to designing with this compact beauty from China.
3. 'Chocolate Wings' Rodgersia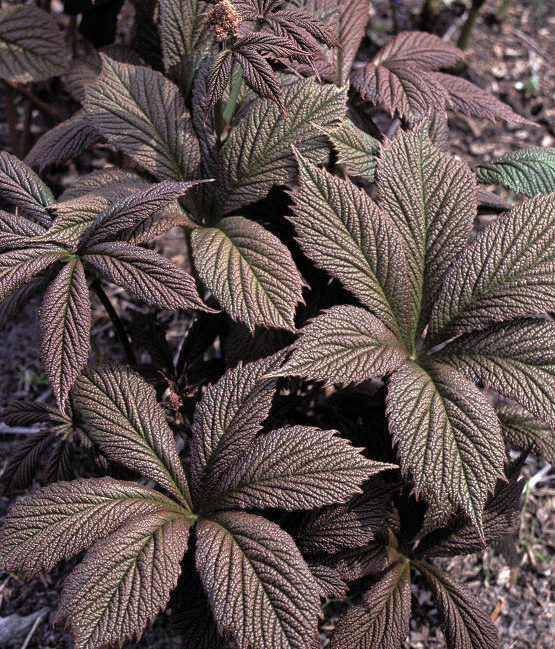 Name:

Rodgersia pinnata

'Chocolate Wings'

Zones: 6 to 9

Size: 3 to 4 feet tall and 2 to 3 feet wide

Conditions: Partial shade; consistently moist soil; may be grown as a bog plant

The quilted, propeller-shaped, serrated leaves of 'Chocolate Wings' rodgersia emerge the color of deep cocoa, transforming as they mature into various shades of bronze, olive, and woodsy green. Clusters of light pink flowers rise above the foliage in early to midsummer, morphing into fleecy, ruddy plumes by autumn; however, the plant is grown primarily for its tropical-looking foliage. Used as a specimen or planted en masse, 'Chocolate Wings' is an attention-getting architectural conversation piece. My clients with bog gardens or ponds simply love this plant.
4. 'Blackout' Heuchera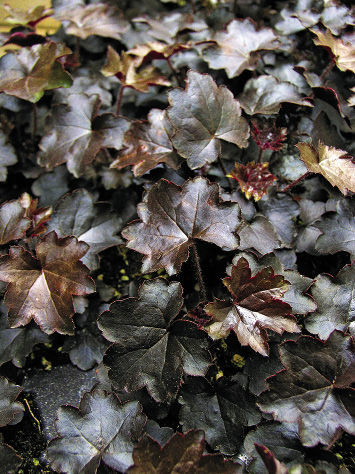 Name:

Heuchera

'Blackout'

Zones: 4 to 8

Size: 12 to 18 inches tall and wide

Conditions: Partial to full shade; moist, well-drained, loamy soil

'Blackout' is the latest in a series of exciting dark-leaved heucheras. It features glossy, wavy, chocolate-colored leaves with deep wine-colored undersides. Creamy flowers shower the plant in early to midsummer, providing a contrast to the ebony foliage. 'Blackout' can be grown in sun as long as it receives adequate moisture, and its foliage holds up well in summer heat and humidity. Simply put, this deer-, rabbit-, and disease-resistant, plant-anywhere heuchera is a stunner and a perfect addition to my ever-expanding collection of dark-leaved heucheras.
Lynn Felici-Gallant is owner of Indigo Gardens, a garden-design company in Raymond, New Hampshire.
Photos: (1), Jennifer Benner; (2 and 3), courtesy of Walters Gardens, Inc.; (4), Skagit Gardens