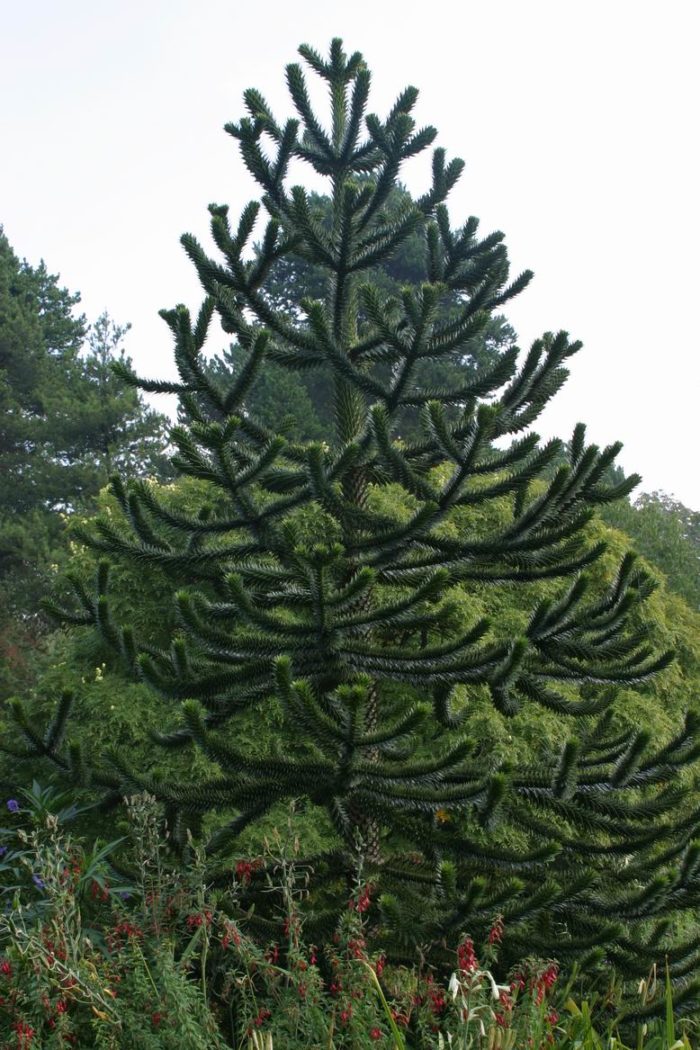 Monkey puzzle TREE, that is. This is one fascinating tree. The monkey puzzle (Araucaria araucana, USDA Hardiness Zones 7-11) is native to Chile and Argentina (the Andes, more specifically), and can grow up to 80 feet tall and 30 feet wide. It's coniferous, and its cones can grow up to 6 inches long. We've heard stories of them being quite dangerous when they fall from the tree. The tree itself is a potential hazard if planted too near a heavily traveled area, since the  scale-like "leaves" are quite sharp. No matter the danger, the tree is fascinating, though it's not for small gardens. We spotted this specimen while touring gardens in the northwestern U.S.
The wikipedia page on this plant is fascinating–check it out here! Do you grow this tree? If so, tell us about it in the comments below.
Welcome to the Fine Gardening GARDEN PHOTO OF THE DAY blog! Every weekday we post a new photo of a great garden, a spectacular plant, a stunning plant combination, or any number of other subjects. Think of it as your morning jolt of green.
Sign up to get new posts delivered to your inbox each morning so you'll always remember to take a look, or subscribe to our RSS feed. We look forward to sharing our garden travels with you.
READER PHOTOS: We love featuring your photos, too. If you think you have a photo that we should share on the Garden Photo of the day, email us. Send hi-res images if possible. We'll only respond if we plan to use your photo.