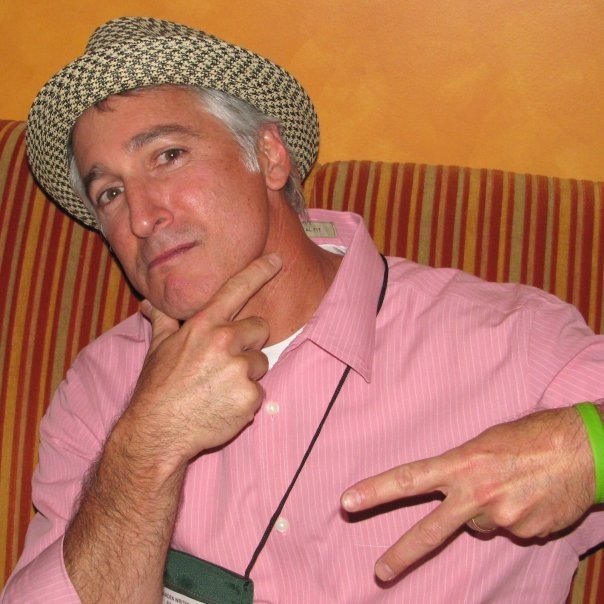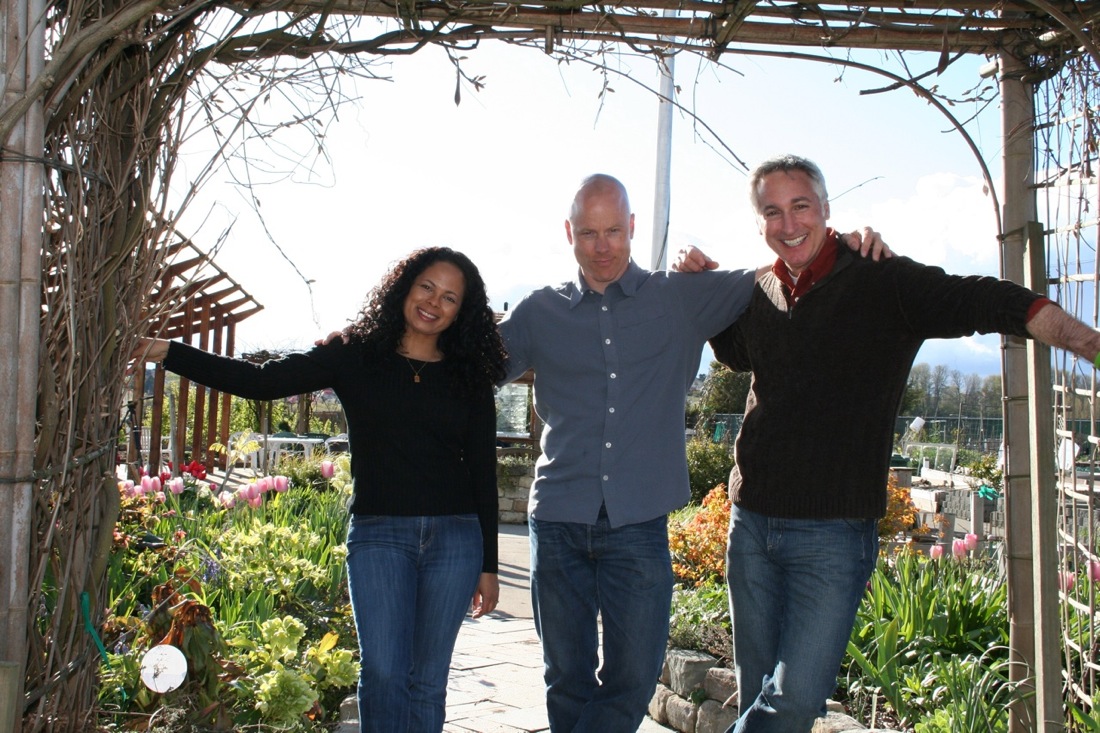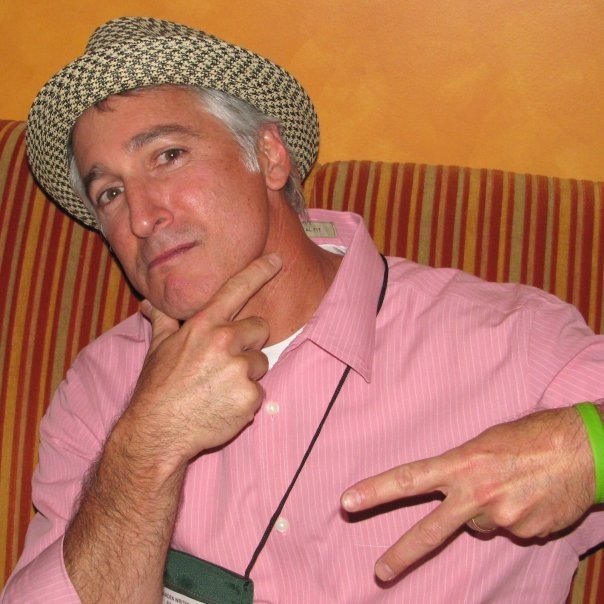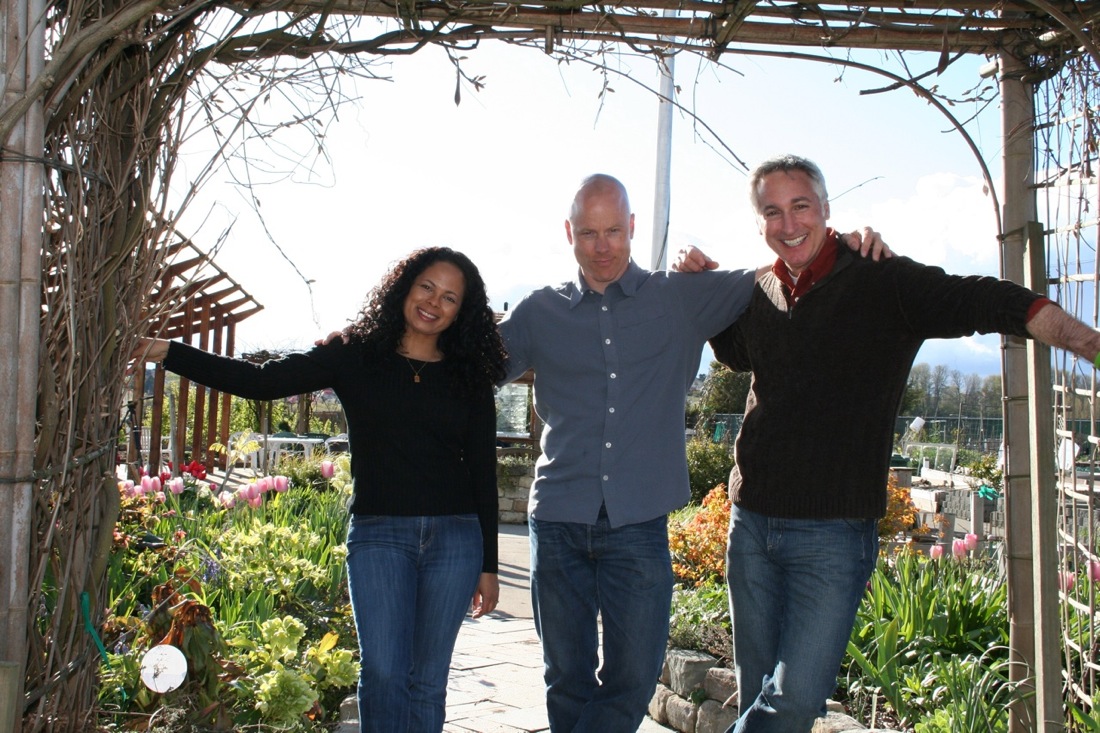 I'm going to let Joe Lamp'l, aka Joe Gardener, introduce himself: "I am a full-time gardening & sustainability communicator in the media. Former host of two national shows on DIY and PBS, I am currently producing and hosting a new show on this subject to begin airing nationally in spring, 2010."
That's from the little box on the left side of Joe's Facebook screen. I wish he'd checked with me before posting it, because there's some stuff he left out. Like the stuff about what a funny, friendly, nice, enlightened, sincere guy he is. I discovered that for myself last year when we got to hang out at the annual Garden Writers Association symposium in Raleigh. Here's Laura Schaub's candid photo of Joe getting his cool on in my now notorious stingy-brim. Work it, Joe!
Joe's newest, greenest, most ambitious TV adventure is Growing A Greener World, now showing on multiple public television (PBS) stations around the country. Joe's impeccably produced, lusciously filmed HD video, 30-minute weekly show is a top-notch visual treat, but it's the content that has me so excited.
I'm all about spreading the word on sustainability and praise Joe for this show. In his capacity as executive producer and on-camera host, Joe turns the camera on people, organization and events that are making a difference in our world, focusing on gardens and horticulture. The goal of the show is to raise awareness about the environment, and to motivate viewers to be good stewards of the planet.
Joe and his talented Growing A Greener World crew (including associate producer and garden writer, Theresa Loe) have been crisscrossing the country with their state-of-the-art video crew, developing shows that explain a host of sustainable approaches to gardening: organic lawn care, urban sustainable farming, community gardens, natural pest care, and lots more.
[I might as well get my shameless self-promotion in now] I'm really looking forward to Proper Pruning Know-How – What to Consider Before You Cut episode, since I'll be in that one! We'll be meeting up in Los Angeles to tape a Crimes Against Horticulture segment for the show. So far, all Joe has told me is "We're going to have a lot of fun." I've already got friends and family scouting for some egregious examples of mindless hack jobs.

Joe's Sidekicks
Joe shares the screen with two great talents: Co-host Patti Moreno, a life-long Boston-raised city girl known to many as "Garden Girl", brings her expertise and passion for urban sustainable living to the show. And Chef Nathan Lyon makes the connection between the garden, the kitchen and the dinner table by demonstrating simple, innovative cuisine featuring fresh, local ingredients. In the first episode, I picked up a few avocado tricks watching him make a tempting bowl of guacamole.
It's Everywhere!
The show is presented by Blue Ridge PBS, Roanoke, VA, and distributed by Amereican Public Television (APT) to public broadcast stations around the country. There's a button at the show's website to help you find the show. If your local public television folks are missing the boat, give them a holler or bombard them (politely) with an e-mail campaign from you and your friends.
If you're not within broadcast range, you don't have to miss out. Once an episode is released by APT, it can be viewed at the Growing A Greener World website the next day. What I love most about this show is how seamlessly it's been integrated into the web, including not only a robust website filled with additional information, but also linked to Facebook, Twitter, Joe's personal blog and other media—truly a clever use of 21st century communication technology that will draw the attention of a younger audience ripe for the message of sustainable landscaping.
Joe Lamp'l is my new hero. He's created an entertaining, watchable way to bring the essential message of intelligent, beautiful, productive, earth-friendly gardening to a mass audience.
Joe says that his girls, ages 10 and 12, know what he does for a living. Though their sense of geography is a bit inflated, he told me they'd say, "My dad travels around the world teaching people to garden." Asked if they thought he was a rock star, he said that the launch of the show last week went pretty much unnoticed around the house. Well, maybe around Winston-Salem, but for the rest of us, the planet got a little greener.
Watch the show on-line at the Growing A Greener World website (http://growingagreenerworld.com)