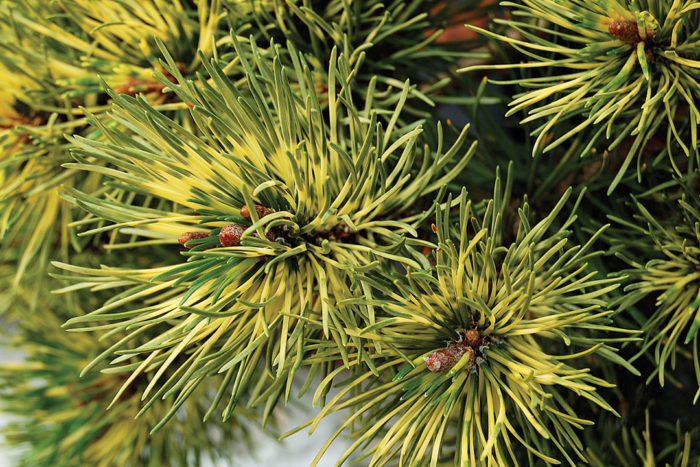 Everyone enjoys seeing snowdrops in early spring, but some people love them so much they are known as galanthophiles, and it makes me jealous. I want to love a group of plants so much that I can be an "o-phile." The genus Amsonia comes to mind. I love all the ones I see and grow. A. hubrichtii is my favorite, but 'Blue Ice' is making a strong play for my affections. As much as I love these plants, however, I'm not in love with them.
After working on a number of articles like "9 Cool Variegated Conifers," I think I have found a plant group I could love. Sure, I've been burned by them before, not taking the "full sun" recommendation as seriously as I should have and forgetting that the low-maintenance characteristics won't fully activate until the plant is "well-established." Dwarf conifers are the ones that catch my fancy. They aren't so enormous that they can't be enjoyed. But buying a dwarf conifer requires a leap of faith. I tend to fall in love with them based on a photo of a mature specimen, beefy and well-formed like a compact version of the Hulk. What I find at the nursery is something that looks more like his wimpy alter ego, Bruce Banner—and it's wearing a $79.99 price tag.
Even if you don't have much control over what you get, you have slightly more input into how it turns out. It seems to me that the rules for raising dwarf conifers and those for raising children are strikingly similar:
1. Give them a good home.
2. Get them off to a good start, then hope for the best.
3. Expect them to cost you more money than you think they should.
4. Don't let the deer eat them.
The most important thing to remember is that even if they don't grow up to resemble a superhero, you will love them anyway.
—Steve Aitken is the editor. He values his children much more than his plants but would be happier if either of them listened to him once in a while.
More of Steve's picks on conifers:
Plant Winter Interes with Conifers