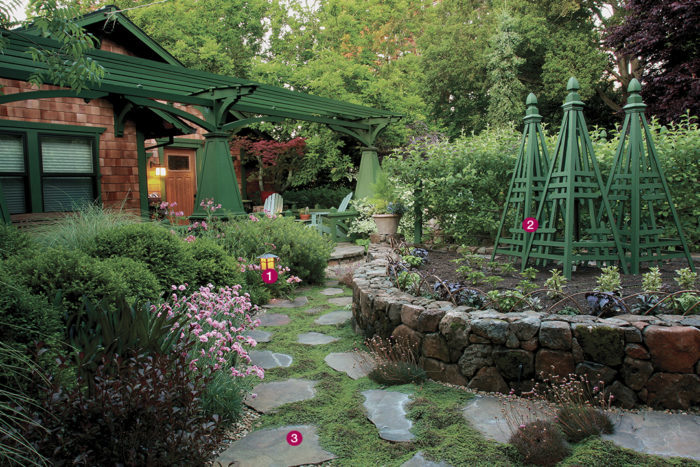 Attention to detail is essential in almost any venture, but in the garden of Sabrina and Freeland Tanner in Napa, California, it takes gardening to another level. Every corner reveals another thoughtful feature, from the handmade tuteurs to the fascinating collection of vintage gardening tools. But it's the subtle design details that you don't consciously notice that make this garden excep­tional. The Tanners are masters of nuance, and after you see some of the design details they've employed in their masterpiece, I'm sure you'll see a multitude of ways to make a difference with details in yours.
Connecting house and garden
Without some connection between the plants and the structures they surround, you could easily feel lost in this large garden. Sabrina and Freeland designed this garden to feel, instead, like an extension of their home.
1. Lights lead the way
Path lights that match the porch light and the style of the house create a connection between the house and the garden. As a result, the house feels as if it is an extension of the garden, and vice versa.
2. Choose one paint color
All of the wooden accents in this garden are painted a soft shade of green. It not only visually connects these tuteurs to the porch but also blurs the lines between the hardscape and the plants.
3. stone gives way to plants
The stone patio is a solid visual island in this sea of green. As the stone bleeds out into the garden, it's tempered by plants—especially in this pathway, where mosslike plants creep over the edges of the pavers.
Plants are the stars in shade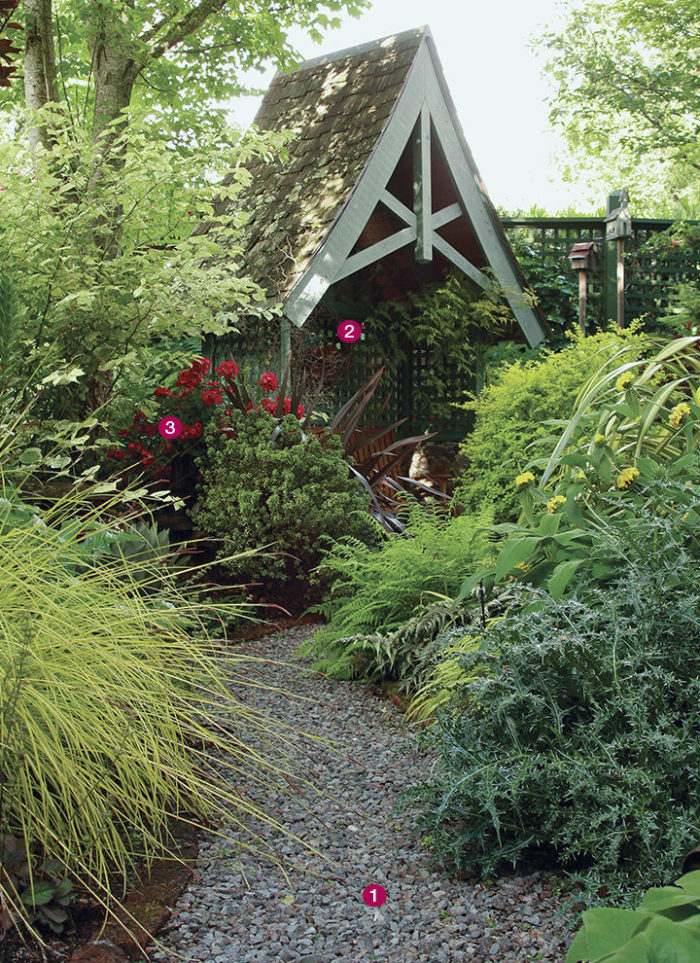 Sabrina and Freeland make good use of gold foliage and blooms to brighten shady areas. It's one of the many things that make this shady path to the summer house a pleasure to walk.

1. Gravel crunches underfoot
Gravel is often overlooked as a design feature. Sure, it's inexpensive and easy to install, but it's also a great sensory addition. The sound of crunching gravel connects you to the earth below, grounding you in the garden.
2. Subtle ornaments are key
In this garden, plants are the major attraction. To complement them, Sabrina and Freeland use ornaments that whisper instead of shout. Some tall birdhouses and a collection of aged clay pots in a wall basket (photo, above) are modest investments that pay off in charm—especially in winter, when greenery is scarce.
3. Bold Color is a beacon
A splash of red from the 'Marjorie Fair' shrub rose (Rosa 'Marjorie Fair', USDA Hardiness Zones 5–9) in a spot of dap­pled shade is a bit of relief from the green and gold that is a woodland garden. It makes this shady destination pop, urging you forward to sit awhile in the seating nook.
A garden to play in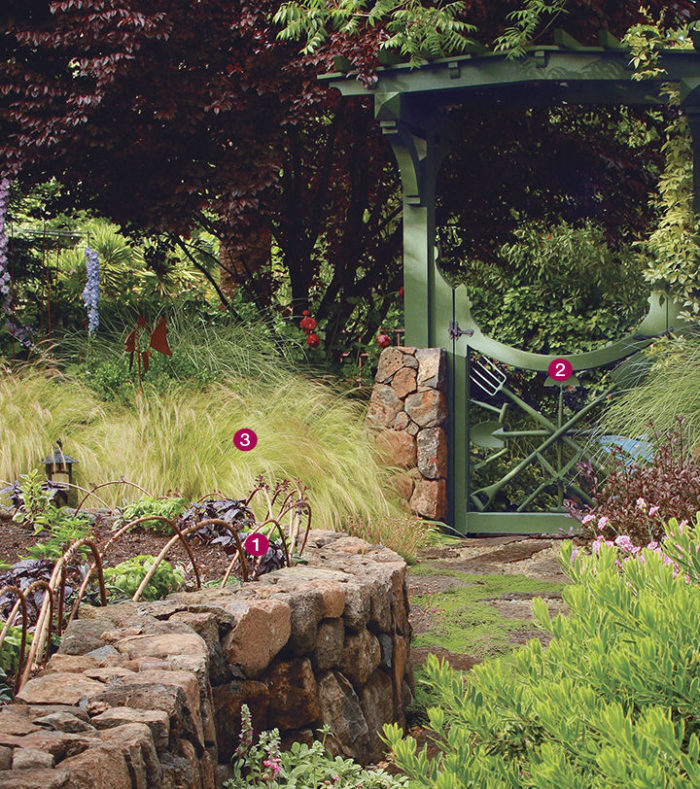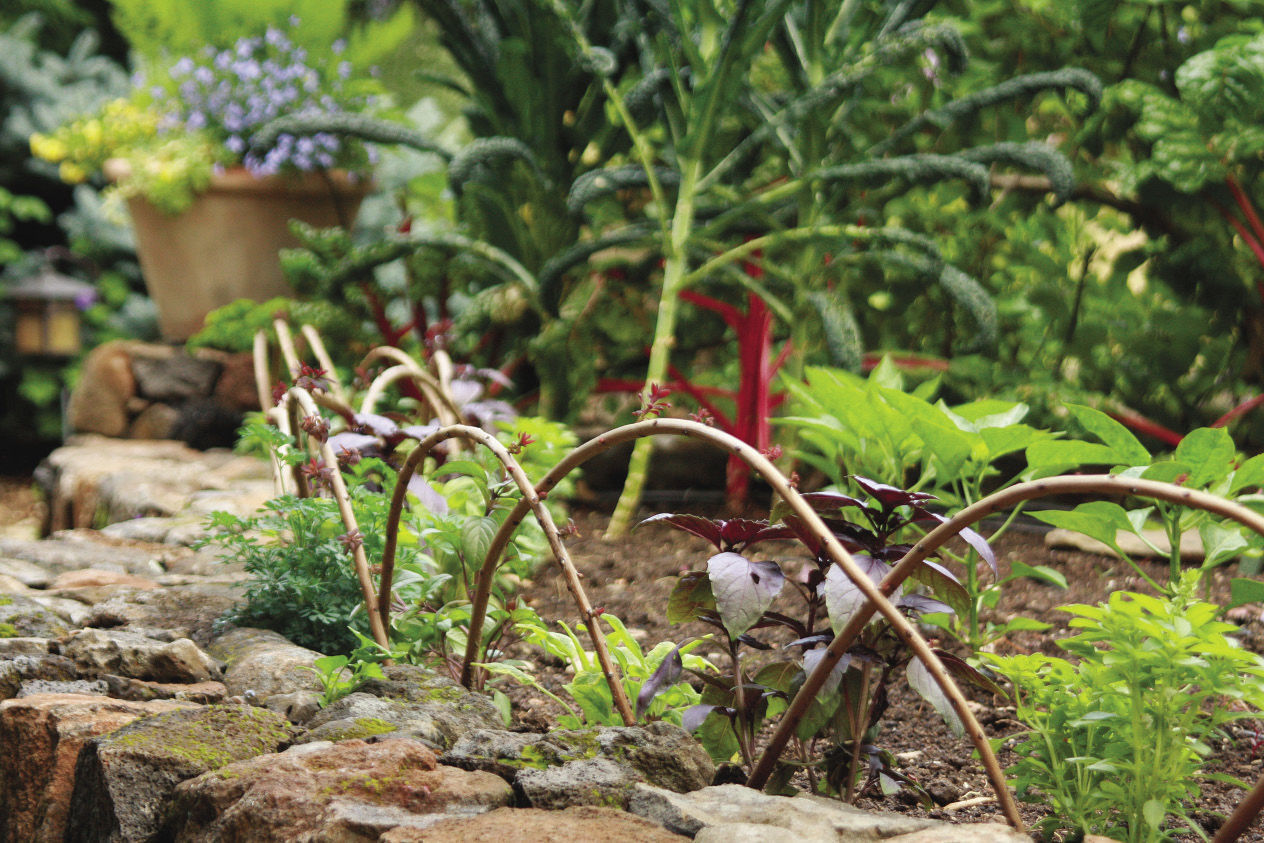 It's obvious that these gardeners aren't just getting the job done. They're taking the time to exercise their imagination and have some fun.
1. Homegrown edging is a delight
Sabrina and Freeland love using pruned branches as decorative edging (photo, right). Here, they've used branches from their smoke bush (Cotinus coggygria cv., Zones 5–8), but they've also used grape-vine trimmings. (They do live in Napa, after all.) To their delight, the trimmings often root and start leafing out.
2. A custom gate leaves no doubt
The Tanners are serious gardeners, and their front gate, handmade by Freeland, announces this to the world. It also lets you know that there are some imaginative, dynamic minds to be found within.
3. Soft textures beg to be touched
It's almost impossible to resist running your hands through this soft bank of feather grass (Stipa tenuissima, Zones 7–11). It's a sensory delight that is visually and tactilely seductive.
Michelle Gervais is an associate editor.
Photos: Michelle Gervais