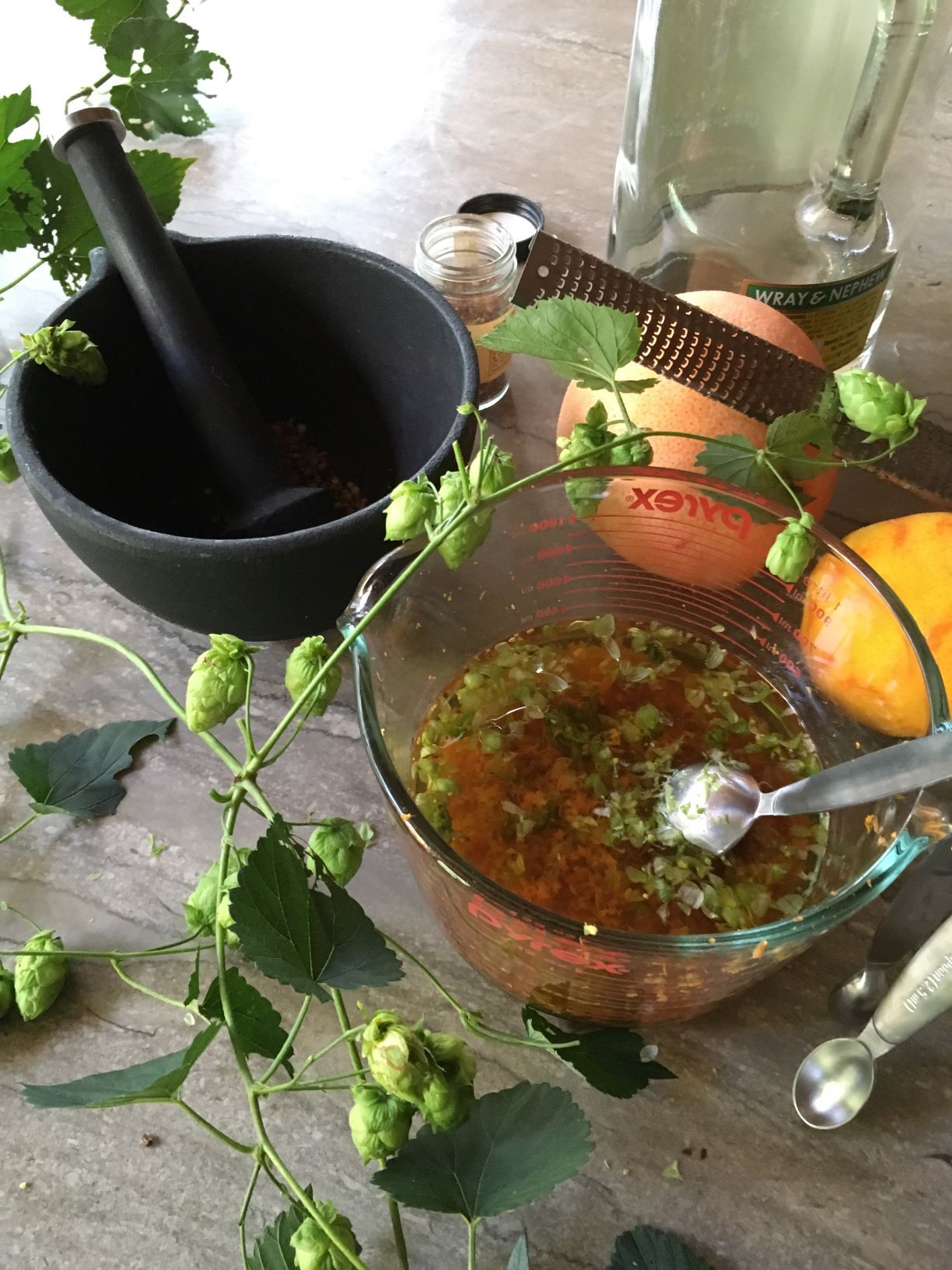 Nearly everyone who tastes these bitters, asks for the recipe. So I am sharing it here so you can make your own–they are easy to make and store for years (if they last that long). This recipe is published in Hops, Herb of the Year 2018 by the International Herb Association.
Add these bitters to cocktails, mocktails or anywhere you want a bitter, citrusy zing. I like them best in sparkling water before or after I eat, or before I go to bed.
Hop-Happy Bitters with Citrus and Coriander
Believe it or not, hop bitters have been around since the 1800s! Not only are hops calming and act as a sedative, in this bitters recipe, they aid digestion. This is a general guideline for making hop bitters; however, the ingredients can vary hugely depending on what bitter and flavor agents you add. You need less if the botanical is dried than if it is fresh. Bitter agents are very strong so you will only need small amounts of gentian, hops, artichoke leaves, etc. I tend to use hops with a high alpha acid content, which are often referred to as bittering hops, for making bitters. I often use vodka to make these, however my favorite is Wray & Nephew, 126-overproof rum.

Once you work with them you will get to know them better; experimentation is half the fun! Remember how important it is to keep a journal of recipes of your recipes-keep track of dates, processes and ingredients. This recipe is adapted from Bitters by Brad Thomas Parsons.
Makes about 2 cups; halve, double or quadruple the recipe to make a smaller or larger batch
Generous 1 tablespoon fresh, dried hop strobiles or about 3 tablespoons fresh green hop strobiles, chopped
Zest of 1 small- to medium-sized grapefruit and 1 orange or large tangerine
2 tablespoons of dried citrus zest
Scant teaspoon coriander seed, cracked
About 5 cardamom pods, seeds removed and cracked; pods discarded
1 1/2 cups neutral spirits (150 proof) or alcohol that is at least 100 proof
1/2 cup water
1 to 2 tablespoons honey or agave
 
Place the botanicals in a canning jar and cover with neutral grain spirits and seal tightly with a plastic lid. Shake for 1 minute.
Shake the jar vigorously at least once a day. Let the infusion stand in a cool, dark place for 2 weeks; mark your calendar and taste.
If you are happy with the flavor, strain the alcohol through fine cheesecloth into a clean canning jar. Once the botanicals have been strained, gather the cheesecloth and squeeze it to release as much menstruum as possible.
Place this marc into a saucepan and add 1/2 cup of water. Bring to a boil then cover and lower the heat and allow it to simmer for about 10 minutes. Remove from heat, allow to cool to room temperature and strain through cheesecloth. Add this to the original alcohol infusion along with 1 tablespoon of agave or honey; taste and adjust with the other tablespoon if you like.
Seal the jar and allow the mix to sit for a few days; skim off any debris that might be floating and strain again to remove sediment if necessary and pour into a bitters bottle or small decanter with a lid. Bitters can be stored indefinitely; however, I like to use them within 12 months or so.