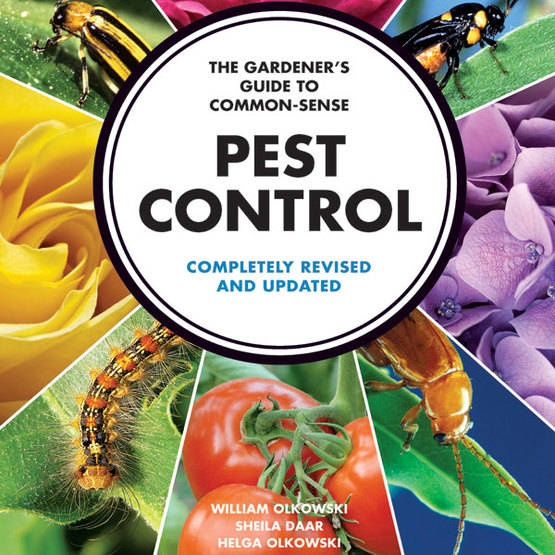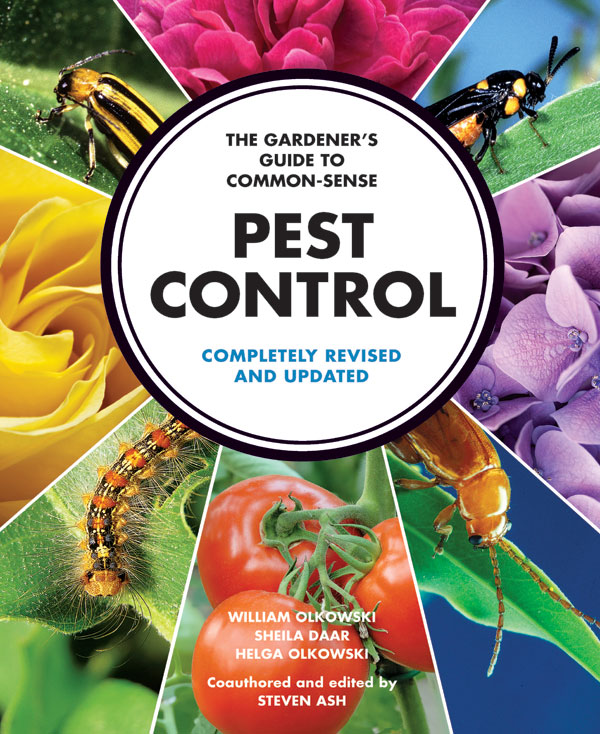 Chapter 5: Meet "The Beneficials"
Balduf, W.V. 1969. The Bionomics of Entomophagous Coleoptera. Hampton, England: E.W. Classey Ltd. 384 pp.
This classic but poorly known work, which was published in 1935 and reprinted in 1969, provides a detailed introduction to the families and species of predacious beetles.
Carr, A. 1979. Rodale's Color Handbook of Garden Insects. Emmaus, Pa.: Rodale Press. 241 pp.
This handy book's 300 color photos aid the gardener in recognizing insect allies.
Cloudsley-Thompson, J.L. 1968. Spiders, Scorpions, Centipedes and Mites. Oxford, England: Pergamon Press. 278 pp.
This book includes one chapter each on woodlice, millipedes, centipedes, other myriapods, scorpions, false-scorpions, whip-scorpions, soli-fugae, harvest-spiders, spiders, mites, and ticks.
Dillon, E.S., and L.S. Dillon. 1961. The Common Beetles of Eastern North America. Evanston, Ill.: Row, Peterson. 884 pp.
Includes pictures of numerous beetles, with keys to all groups.
Edwards, R. 1980. Social Wasps. West Sussex, England: Rentokil. 398 pp.
The most comprehensive book on social wasps (primarily yellowjackets) from a pest control perspective.
Erwin, T.L., G.E. Ball, D.R. Whitehead and A.L. Halpern. 1979. Carabid Beetles, Their Evolution, Natural History, and Classification. Boston: Dr. W. Junk. 635 pp.
Surveys the natural history, systematics, classification, zoography, paleontology, and techniques for collecting these beetles.
Evans, H.E. 1966. The Comparative Ethology and Evolution of the Sand Wasps. Cambridge, Mass.: Harvard University Press. 526 pp.
A complete treatment of the biology of the Sphecid subfamily Nyssoniae, particularly the Bembicini, with an emphasis on the genus Bembix.
Evans, H.E. 1973. Wasp Farm. Garden City, N.Y.: Anchor Press/Doubleday. 188 pp.
A reprint of the 1963 book recording observations of the natural history of predatory wasps on a farm in New York state.
Flint, M.L., S.H. Dreistadt, and J.K. Clark. 1998. Natural Enemies Handbook: The Illustrated Guide to Biological Pest Control. Berkeley, California: Statewide IPM Project and the University of California Division of Agriculture and Natural Resources, Publication #3386. 154 pp.
Gertsch, W.J. 1957. The Ants. Ann Arbor: University of Michigan Press. 173 pp.
A well-illustrated introduction to the biology of ants for laypersons and biologists alike.
Gertsch, W.J. 1979. American Spiders. 2nd ed. New York: Van Nostrand Reinhold. 274 pp.
An introduction to the biology and behavior of spiders, with color and black-and-white photographs and many line drawings.
Greathead, D.J. 1986. "Parasitoids in Classical Biological Control" in Insect parasitoids, eds. D. Greathead and J. Waage. New York: Academic Press.
An essential introduction to the taxonomy, evolution, biology, ecology, and manipulations (including augmentation and introduction) of parasitoids for agricultural pest control.
Hagen, K.S., and G.W. Bishop. 1979. "Use of Supplemental Foods and Behavioral Chemicals to Increase the Effectiveness of Natural Enemies" in Biological Control and Insect Pest Management, eds. D.W. Davis, S.C. Hoyt, J.A. McMurty, and M.T. AliNiazee, pp. 49-60. Berkeley: University of California (Agricultural Sciences Publication 4096). 102 pp.
This short work introduces and updates research in the field and suggests new directions that research efforts should take. It should be made more widely available, as it contains information hard to find elsewhere.
Hoy, M.A., G.L. Cummingham and L. Knutson, eds. 1983. "Biological control of pests by mites" proceedings of a conference held April 5-7, 1982, University of California, Berkeley. Berkeley: Division of Agriculture and Natural Resources, University of California. 185 pp.
This scholarly text summarizes the use of predatory mites in a variety of agricultural, horticultural and grain-storage systems.
Kaston, B.J. 1972. How to Know the Spiders. Dubuque, Iowa: Wm. C. Brown. 289 pp.
An illustrated key with a short introduction to the biology and other aspects of spiders. Also describes collection techniques.
Krombein, K.V. 1967. Trap-Nesting Wasps and Bees: Life Histories, Nests and Associates. Washington, D.C.: Smithsonian Press. 570 pp.
A thorough treatment that includes a family-by-family review of these organisms' biology and nest construction. It also looks at the other organisms found in their nests.
Krombein, K.V., P.D. Hurd. Jr., D.R. Smith, and B.D. Burks. 1979. Catalog of Hymenoptera in America North of Mexico, Vol. 2. Washington, D.C.: Smithsonian Institute Press. 2,029 pp.
Larson, P.P., and M.W. Larson. 1976. All about Ants. New York: Thomas Y. Crowell. 219 pp.
A study of ants that focuses on their social behavior.
Levin, M.D. 1971. "Pollination" in Beekeeping in the United States, S.E. McGregor, pp. 77-85. Washington, D.C.: United States Department of Agriculture (Agricultural Handbook No. 335). 147 pp.
An introduction to beekeeping and the beekeeping industry.
Merritt, R.W., and K.W. Cummins. 1978. An Introduction to the Aquatic Insects of North America. Dubuque, Iowa: Kendall/Hunt. 441 pp.
Contains a very good section on aquatic hemipteran predators, with illustrations and keys.
Miller, N.E. 1971. The Biology of the Heteroptera. Hampton, England: E. W. Classey, Ltd. 206 pp.
The first part of this book is a broad introduction to the biology of the Heteroptera; the second part focuses on individual families.
Moore, I., and E.G. Legner. 1979. An Illustrated Guide to the Genera of the Staphylinidae of America North of Mexico, Exclusive of the Aleocharinae (Coleoptera). Berkeley: University of California Division of Agricultural Sciences (Publication 4093). 332 pp.
This publication is useful primarily for arthropod identification.
Morse, R.A. 1978. Honeybee Pests, Predators, and Diseases. Ithaca, N.Y.: Cornell University Press. 430 pp.
A compilation of existing knowledge and literature about pests of the honeybee. Includes information about and references to the species of Vespa that attack bees.
Ondish, G. 1978. The Year of the Ant. New York: Charles Scribner's Sons. 139 pp.
An excellent introductory text.
Parker, S.P., ed. 1982. Synopsis and Classification of Living Organisms, vols. 1 and 2. New York: McGraw-Hill. 1,165 and 1,232 pp., respectively.
Produced by 170 experts in 12 countries, these two volumes present all organisms-viruses, bacteria, algae, fungi, invertebrates and vertebrates-in taxonomic order. They include over 8,300 synopses of taxons, with short introductions to the life history, development, ecology, and geographical distribution of each organism. The two volumes contain the scientific and common names of taxa, a 35,000-item index, outlines of taxonomic classification systems, an article on the process of biological classification and a discussion of kingdoms. References to relevant literature follow each family discussion.
Rau, P., and N. Rau. 1970. Wasp Studies Afield. New York: Dover Publications. 372 pp.
A reprint of a 1918 book with many observations on wasp predation.
Savory, T. 1964. Arachnida. New York: Academic Press. 291 pp.
An order-by-order introduction to spiders and mites for the biologist and taxonomist.
Shetlar, D.J., and V.E. Walter. 1982. "Ants" in Handbook of Pest Control, 6th ed., ed. A. Mallis, pp. 425-487. Cleveland: Franzak and Foster.
A survey of the biology and management of pestiferous ants of North America.
Sims, R.W., ed. 1980. Animal Identification, a Reference Guide. Vol. 1: Marine and brackish water animals. Vol. 2: Land and freshwater animals. Vol. 3: Insects (ed. D. Hollis). London: John Wiley and Sons.
These three volumes provide lists of reference works, including catalogs and keys organized by biogeographical zone for families, orders, and classes. They constitute a unique collection of resource materials for the biologist or ecologist who wants to learn about a particular group in greater depth.
Smith, R.L. 1982. Venomous Animals of Arizona. Tucson: Cooperative Extension Service, College of Agriculture, University of Arizona. 134 pp.
An excellent practical survey of the venomous species in the animal kingdom and least-toxic approaches to their management.
Spradbery, J.P. 1973. Wasps: An Account of the Biology and Natural History of Solitary and Social Wasps. Seattle: University of Washington Press. 408 pp.
A broad approach to solitary and social wasps with an emphasis on British species.
Sudd, J.H. 1967. An Introduction to the Behaviour of Ants. London: Edward Arnold Ltd. 200 pp.
An authoritative and detailed approach demonstrating many useful study methods.
Swan, L.A., and C.S. Papp. 1972. The Common Insects of North America. New York: Harper & Row. 750 pp.
Includes over 2,000 excellent line drawings with short descriptions useful for field identification.
Tassen, R. L., and K. S. Hagen. 1970. Culturing Green Lacewings in the Home and School. Berkeley: University of California Cooperative Extension Service (Leaflet 2500). 2 pp.
This out-of-print leaflet is the source of the drawing of the life cycle of the green lacewing.
Thiele, H. 1977. Carabid Beetles in Their Environments. New York: Springer-Verlag. 369 pp.
An eco-physiological approach to the distribution, predators, parasitoids, nutrition, importance, habitat selection, activity patterns, dispersal, evolution, and speciation of carabid beetles. Includes a systematic index of cited families, subfamilies, tribes, genera, and species.
Tonks, N.V., ed. 1982. Pest Problems in Small Greenhouses and Indoor Plantings. Victoria, B.C.: Ministry of Agriculture and Food.
This is the source of the illustration comparing the life cycles of pest and predatory mites.
Townes, H. 1971. "Ichneumonidae as biological control agents" in Proceedings of the tall timbers conference on ecological animal control by habitat management, February, 1971, pp. 25-27. 248 pp.
This reprint provides a good introduction to the biology of the largest family of parasitic insects.
van den Bosch, R., P.S. Messenger, and A.P. Gutierrez. 1982. An Introduction to Biological Control. New York: Plenum Press. 247 pp.
A readable, textbook-like introduction to the subject that is useful for the layperson but also can serve as an introduction for advanced high school or college students.
Wheeler, G.C., and J. Wheeler. 1963. The Ants of North Dakota. Grand Forks, N. Dak.: University of North Dakota Press. 326 pp.
Wheeler, G.C., and J. Wheeler. 1973. Ants of Deep Canyon. Riverside: Philip L. Boyd Deep Canyon Desert Research Center, University of California. 162 pp.
These two books focus on local ants but also provide a great amount of information on the ant fauna of North America.
Wilson, E. O. 1971. The Insect Societies. Cambridge, Mass.: Harvard University Press. 548 pp.
A classic text on social insects, including chapters on bees, wasps, ants, and termites.
Chapter 5 Webography