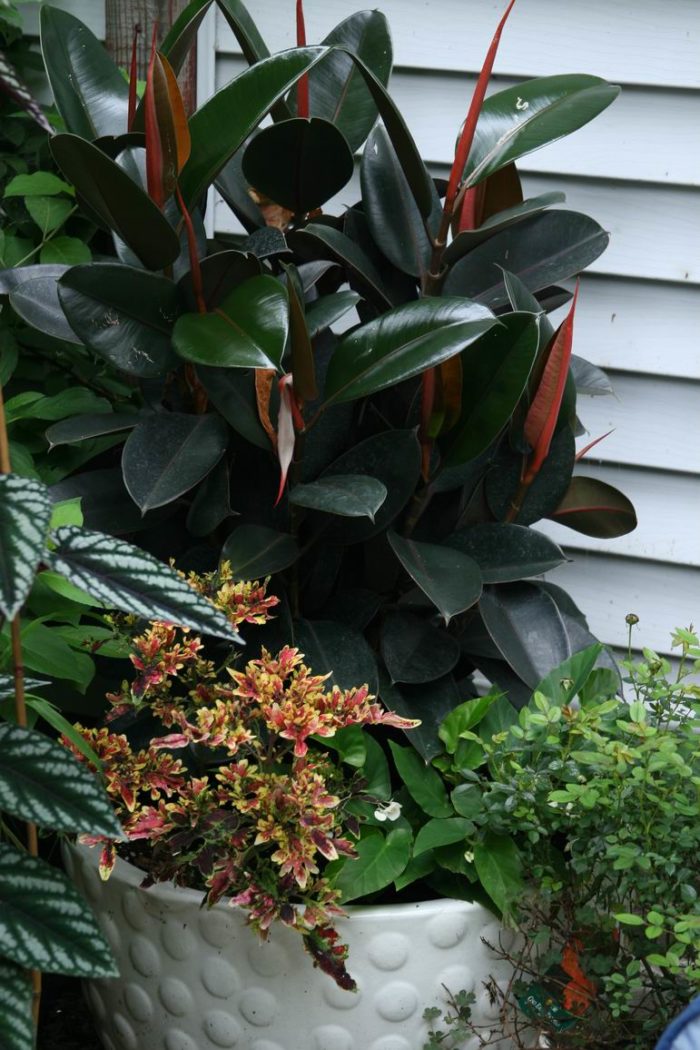 Are you busy planning your container designs for the season? Try bringing some traditional houseplants out into the light. This is a rubber plant (Ficus elastica cv.) I bought cheap at Home Depot a couple of years ago just for my outdoor containers. This is early in the season, so it hasn't reached its absolute full potential yet, but it was fun to mix it with traditional annuals for a big and bold effect. Lots of houseplants work great as ingredients in mixed outdoor containers, and they love the shade, where it's hard to find bold container plants. My other favorite is crotons (Codiaeum cvs.). Their wild and wacky colors don't even need to be mixed with other plants to brighten up a shady spot.
P.S. – Sorry about the email mixup yesterday! I did post a photo for Thursday. It's here. Enjoy!
Welcome to the Fine Gardening GARDEN PHOTO OF THE DAY blog! Every weekday we post a new photo of a great garden, a spectacular plant, a stunning plant combination, or any number of other subjects. Think of it as your morning jolt of green.
Sign up to get new posts delivered to your inbox each morning so you'll always remember to take a look, or subscribe to our RSS feed. We look forward to sharing our garden travels with you.
READER PHOTOS: We love featuring your photos, too. If you think you have a photo that we should share on the Garden Photo of the day, email us. Send hi-res images if possible. We'll only respond if we plan to use your photo.