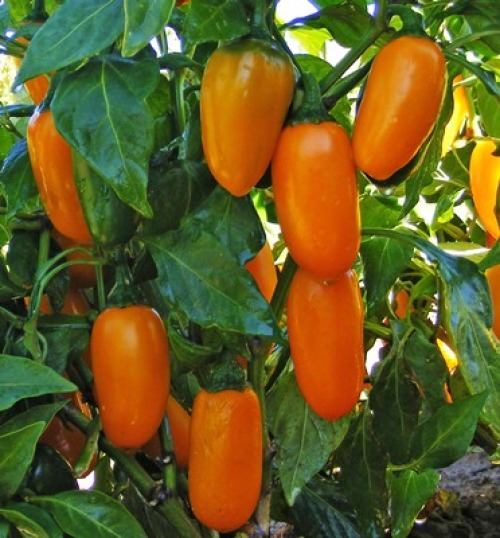 The New Mexico State University Chile Pepper Breeding Program is known for producing colorful chile peppers that light up vegetable gardens. But one of the program's newest releases is something extra special.
'NuMex Pumpkin Spice' jalapeno peppers are a perfect addition to the autumn season. The brilliant orange color of these hot and fruity peppers adds a new dimension to anything with the "pumpkin spice" label. 
In fact, the color is the key reason for the work that went into developing 'NuMex Pumpkin Spice'. 
"These new hot and colorful jalapeno cultivars will be a valuable addition to growers needing a competitive edge in the marketplace, and gardeners desiring jalapenos with new fruit colors. In addition, the food processing industry can use the colorful jalapeno fruits to add more appeal to their product on the shelf," according to Paul Bosland and Danise Coon. They're the authors of a journal article that introduced 'Numex Pumpkin Spice', 'NuMex Lemon Spice', and 'NuMex Orange Spice' jalapenos.
The names of these specialty chile peppers refer to the color of the mature fruit, not the pepper's flavor. 
Although all of these peppers pack some heat, 'NuMex Pumpkin Spice' has heat levels measured at around 25,000 Scoville Heat Units, similar to heat levels of 'Early Jalapeno' but less than 'NuMex Orange Spice' at 80,000 SHU.
The pumpkin-spice colored jalapenos began from hybridization between 'Permagreen' bell pepper and 'Early Jalapeno' in 1995. It took time, over several generations of peppers, to get to the mature pumpkin, orange and yellow fruit colors.
Vegetable gardeners can now benefit from the extensive breeding work. 'NuMex Pumpkin Spice' peppers grow to just over 2 inches long on compact plants that fit small-space vegetable gardens and patio containers. They start out green and turn to that luscious pumpkin-orange as they mature.
These peppers are sure to light up a vegetable tray for any football Saturday or Sunday. and add an exceptional new trick for Halloween and harvest parties.