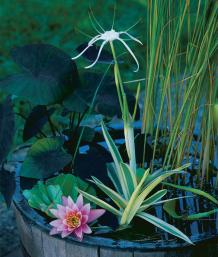 This year's contest asks you to embrace the versatility of container gardening: A pot—or anything that holds water—is an easy way to create an instant water feature. Explore the variety of plants that can grow in these conditions while creating an exciting, dynamic container combination that will delight the senses. We're looking forward to seeing your efforts.
HOW TO ENTER
By mail: Send several photos of your entry to:
2008 Container Design Challenge
63 South Main Street, Newtown, CT 06470
By e-mail: Submit high-resolution images to fgcontainerchallenge@taunton.com.
Be sure to include your name, address, telephone number, and e-mail address (if you have one), and a detailed list of all the plants in your container.
All entries must be postmarked by August 16, 2008.
To give your entry its best chance:
• Photograph your container at its peak.
• Don't take your photos in bright sunlight.
• Choose a simple setting and background.
• Take photos from several different angles.
• Set digital cameras to their highest resolution. If you use film, save the negatives.
• Save your plant tags.
• Keep your container going strong. If you are a finalist, we may ask you to take more photos.
The winner will be chosen from all entries received and will be featured in a future issue. Judging will be based on several criteria, including plant choice, creativity, originality, and, of course, beauty. Multiple entries are welcomed.
Sorry, but photos cannot be returned.
HERE'S WHAT YOU CAN WIN!
• Two polyethylene containers (24 and 30 inches wide and 7 inches high), valued at $236, from Campania International (www.campaniainternational.com)
• A $100 gift certificate from Lilypons Water Gardens (www.lilypons.com; 800-999-5459)
Get our latest tips, how-to articles, and instructional videos sent to your inbox.