Today's post comes from Betsy Thompson, of East Greenbush, New York.
My garden is located in front of and behind a suburban townhouse near Albany, NY, situated in the middle of a six-home building. I shared pictures of it on this site some years ago, but all gardens evolve into a somewhat new look, so I thought it may still be of some interest.
I have lived here for 37 years. There are ongoing problems with the site: I am not permitted to raise a fence, so battles with wildlife increase every year, as deer and other populations increase and tell all their friends about the particular delights of the unique buffet available here. Also, when I arrived there was virtually no topsoil on the ground and no access for vehicles to provide it, so all had to be carried through the house. Underneath, I found rubble from an era when a glacier had retreated — rocks of all sizes and shapes, round and sharp, cemented together by sand that yielded only to a pickaxe.
Until recent years most of the work was done by me alone, except for the patio and pergola installations. Now I require a little help with mulching, pruning and transplanting.
My garage has been partly converted to an office, so I can use the space in front for a few planters.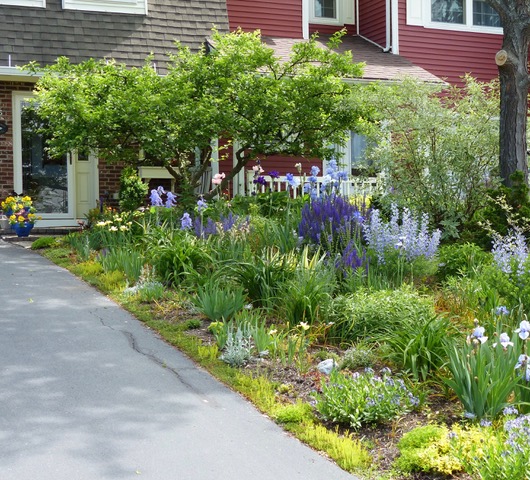 In June, the front garden features iris, baptisias (Baptisia australis, Zone 3 – 9) and salvias (Salvia nemorosa, Zone 5 – 9). The tree is a dwarf Sargeant crabapple (Malus sargentii, Zone 4 – 7).
Behind the house is a pergola and patio (not seen here), from which one can see steps leading up to the back garden. The pine is a dwarf white pine (Pinus strobus, Zone 3 – 8). It is about 30 years old. The little tree at left is Acer japonicum 'Branford Beauty' (Full moon maple, Zone 5 – 8).
The back garden (22′ wide by 100′ deep) is divided into rooms. The second I call the Silver Gold Garden. It features a center island planted with yellow, gold and white daylilies (Hemerocallis hybrids, zone 4 – 10), Eryngium (sea holly, Zone 5 – 9 ), Achillea (yarrow, Zone 3 – 8), white Allium (ornamental onion), gold jonquils (Narcissus jonquilla, Zone 4 – 8), lavender (Lavandula sp. Zone 5 – 8) and a variety of complementary groundcovers. The gold flowered shrub at right is Hypericum (St. John's wort, Zone 6 – 9).
A path leads from the Silver Gold Garden through the Dogwood Garden to another patio. The dogwood is Cornus kousa (kousa dogwood, Zone 5 – 8), one of the first trees I planted here, growing behind Japanese tree peony 'Leda' (Paeonia hybird, Zone 4 – 9).
Almost constant watering activity in recent summers, means the hoses are never completely put away! The iris in front here is 'Baltic Star'.
A small re-circulating waterfall borders the steps leading up to the shady ridge at the back of the garden. The Japanese iris is 'Gracieuse' (Iris ensata, Zone 4 – 9). The shrubs at left are highbush blueberries (Vaccinium corymbosum, Zone 5 – 7).
The Ridge Garden is shaded by a black oak, planted about 25 years ago. It features hostas and wildflowers. Last year, the browning shrub at right was replaced by a boxwood hedge. I have to spread milorganite in spring to keep the deer from eating the hostas and trilliums to the ground.
Close-up of a planting of Trillium viridescens (Ozark trillium, Zone 5 – 9), Jeffersonia dubia (asian twinleaf, Zone 4 – 7), Sanguinaria canadensis (bloodroot, Zone 3 – 9), Hosta 'May', and Pulmonaria 'Trevi Fountain' (lungwort, Zone 3 – 8).
Learn more:
Betsy's beautiful garden features many different varieties of plants that are brought together with a clear design plan. Though her location presents certain problems, such as large trees that block sun and hungry deer; she has worked to mitigate the damage done by wildlife, and chose plants that work for her local environment. She also blends plants and trees native to her area, like dwarf white pine, and ornamentals, like Japanese maples, very well to help create interest.
See our experts guide to Japanese maples here.
A practical program for combatting deer.
Info on planting under a tree. 
Have a garden you'd like to share?
Have photos to share? We'd love to see your garden, a particular collection of plants you love, or a wonderful garden you had the chance to visit!
To submit, send 5-10 photos to GPOD@finegardening.com along with some information about the plants in the pictures and where you took the photos. We'd love to hear where you are located, how long you've been gardening, successes you are proud of, failures you learned from, hopes for the future, favorite plants, or funny stories from your garden.
If you want to send photos in separate emails to the GPOD email box that is just fine.
Have a mobile phone? Tag your photos on Instagram or Twitter with #FineGardening!
You don't have to be a professional garden photographer – check out our garden photography tips!
Do you receive the GPOD by email yet? Sign up here.
Get our latest tips, how-to articles, and instructional videos sent to your inbox.