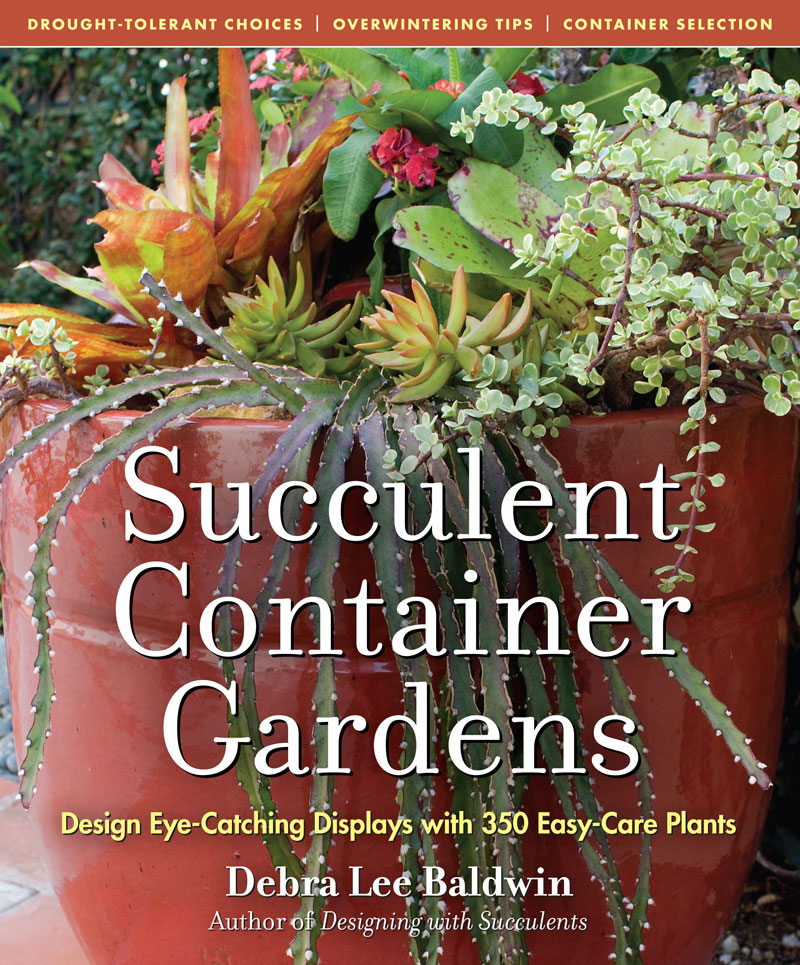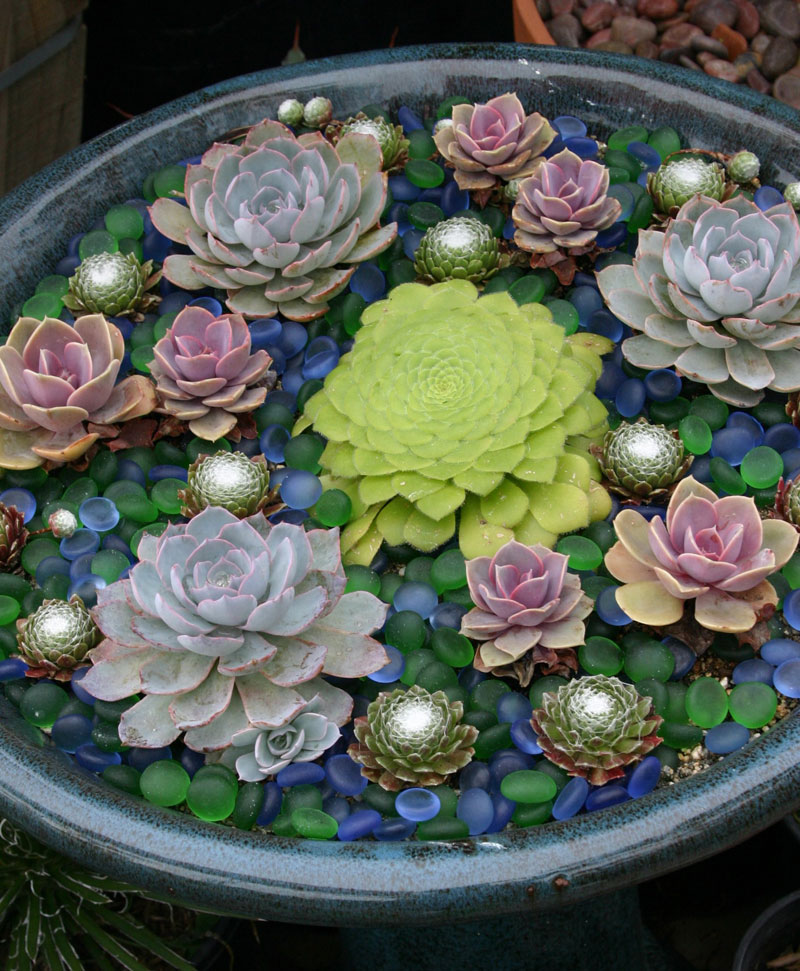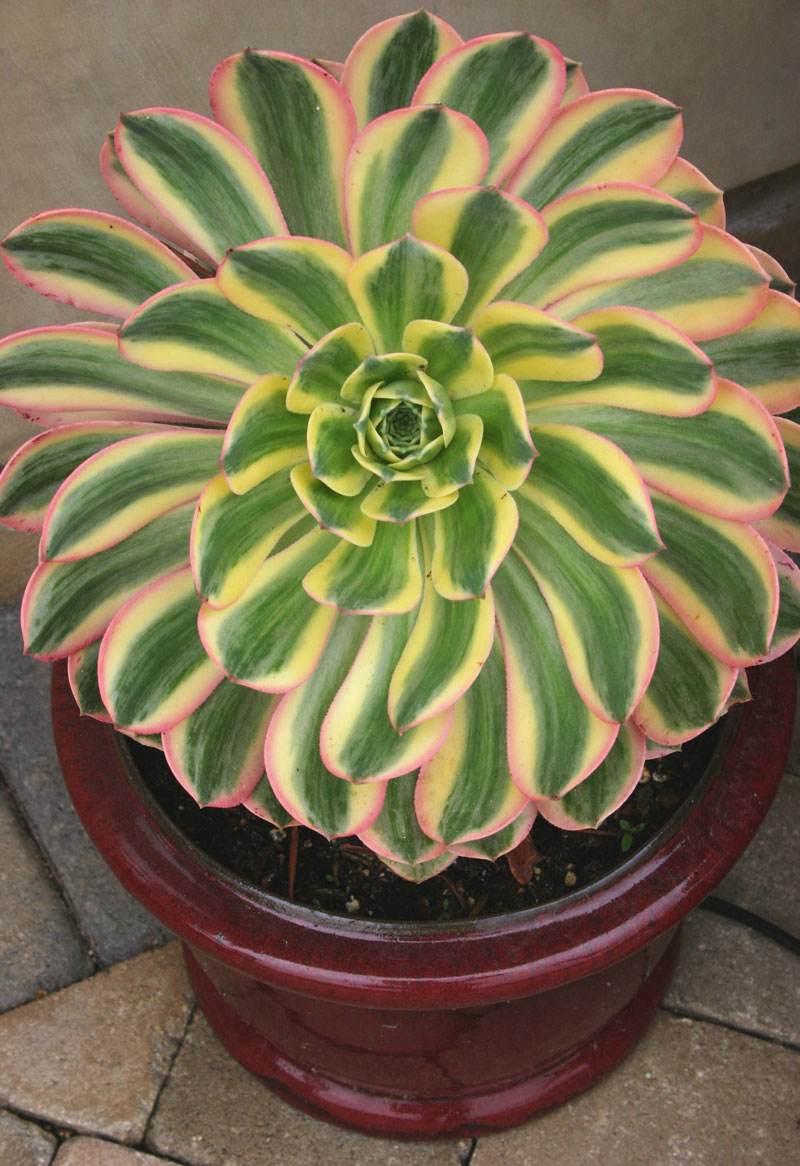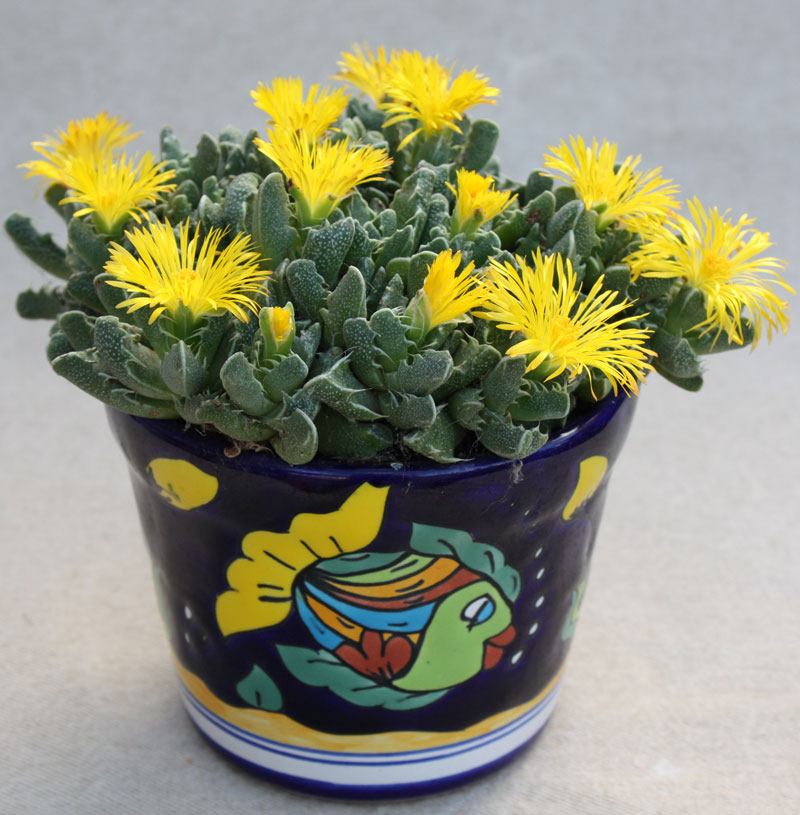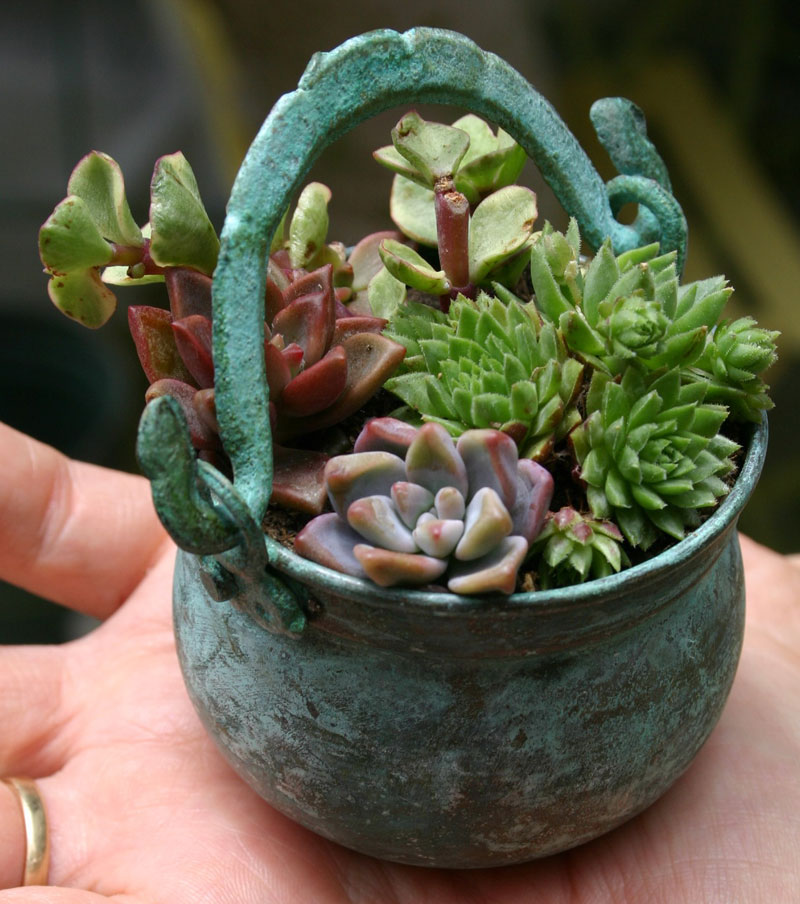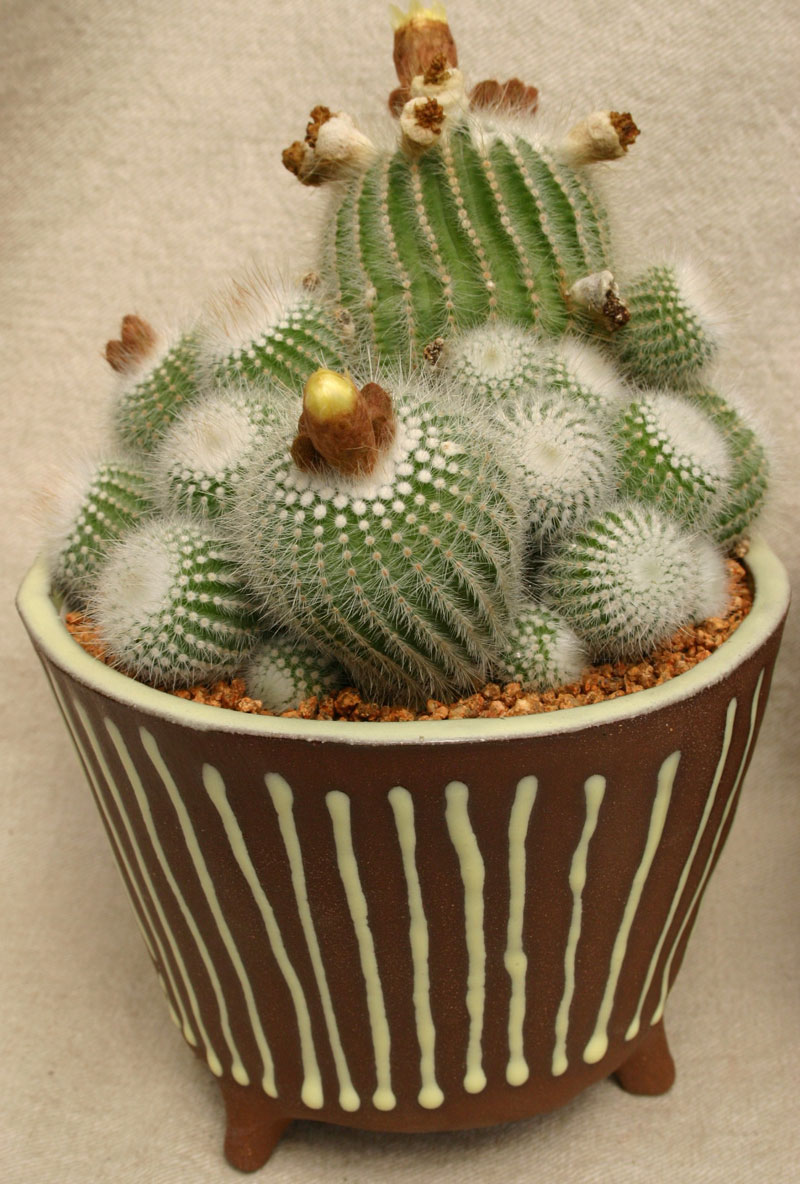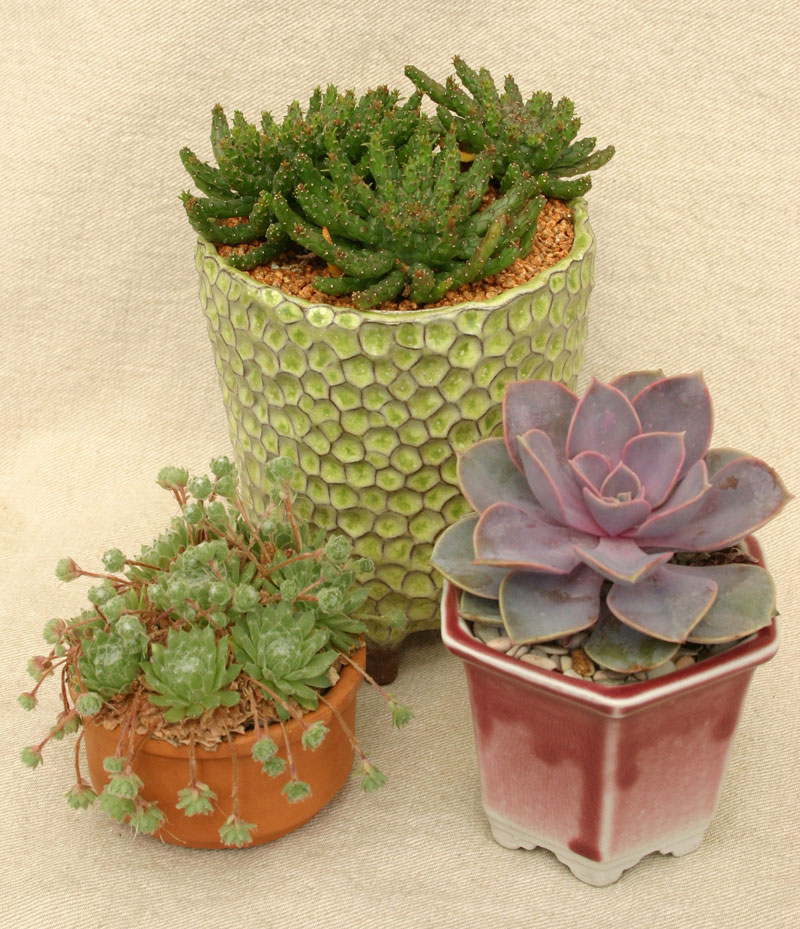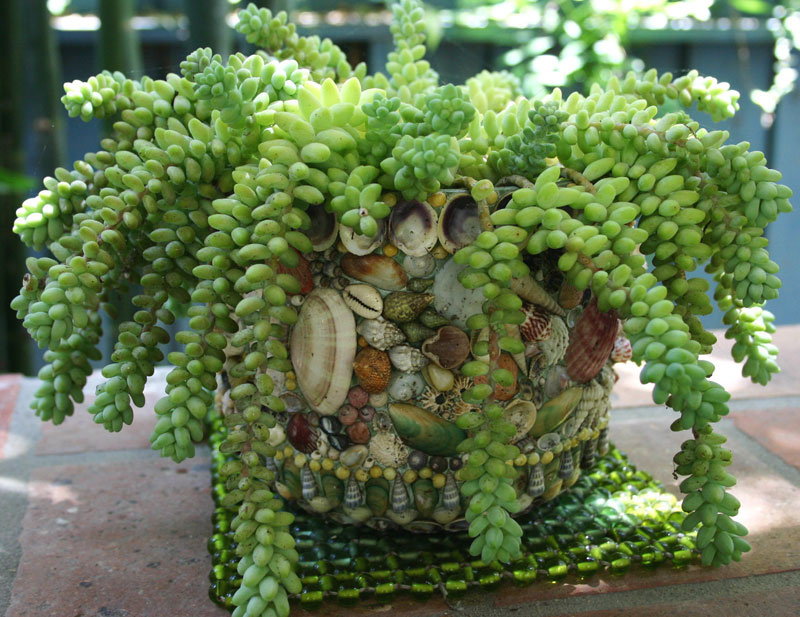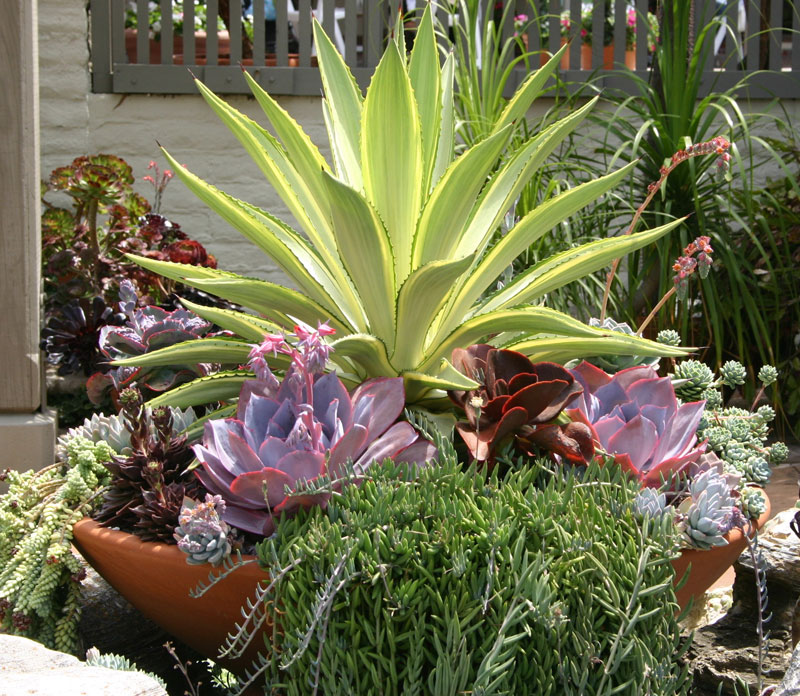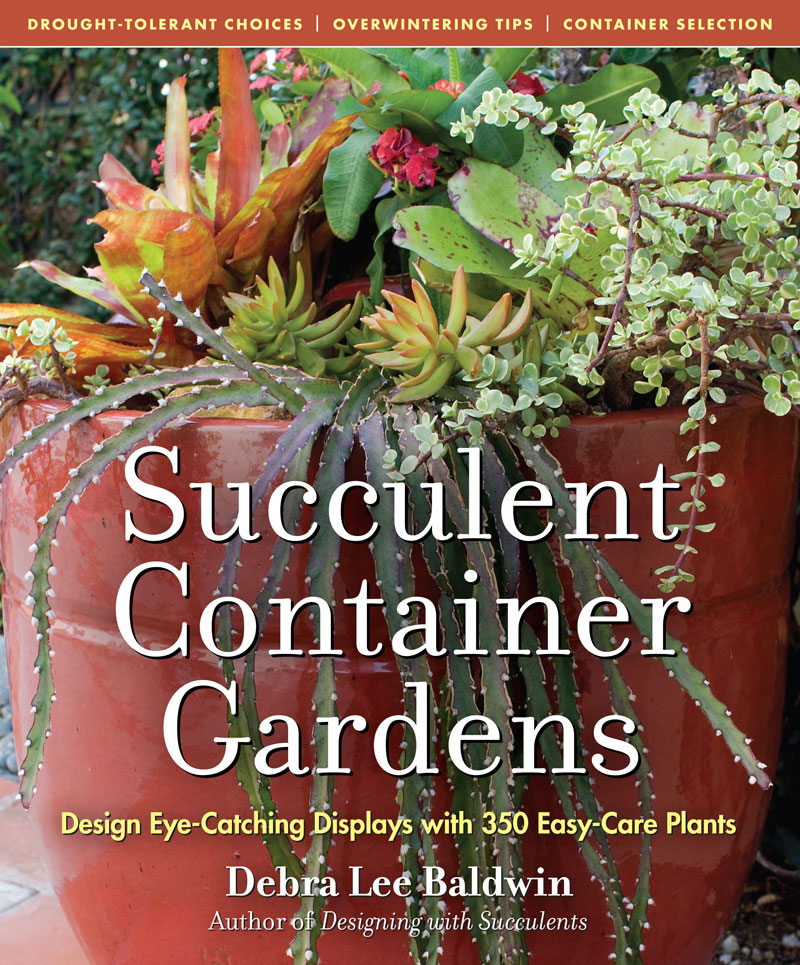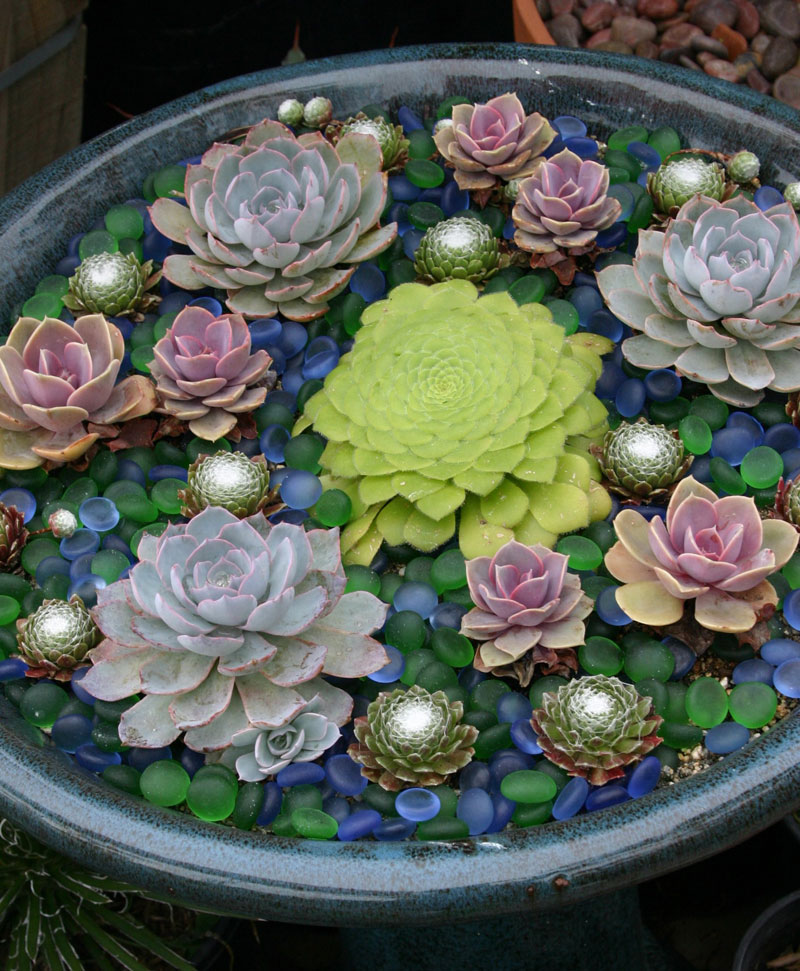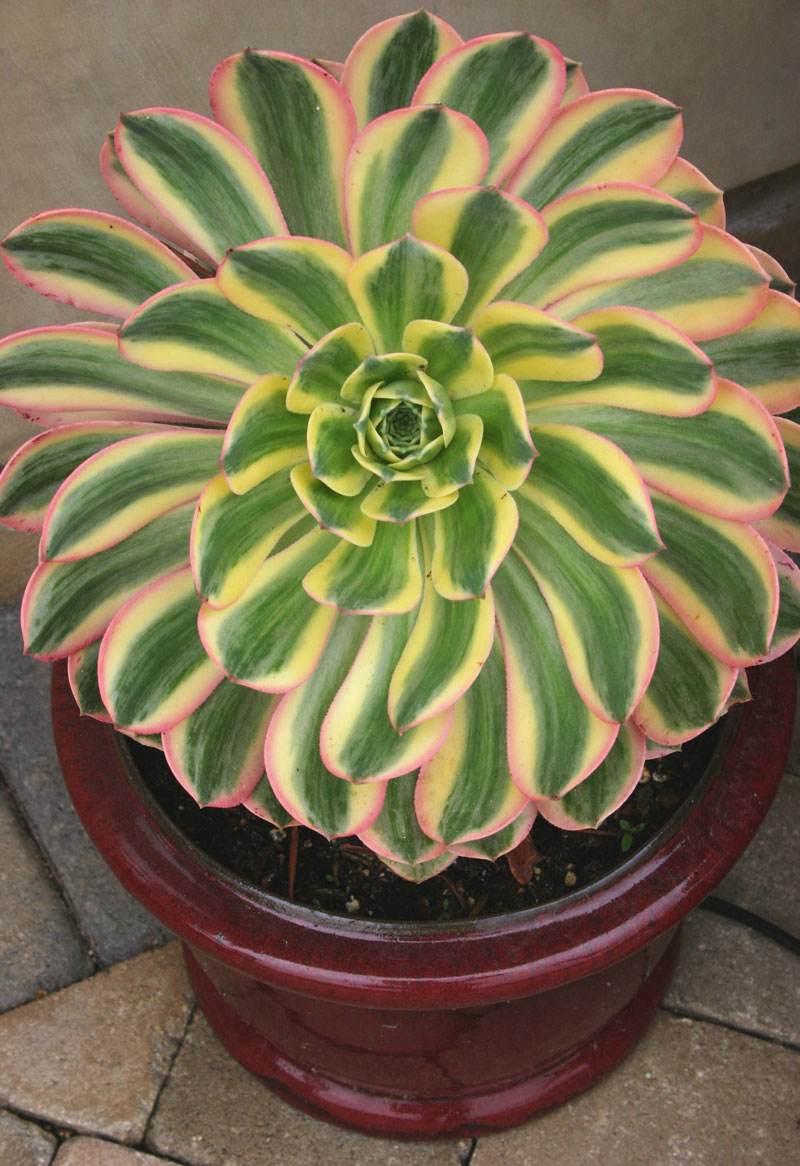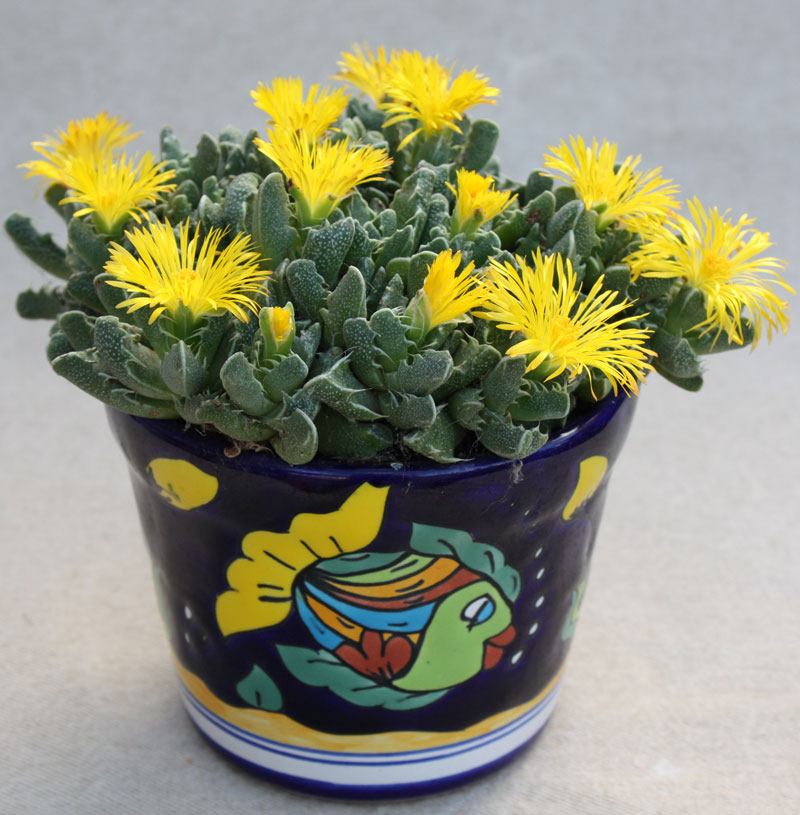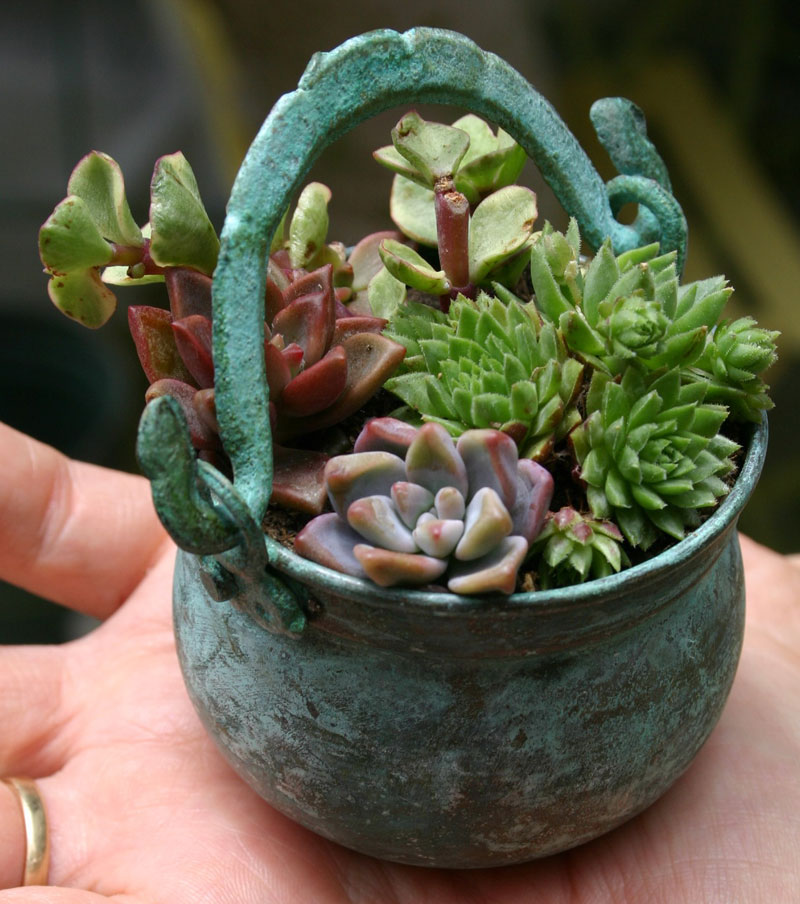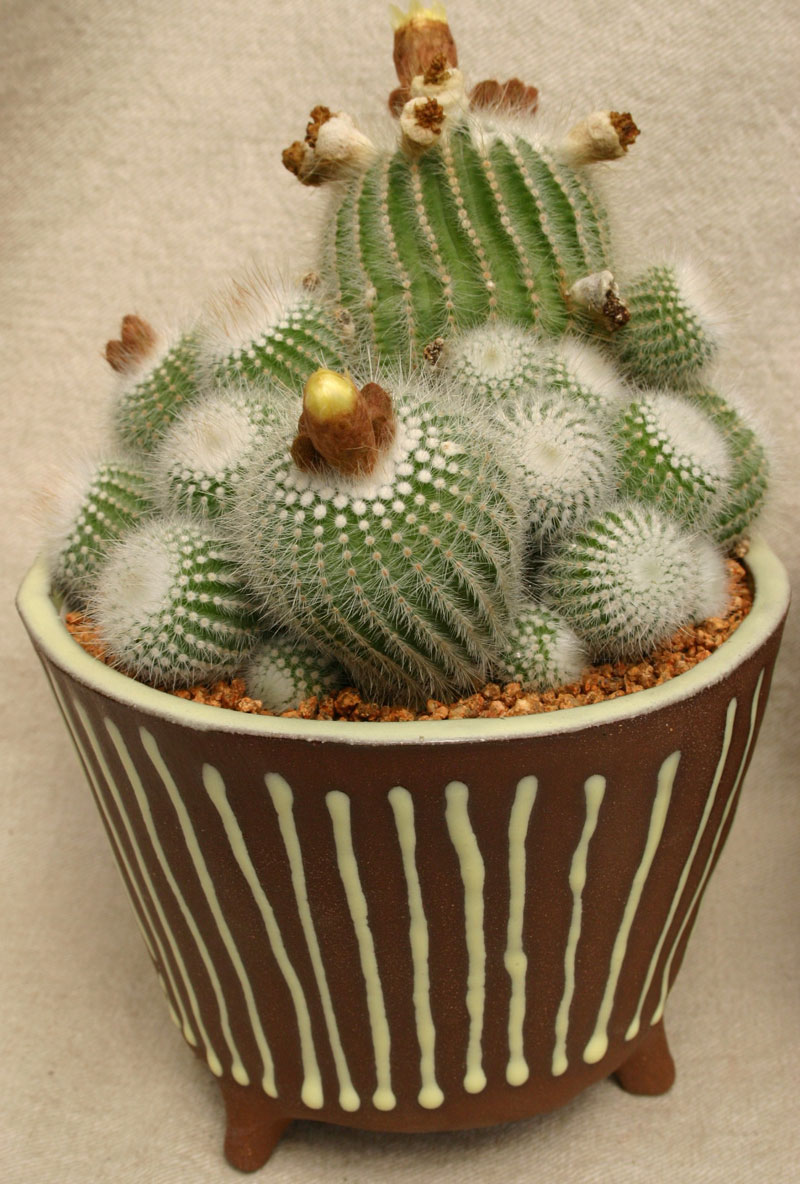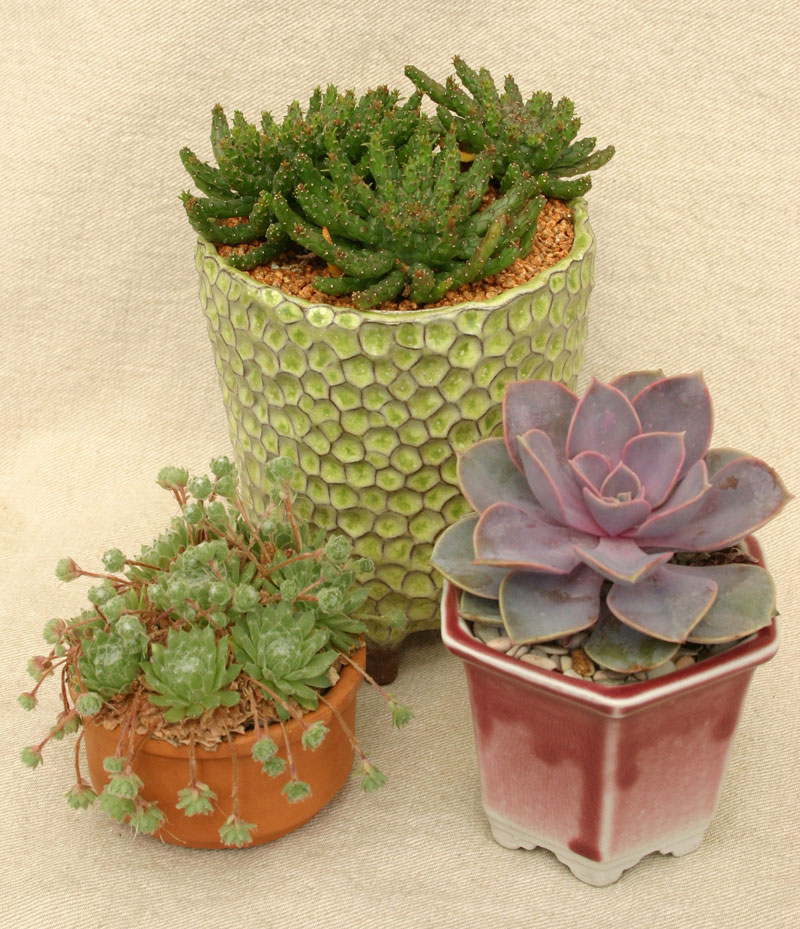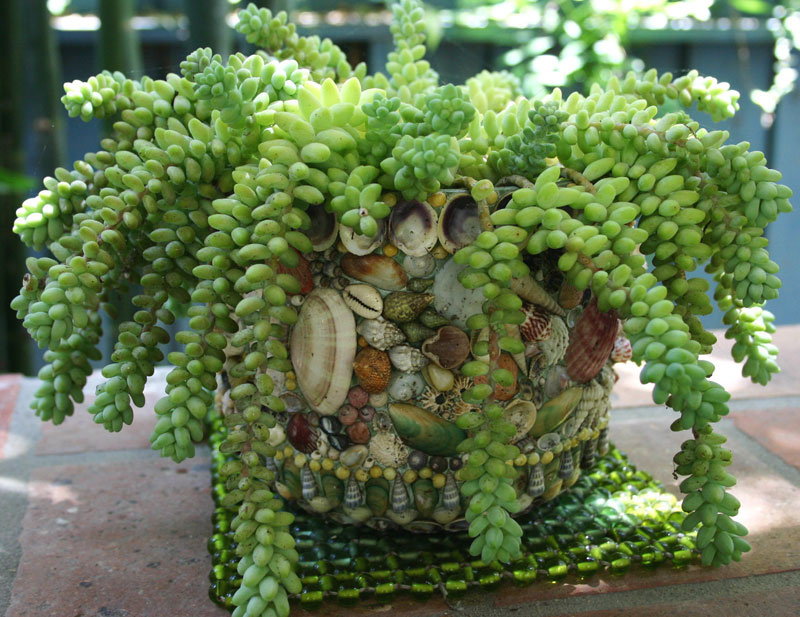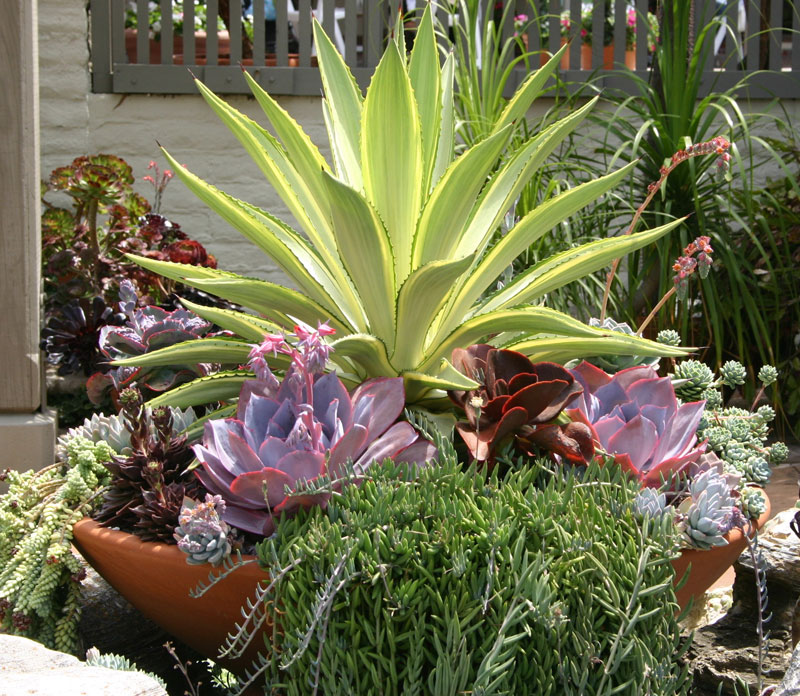 Is there someone in your life you would just love to entice into the world of gardening? Let's call her Michele. How much would it be worth in cold hard cash to bring Michele over to the light side?
I think $50 would be a bargain for a goodie bag jammed with special treats. Think of the payoff: a delighted lunch partner eager to join you in a just-off-the-vine heirloom snap bean, an understanding ear for your earwig-induced ennui, an accomplice for your next impulsive begonia buying blitz.

Post a comment for a chance to win a copy of Succulent Container Gardens

To enter the drawing, register for this site (or log in, if you are already a member) and post a comment about this review. One lucky winner will receive a copy of Succulent Container Gardens.

To be eligible for the drawing, comments must be posted by noon on May 17.
My suggestion for Michele includes a perky yard-sale flower pot, a few chubby succulents, one generous handful of potting soil, a pinch of tumbled glass and Debra Lee Baldwin's Succulent Container Gardens book. (Timber Press, 2010, $29.95).
We need Michele to spring from the starting gate and gallop into the race. Nothing gives a newbie a better chance at success than succulents. They are amazingly simple to grow, thrive on benign neglect, come in intriguing shapes and patterns, display every color of the rainbow, and can be grown indoors.

As you might expect, Succulent Container Gardens is chock full of practical how-to information. The book is logically organized beginning with ideas for matching the right plant with the right pot, offers a generous list of 350 plants that do well in containers, then wows you with images and descriptions of creative designs and displays. Every aspect of cultivation from sun exposure to watering, repotting, soil choices, feeding and selecting containers is presented in a writing style that is not only informative, but bubbles up from the page.
Sample photos from the book
(courtesy Timber Press)
An equally compelling reason to put this beautifully photographed and playfully designed book in Michele's hands is the rock-solid, mini-design curriculum that Debra generously infuses into the first chapters. It's one thing to fill a book with photographs of beautiful plants imaginatively arranged in a wild array of containers. But Debra helps readers understand why the image on the page is so alluring, stating:
"Whenever you see a pleasing succulent container garden, ask yourself what about it appeals to you. Go beyond viewing it as a whole and pay attention to its parts–how they illustrate one or more aspects of good design."
Debra then launches into her version of Visual Design 101, showing how the interplay of contrast and repetition, color, line, texture, scale and proportion are the foundation of what we see and enjoy in the designed, as well as the natural, environment. These are concepts that apply to all garden compositions and styles, indoors or out, in the ground or cascading from a claw-foot bathtub.
Debra offers advice that applies equally to a grand estate garden, an intimate courtyard, or a three-container vignette on a porch: "Color contrast happens when complementary hues—those from opposite sides of the color wheel—are juxtaposed: red and green, blue and orange, yellow and purple."
Most of the photographs in the book are Debra's, each a frameable work of art. She travels extensively and has brought together a collection of images that will start your creative juices flowing.
Debra's love of succulent plants is logical, given her San Diego county roots and experiences gardening on the West Coast. But don't assume that living outside the banana belt prevents you from collecting succulents. Debra was inspired to write this book as the follow-up to her earlier bestseller: Designing With Succulents (2007).
"People everywhere are interested in succulents, but they can be challenging to cultivate in cold, wet climates" Debra says. "Growing succulents in containers was my way of letting frustrated gardeners in on the fun."
Asked about the rapidly growing allure of succulents, Debra notes that they have sculptural, architectural, geometric forms not found in other plants. "As a gardening enthusiast becomes more sophisticated, he or she realizes that flowers are short-lived, but foliage can create beautiful effects throughout the year."
I'm not suggesting that Michele be molded into your identical twin–what fun would that be? I'm sure there'll still be a few differences to distinguish the two of you, like her inexplicable taste for chocolate chip bagels, or her inability to parallel park. But having a bestest buddy to share your gardening exploits with sure seems like a big plus.
1 plant + 1 pot + 1 Succulent Container Gardens book = Lifelong Garden Pal. I strongly suggest that you add a copy to the shopping list for yourself. You'll be reading it for years. Or post a comment to this story for a chance to win a free copy (see details above).
For more about Debra Lee Baldwin, her books, and public appearances visit http://www.debraleebaldwin.com/.
Get our latest tips, how-to articles, and instructional videos sent to your inbox.