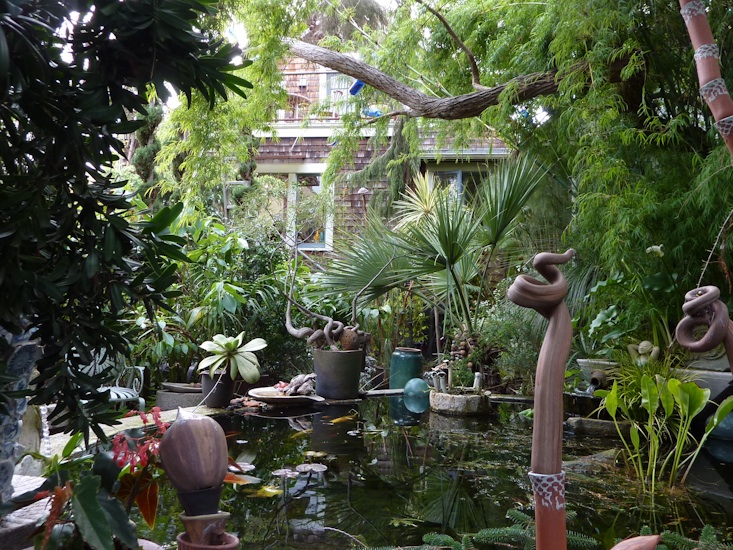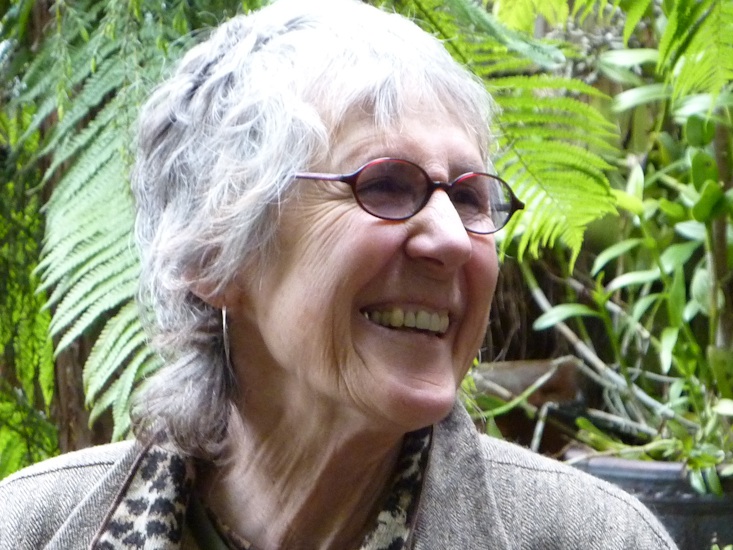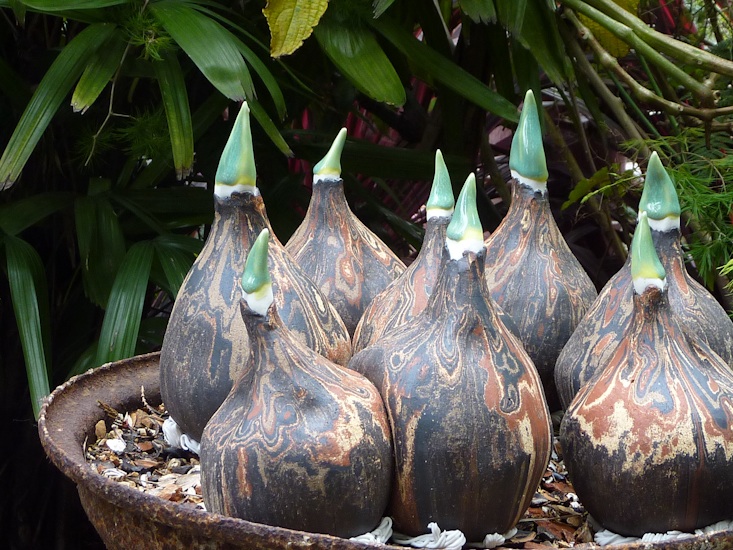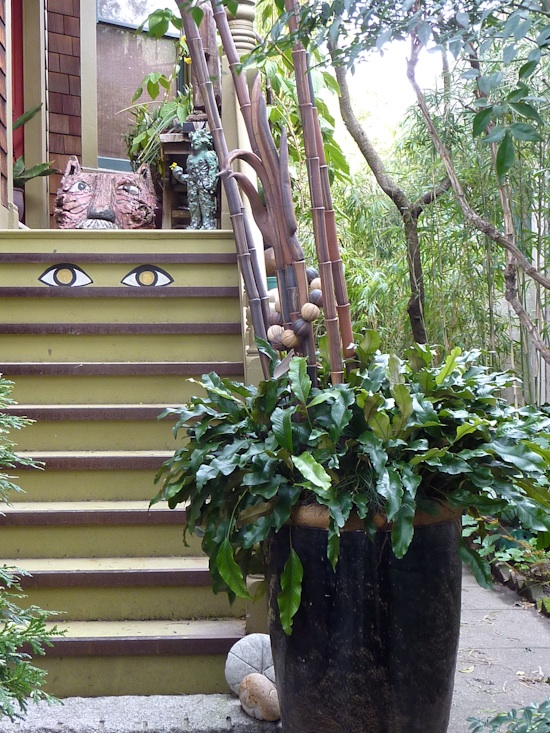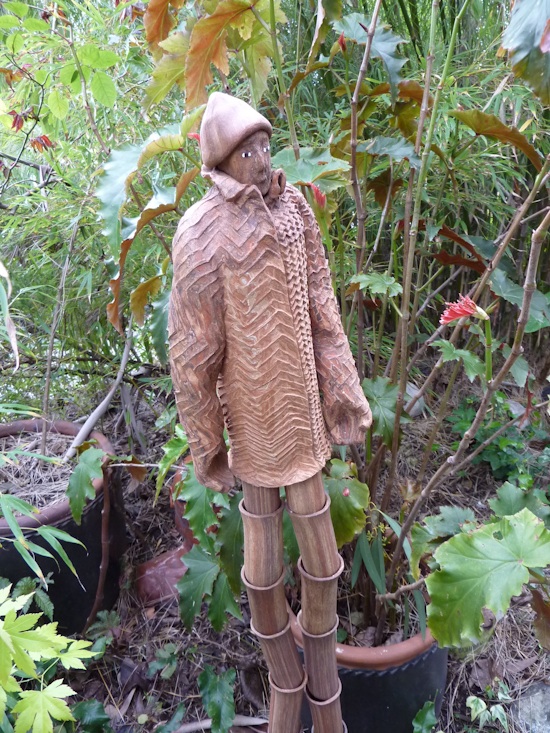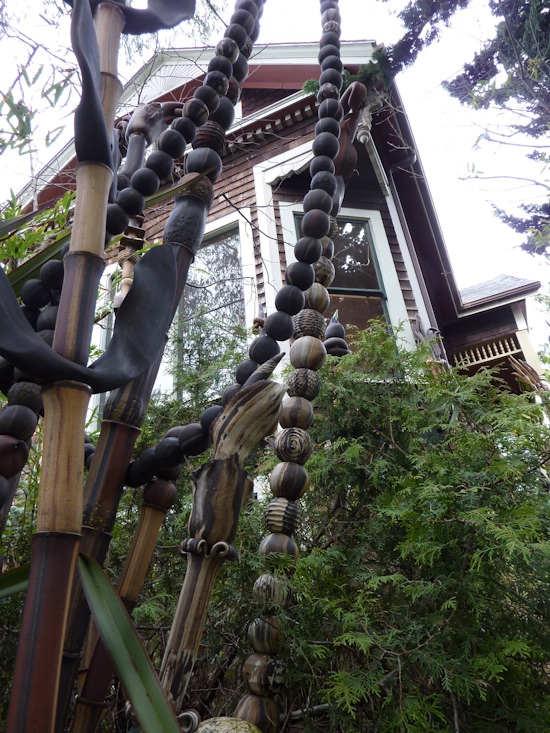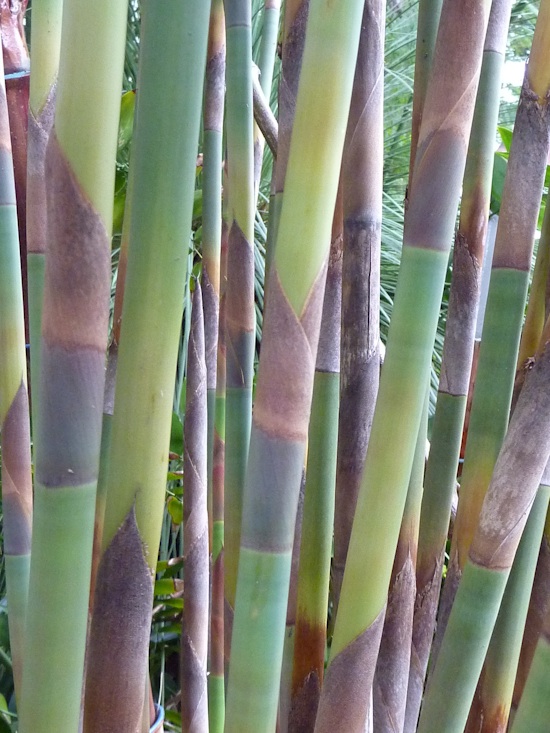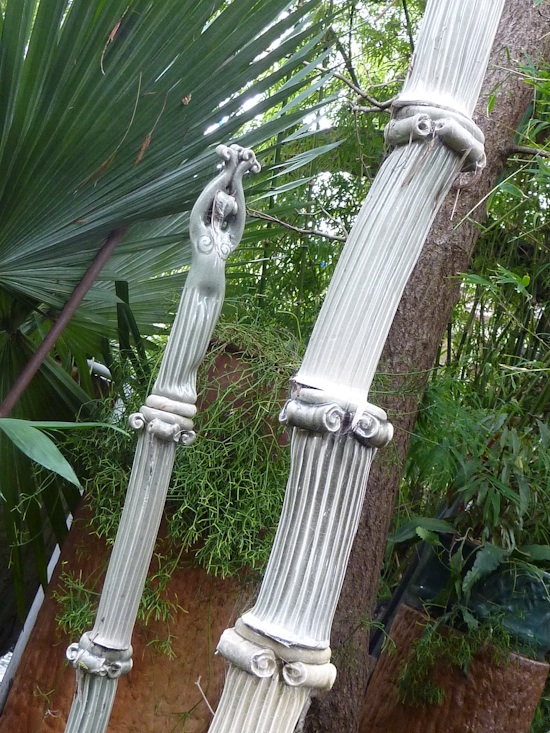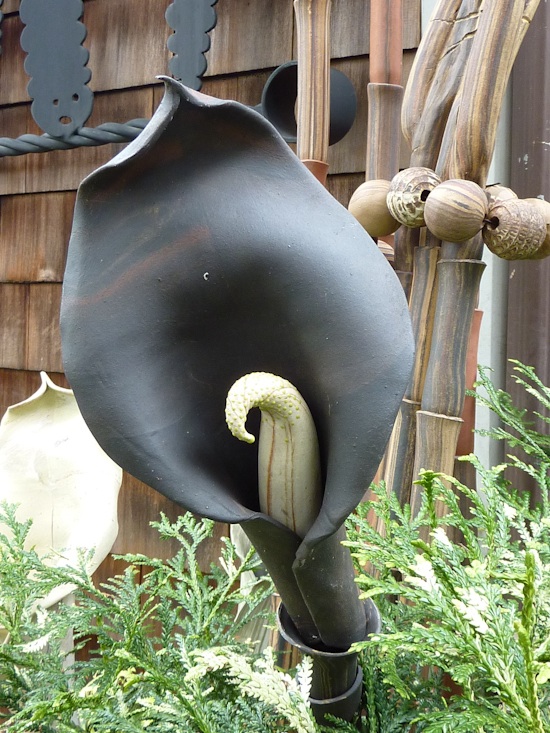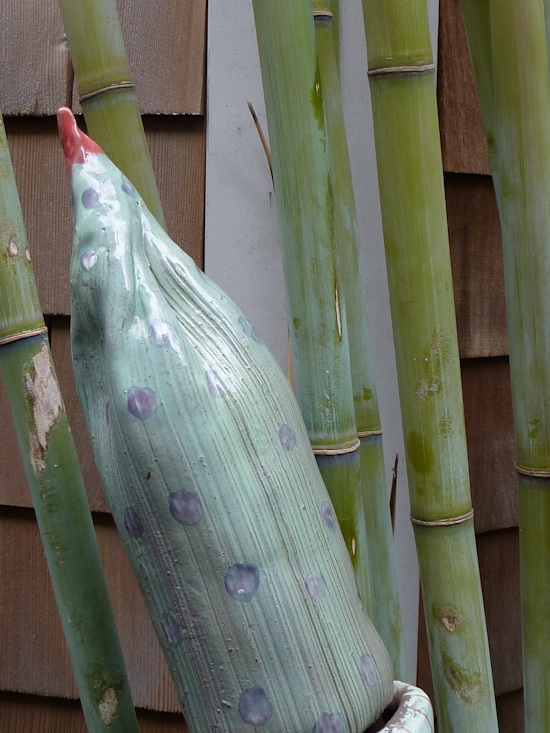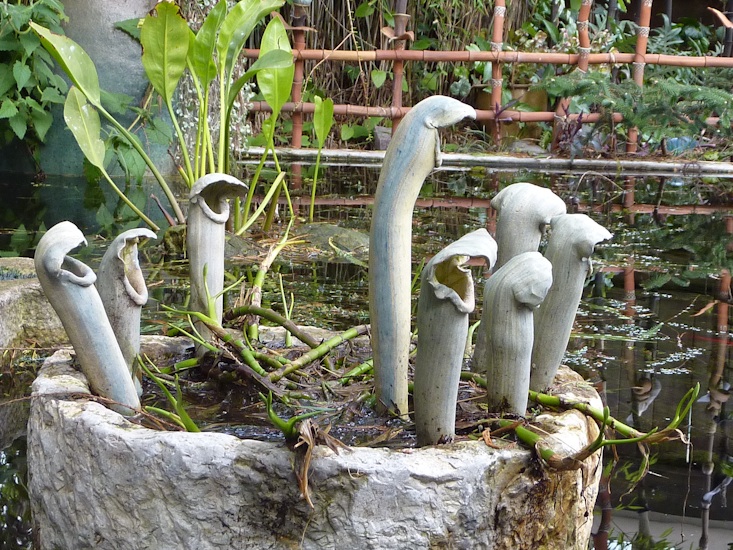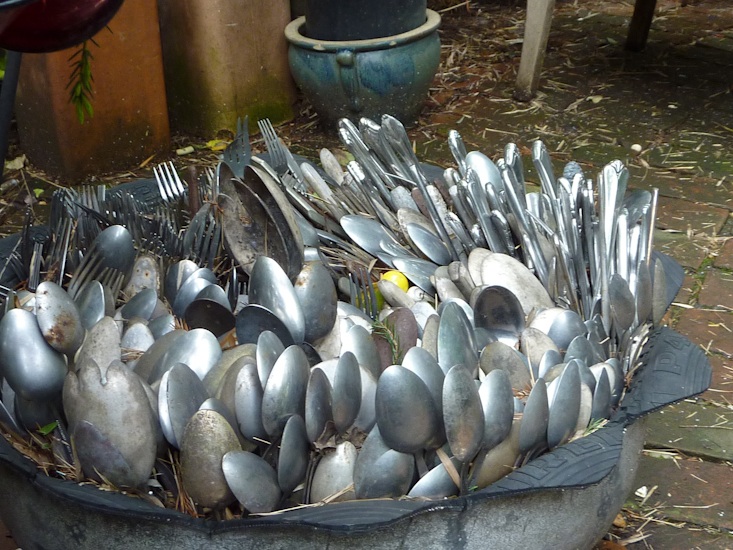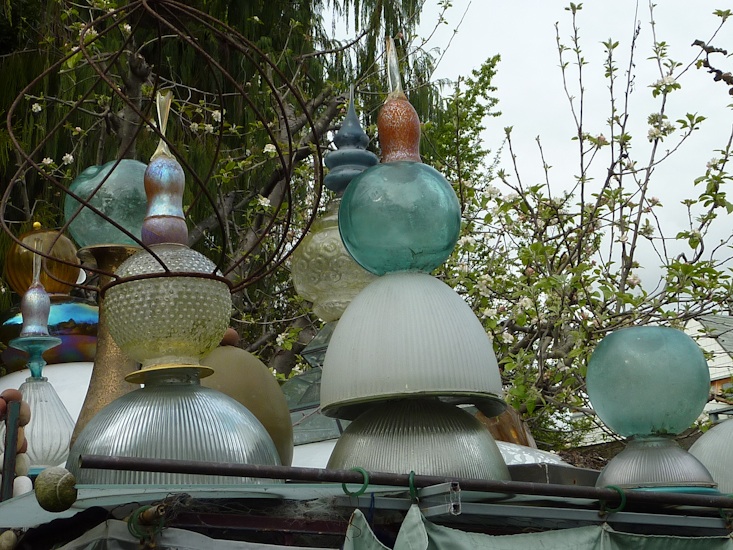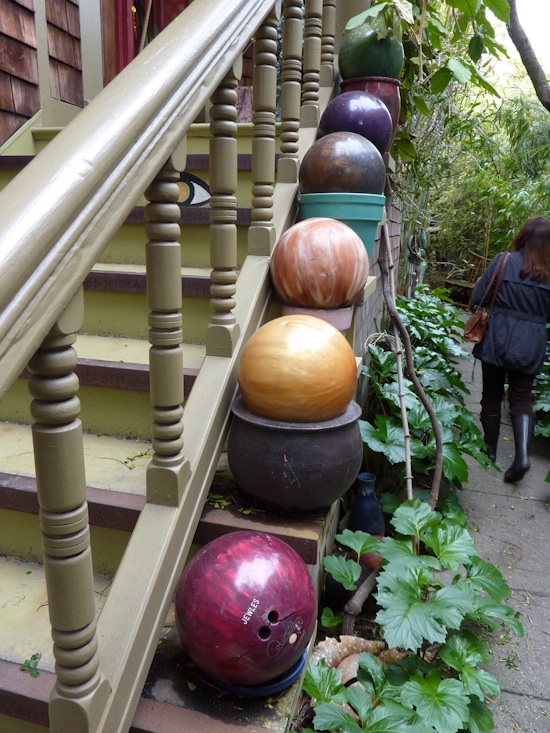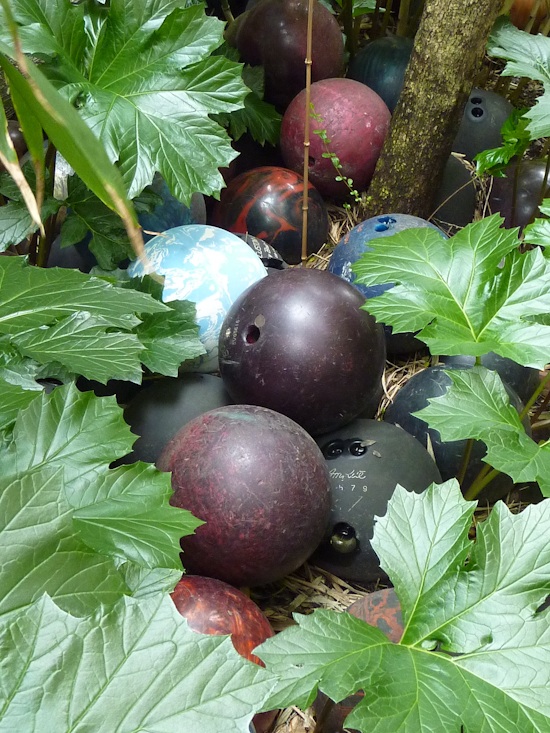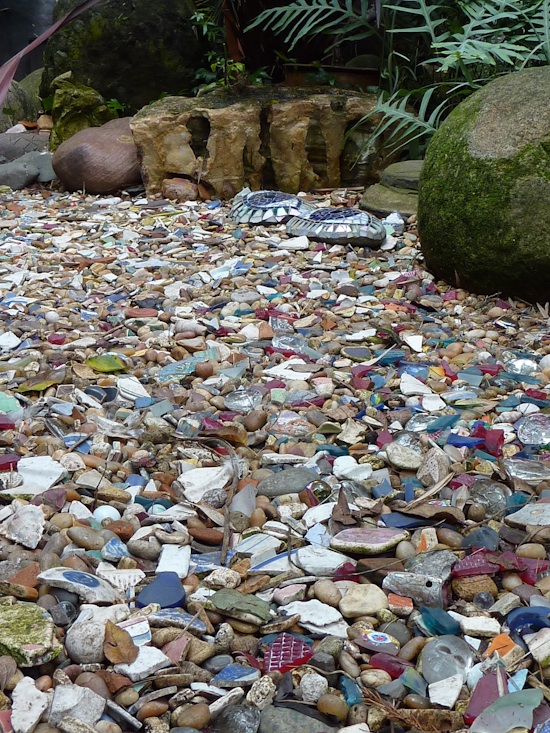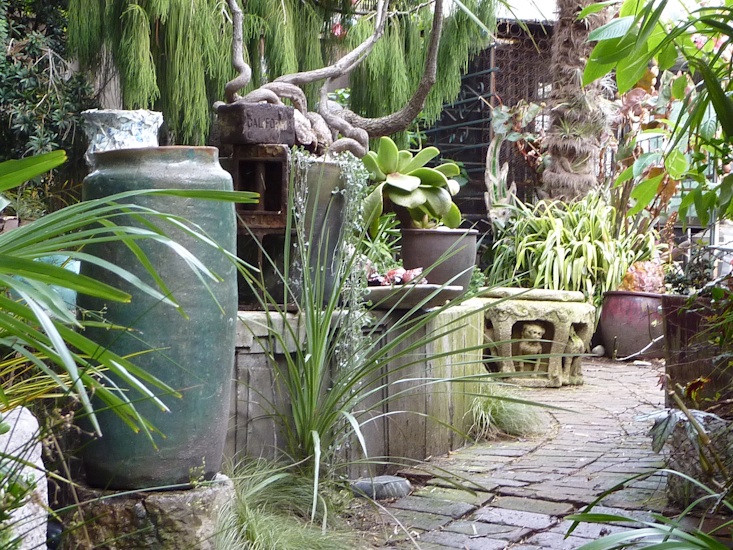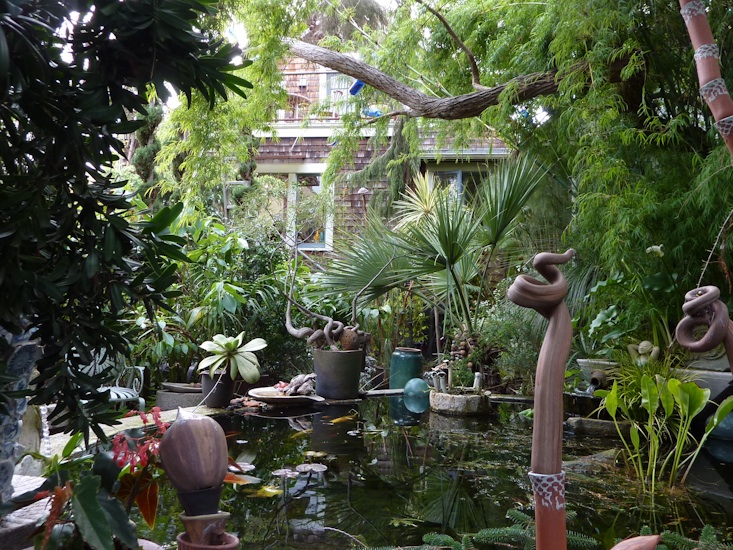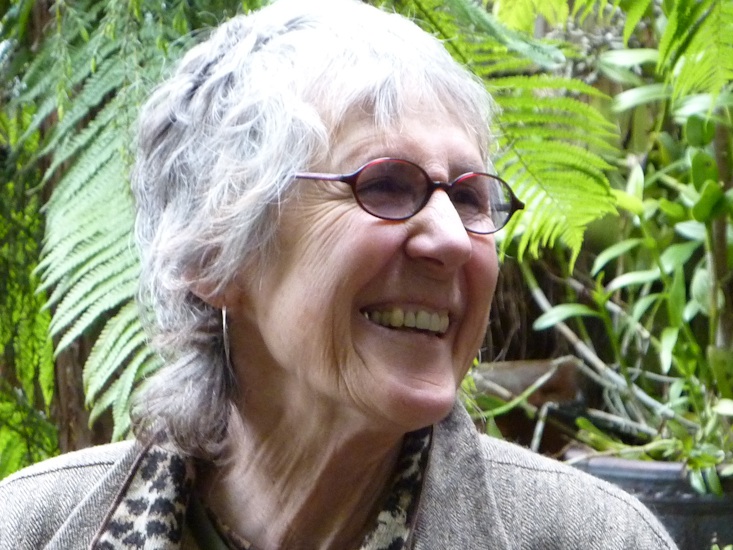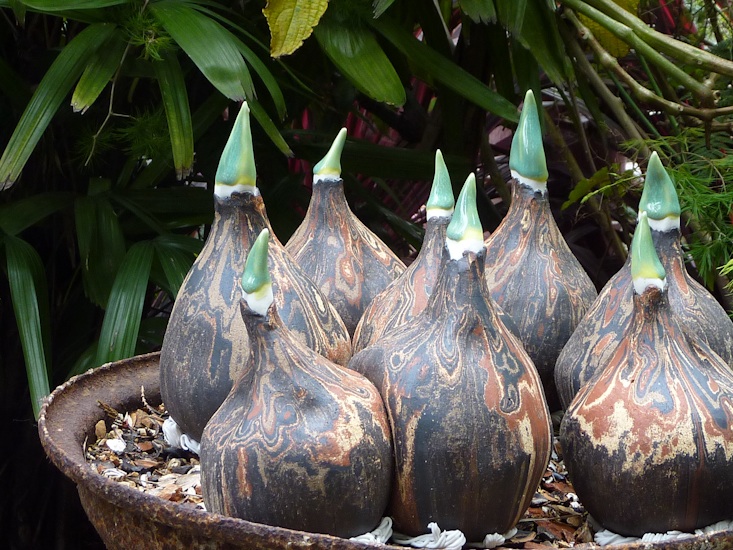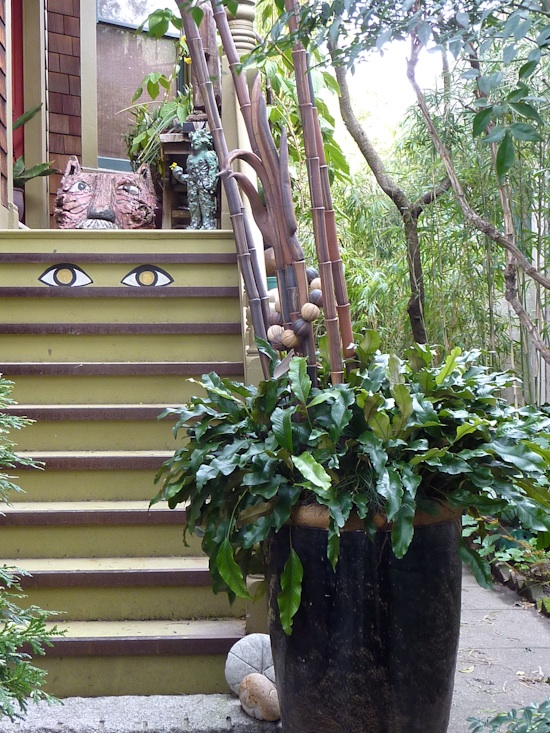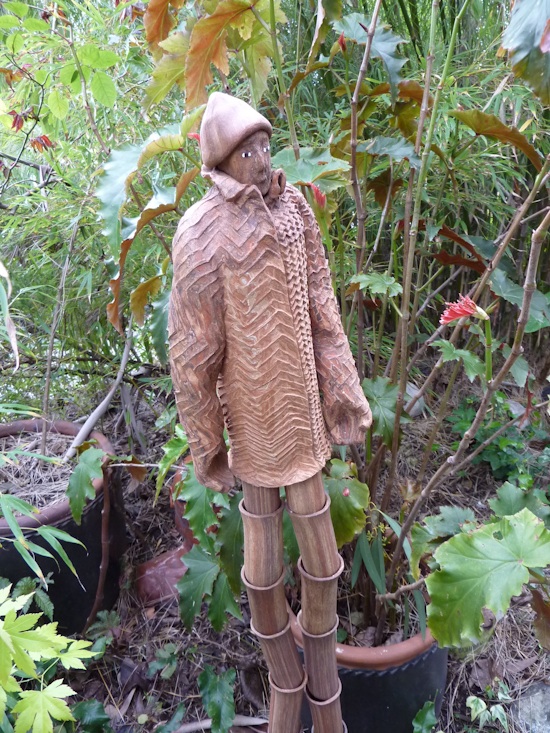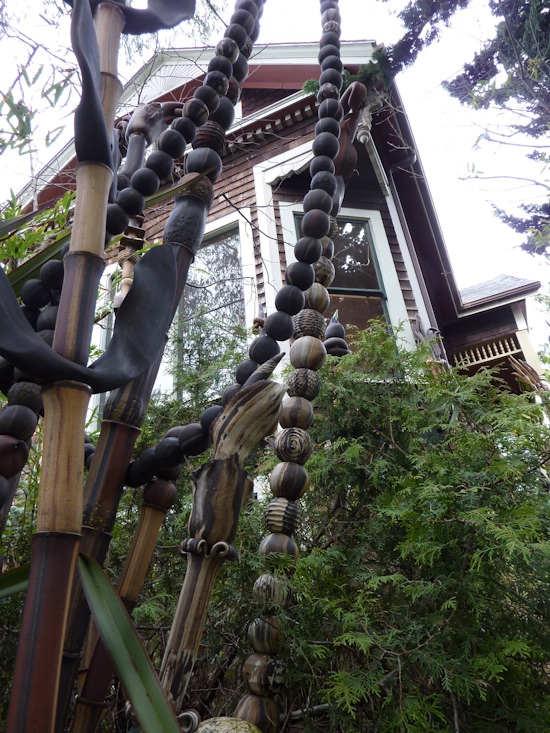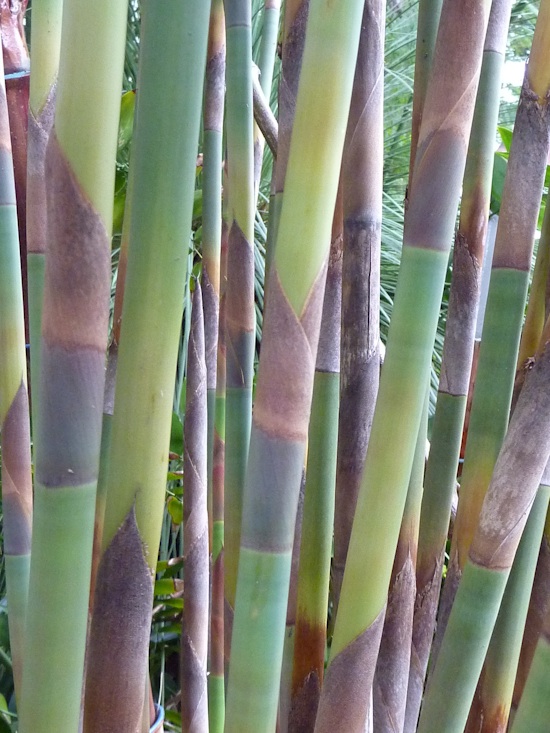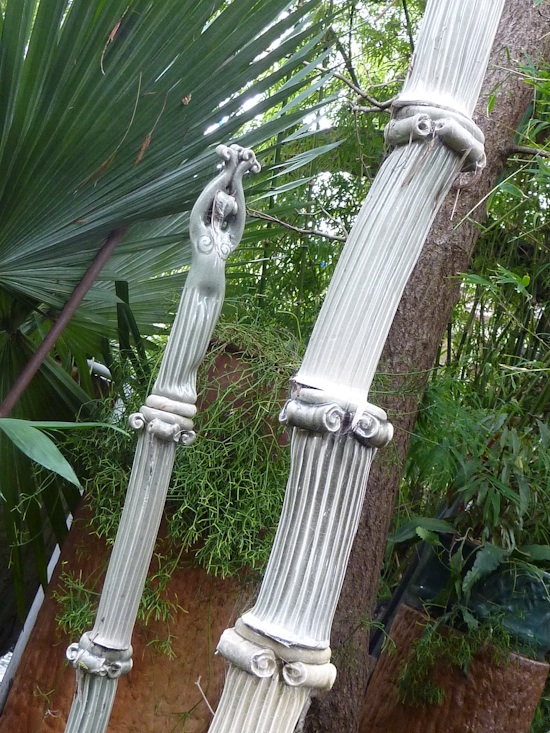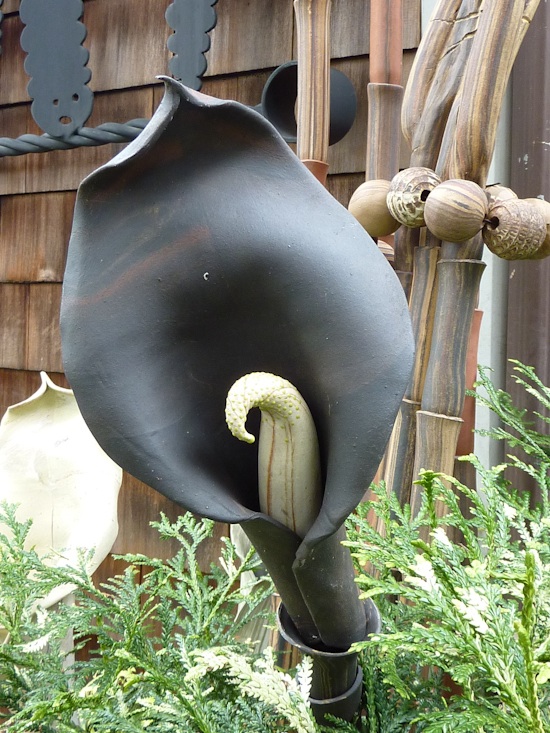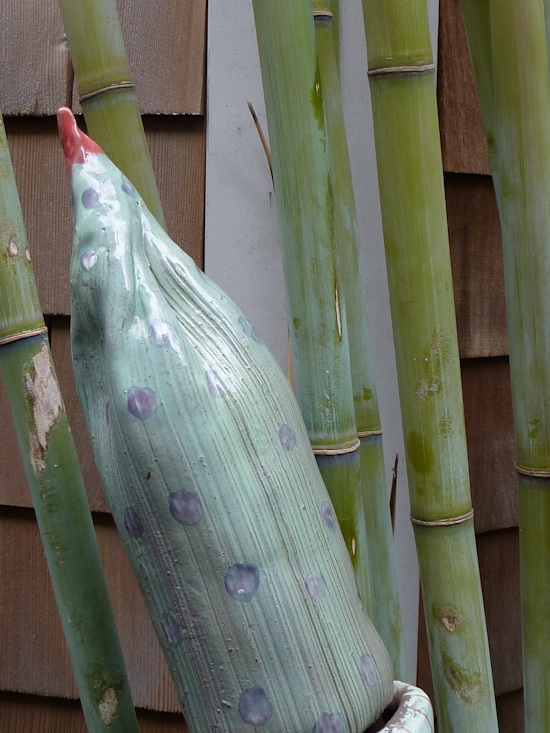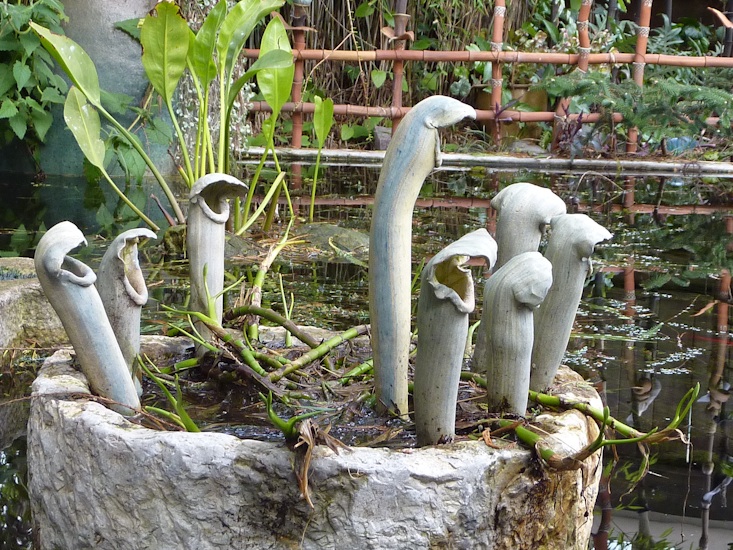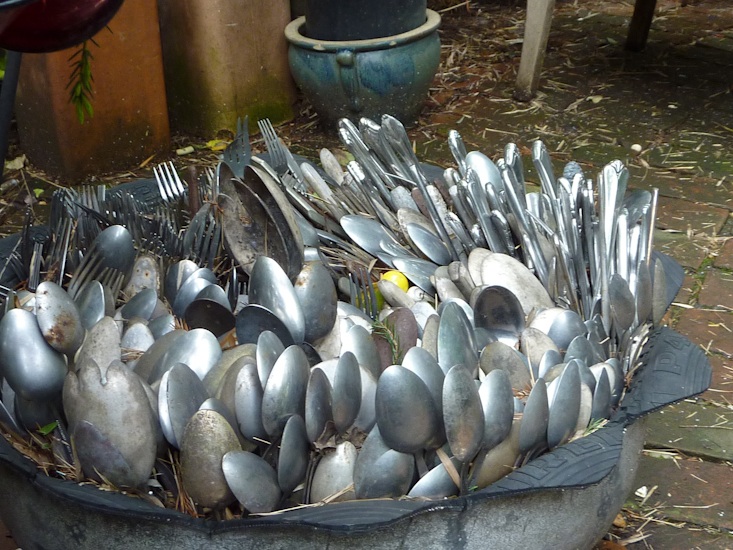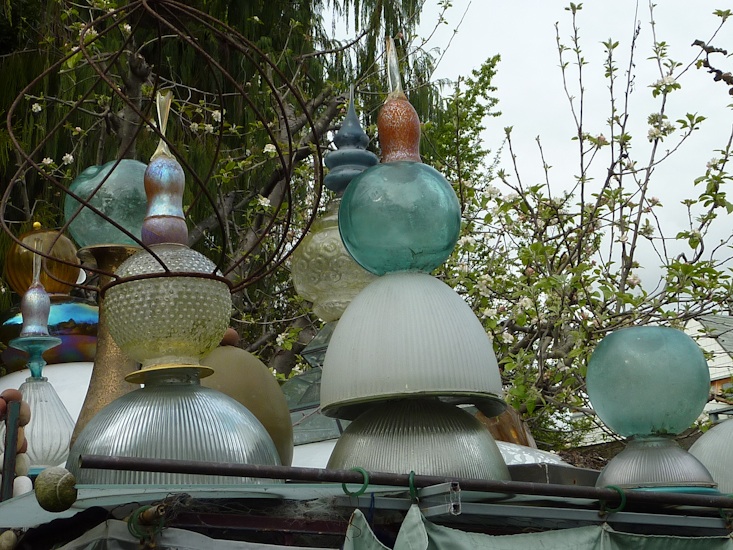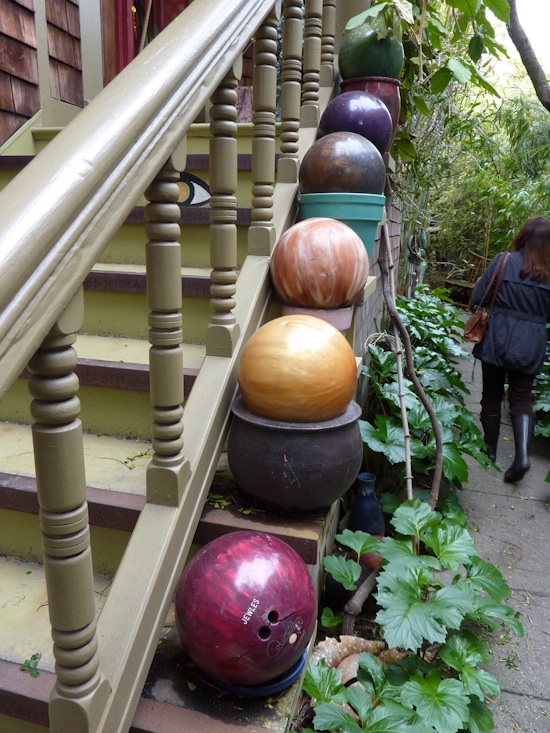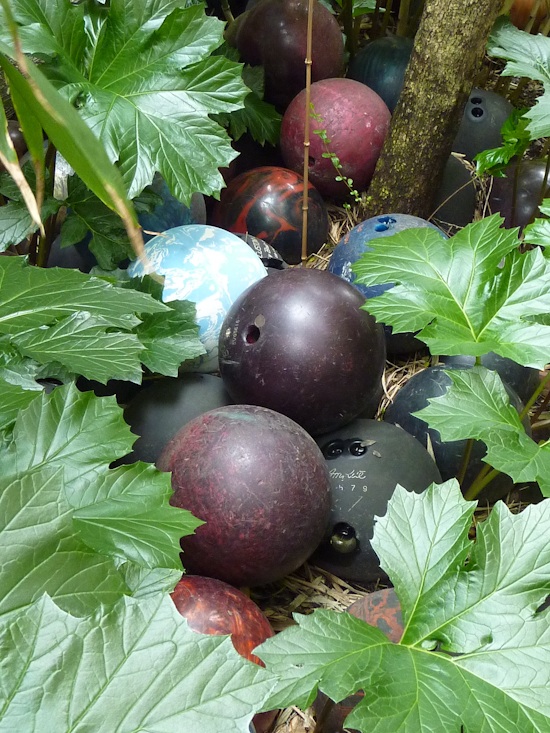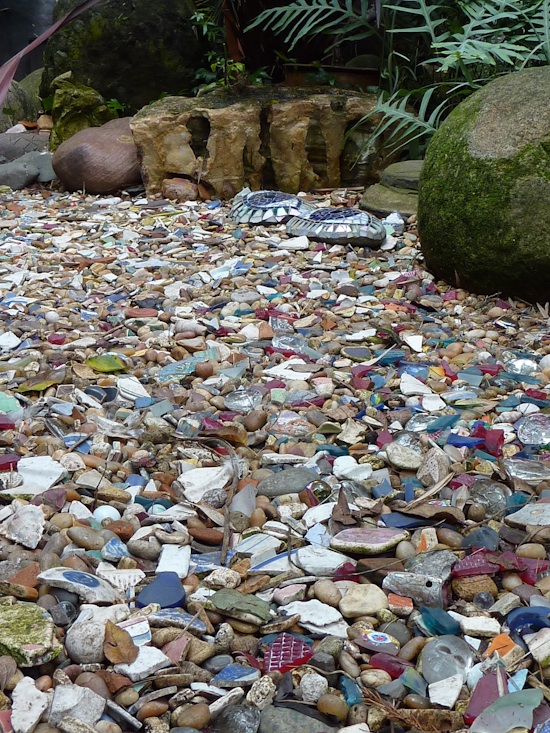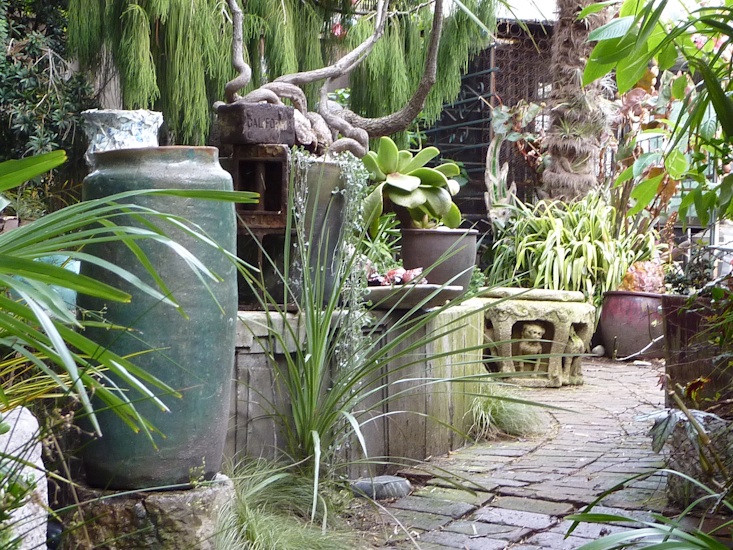 I took so many fun pics of Berkeley sculptor and ceramacist Marcia Donahue's garden when I was in the Bay Area recently, I was perplexed about how to turn them into an article for this blog. I'm done pondering. Here goes…
:: :: :: :: :: ::
Unless you're Rip Van Winkle, or you've been spelunking the Vrtoglavica Caves of Slovenia for the past few years, you couldn't miss the garden world's clamor about vertical gardening: succulents packed into honeycombs mounted on walls, Patrick Blanc's Chia-Pet-on-steroids flights of fantasy, and at a slightly less grand but far more practical scale, Susan Morrison's and Rebecca Sweet's new book, Garden Up!
But it was Marcia Donahue's garden that made my eyes and imagination reach skyward. It seemed that everywhere I looked around her garden something was pointing up: the gables of her two-story Victorian, bamboo and vines slathered on fences, and a series of cylindrical and round "beads" threaded over poles and slinking into trees.
Marcia has managed to pack a bundle of charm, whimsy, and wonderment into her garden, while also cultivating an abundantly productive urban farm. Amid the art and horticultural thrills, chickens roam, veggies overflow planters, and hives buzz with honeybees.
:: :: :: :: :: ::
Standing tall just beyond the public sidewalk, this lanky sentry is just a teaser for the creations revealed and hiding around the property. Notice the fluted tubes that make up the legs and their subtle striations? Marcia creates her own blends of clay to bring nuance to her materials. I'm particularly fond of the jacket, but it looks a size or two too snug for this garden writer. I especially like the way the angel wing begonia emphasizes the vertical effect – plenty more where that came from.
:: :: :: :: :: ::
At first glance, I thought I was looking at a rare form of bamboo, and I guess I was: Call it Bambusa clayii. What we're really seeing rising from the porchside pot is a simple form of Marcia's exploration of tubes and baubles from fired clay. Notice the string of beads wrapped around the lower culms. And beyond, up the side path, real bamboo adds a leafy screen along the neighbor's wall.
:: :: :: :: :: ::
That's Marcia! Big, beautiful, beaming smile, sly sense of humor, and a work of art in her own right. She's also amazingly generous with her garden, which is open to the public every Sunday afternoon (3017 Wheeler St. Berkeley CA – Google Maps), although she reserves the right to take the occasional day off.
:: :: :: :: :: ::
It seems like such a simple concept: orbs and pipes threaded over rebar, with the occasional set of horns, leaves, and flairs punctuating the soaring structures. But in the hands of an artist, they create a feeling of movement and force and line that animates the garden and compliments the architectural detailing of the house.
:: :: :: :: :: ::
You might think this is a form of bamboo, but nuh-uh, 'fraid not. This plant totally knocked me out the first time I saw it in an East Bay garden a few years ago. It's Cannomois grandis, a member of the Restionaceae family from South Africa, and a relative of Chondropetalum tectorum, a wildly popular, reed-like plant popular in SoCal. Cannomois doesn't seem to like growing where I live, but I was happy to see it at Marcia's. It goes by many common names ('Bell Reed,' 'Rekoala,' 'Bergbamboes,' 'Besemriet,' 'Assegaa') and can form clumps of rainbow-colored stems to twelve feet high, with tufted tops reminiscent of asparagus fern.
:: :: :: :: :: ::
Like I said: Marcia has fun, as you can see from these somewhat drunken columns topped with a cross between an Ionic capitol and a rolled-back sardine can. There's a cartoon-like quality about them, and the femininely statuesque finial brings a bit more quirkiness to the mix. These variations on a theme occur throughout the garden, often tucked between trees, shrubs and vines, leading to "Ah ha!" moments of discovery.
:: :: :: :: :: ::
It's not ALL about the vertical. Marcia uses the same ceramic techniques to create graceful interpretations of botanical forms. This elegant, black calla lily shows the artist's keen observation of natural structures, translated into striking, evocative works of art.
:: :: :: :: :: ::
Here, a coolly glazed bamboo shoot mixes it up with Himalayan blue bamboo (Himalaycalamus hookerianus), a new favorite I've used recently in my own designs.
:: :: :: :: :: ::
Even more fun and fanciful, these mottle bulbs, with their perpetual salute to spring, are bedded down in a rusted pot tucked among the foliage of a lush, tropical palm tree.
:: :: :: :: :: ::
I half expected these pitcher plant-inspired guys to start tooting like a pipe organ. The "mouths" have a very human quality to them, all caught mid-sentence.
:: :: :: :: :: ::
I will now admit to some sloppy journalism, but I have a great excuse: I was having so much fun walking around with my mouth gaping open and snapping pictures, that I said, "The hell with taking notes!" and just meandered about, hoping I'd remember Marcia's words. My now-untrustworthy recollection is that the legendary Mississippi garden celebrity, Felder Rushing visited Marcia and taught her how to make a planter out of an old car tire. (Or perhaps it was the Michelin man – I'm not swearing to anything.) Be that as it may or may not be, instead of loading another planter with dirt and roots, this one has become the repository of "found object" art, using old cutlery to add a little bit of shiny to the garden.
:: :: :: :: :: ::
I love when someone with an artist's eye sees the potential to make art from everyday objects, like these light globes stacked like Nepalese stupas. This collection adorns the roof of Marcia's chicken coop, aptly named the Poultry Pagoda.
:: :: :: :: :: ::
For years, friends have been "gifting" Marcia with bowling balls of all colors. Here, stabilized by pots and saucers, they decorate the stairway…
:: :: :: :: :: ::
…while in another part of the garden they leave the impression that a large, strange bird is starting a family.
:: :: :: :: :: ::
Around the bend, a pathway through the back yard is surfaced with the bright colors of tumbled glass and shards of pottery, like a scene from a beachcomber's wildest fantasy.
:: :: :: :: :: ::
Maybe I'm still under the spell of this little wonderland, but even this oddly assembled collection of pots, urns, tables and bricks has a fun-filled touch to it.
:: :: :: :: :: ::
The high point of the garden sits near the back of the site: a raised pool enveloped in every shade of green and surrounded by forms born in Marcia's imagination, all animated by an impressive collection of living kinetic sculptures commonly known as kio carp.
SUMMER FUN!
If you find yourself in San Francisco in mid-July don't miss two (count them, TWO!) opportunities to hear me speak. I'll be at the San Francisco Conservatory of Flowers, Thursday evening, July 14, presenting a live version of Crimes Against Horticulture: When Bad Taste Meets Power Tools. To top it off, the Conservatory will be in the midst of a Wicked Plants display, inspired by bestselling author Amy Stewart's book.
Two days later (Saturday, July 16, at 11 am), I'll dazzle attendees with a planting design workshop at the legendary Flora Grubb Gardens, only the coooooolest nursery in this part of the galaxy. (Read my recent article)
More details to come, but mark your calendar and spread the word. I'll be giving away free copies of Fine Gardening Magazine and would love the opportunity to say hello in person.
Get our latest tips, how-to articles, and instructional videos sent to your inbox.